From Tinder to Hulu: Unique Ad Placements to Consider (and How to Get Started!)
Topics Covered:
Facebook, Google, Instagram — they're mainstays in every marketer's toolbox to reach millions of shoppers. But let's be real: They're not always the most exciting ad placements. After all, many of us have become so accustomed to social media ads when scrolling through our feeds that it's almost effortless to tune them out. (Yes, even the brightly colored and pun-tastic ones.)
It's time to get more creative and "add a little bit of spice," as they like to say on TikTok. From Tinder to Hulu, here are some unique ad placements that never fail to capture attention.
Tinder
"Once you stop looking for what you want, you find what you need" is how the saying goes, and thanks to Tinder ads, you might find your next favorite product even if you don't find your one true love. With more than 75 million monthly users (35% of whom belong to the 18-24 age range), Tinder is a great place to attract younger shoppers.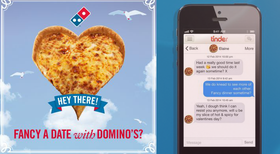 How to get started
Ready to swipe right on Tinder? You have three options to choose from:
Direct Buy
If you're looking to design a full-fledged campaign like Domino's and have a relatively large budget to spend, connect directly with Match Media Group.
Google
Google allows you to run display ads on Tinder, which are shown to users on the app's free base plan:
Log in to yourGoogle Ads account, then click "New Campaign."

Select "Website Traffic" as your campaign goal, then "Display" as your campaign type.

Choose your target audience (including location and language) and your budget.

Click on "Placements" > "Apps" > "Tinder." Make sure the box next to the app is checked.

Finalize your ad creative.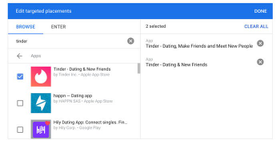 Facebook
Similar to Google, Facebook also allows you to run display ads on Tinder:
Create or log in to your Facebook Business Account.

Go to your Facebook Ads Manager dashboard and follow the instructions to create a new ad.

Click on "New Ad Set" > "Placements" > "Manual Placements" > "Audience Network." then fill in the remaining fields. (Though you can't choose Tinder specifically, the app is included in Facebook's "dating apps" category within the Audience Network.)

Send the ad in for review.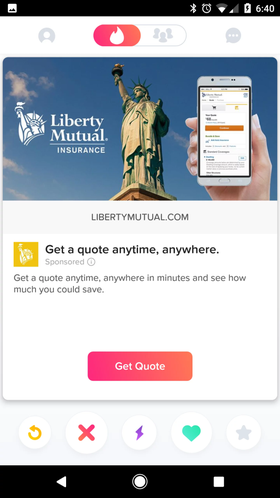 Top tips for success
Tinder users spend approximately three seconds on a profile before swiping left or right — ugh! (Online dating is brutal… but effective?) That's why your ad creative must be eye-catching yet simple, so users can quickly understand it with just a glance. (You'll want to channel the acronym KISS here.)

Just like crafting your Tinder bio, you can afford to get creative with your copywriting. Something fun and relevant to the "dating jungle" context will go a long way — use these ad placements as an opportunity to describe how your products help users on their quests for love, for example.

Don't try to circumvent Tinder's rules by creating fake profiles that you then use to promote your brand. For instance, when Gap made a fake profile (without the app's blessing) that invited matches to a "pants party," their campaign backfired and caused Tinder to swiftly delete the profile.
Hulu
Spending a million dollars on Super Bowl ad placements is out of reach for most brands, but what if we told you that you couldlaunch an ad that runs on the big screen for just $500? Yup, Hulu can make your TV dreams come true — and for roughly the same budget you would typically spend on Facebook or Google ads.
How to get started
There are numerous options available for you to reach Hulu's viewer base of 100 million people — 70% of whom belong to the cheaper base plans that include ads. Here are a few of the most popular ad placements:
Standard video ads appear during commercial breaks when viewers stream full episodes on the platform.
Branded slate ads are shown before a show begins. Typically, this is a seven-second clip of your logo, accompanied by the text "the following program is brought to you with limited commercial interruption by [your brand]."
Branded entertainment selector ads allow viewers to choose the length of the ads they're interested in watching and looks like this: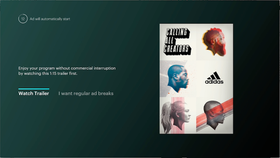 Binge ads are an opportunity for brands to deliver relevant messages to viewers who are binge-watching a show. Here's a great one from Cheez-It.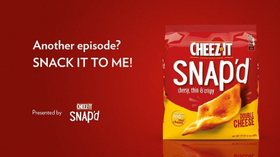 GatewayGo ads are different from the rest, as they aren't about boosting brand awareness. Instead, companies that choose this option are focused on driving action. The ads themselves may include technologies like QR codes and push notifications.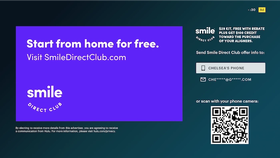 Pause ads pop up on the bottom right corner when a viewer hits the pause button in the middle of an episode or movie.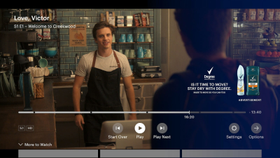 In other words, there are a ton of ad formats to choose from. To get started with your Hulu ad campaign, follow these steps:
Determine your ad objectives and ad options. The ad formats discussed above will fall under one of these three types:

Action With Broad Appeal or National Local Ad Campaigns: You can create custom audiences and target them by location, interests, behaviors, and demographics. You'll need an ad budget of $30,000 or more, plus video production capabilities (either an outside company or an in-house team.)

Premium Programmatic Advanced TV Campaigns: This allows you to create custom lookalike audiences using Hulu's premium inventory or your own CRM data to reach specific audiences. Also note that this option leverages the marketing automation power of Hulu's network for the best optimization results — but it's not cheap. Price tags range from $30,000 to $100,000.

Hulu Ad Manager: The go-to option for small- and medium-sized businesses, Hulu Ads Manager is a self-service platform that requires a minimum budget of $500 to reach thousands of viewers. These ads are usually seven, 15, or 30 seconds in length.

For the first two options above, you'll need to contact a Hulu ads manager here for budget and targeting details. For Hulu Ads Manager, first sign up for a business account.

Next up is to create your ad, upload it, and then wait for approval. We recommend submitting your ad for review at least two weeks before your target campaign start date, just in case you need to make any revisions.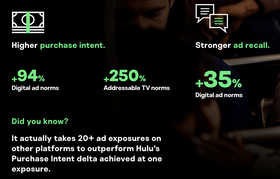 Top tips for success
The last thing people want to see when binging their eighth episode ofThe Handmaid's Tale is an ad. That's why you need to make sure your ad placements are relevant to your target audience and gets to the point ASAP — whether that's a product feature, a punchline, or a promotional offer.

Similar to how a TV pilot needs to draw in viewers and set the tone for the rest of the season, your ad needs to hook people in the first three to five seconds. (Not to stress you out, but 63% of the best-performing campaigns feature their first branding moment in the first secondof the ad.)

Humor makes a more lasting impression, but at the same time, don't force yourself to be funny if that's not part of your brand identity.

Don't skimp on the video production — we're talking sound, lighting, editing, graphics, and animations. After all, people are jumping from high-quality, professionally made content straight to your ad. Not to mention, TV ads are typically seen as more reputable and trustworthy… if they're done well.
Spotify
Whether you're an avid listener of true crime podcasts or simply want to stream Olivia Rodrigo's album on repeat, Spotify is here for you. It's also here for companies that want to tap into 34% of the audio streaming market and grab users by the ear.
How to get started
In the past, the cost to advertise on Spotify was huge — we're talking $25,000 minimum. Luckily, the platform has opened up the playing field to brands without giant budgets via its self-service Spotify Ads Studio:
Create an Ad Studio account.

Determine your budget, objectives, and schedule.

Choose your ad format. Some popular options include:

All Platforms, where your ad will reach your chosen target audience on any device in-between songs.

Sponsored Sessions that display only on mobile and tablet. Basically, in exchange for watching a full-length ad, users get to enjoy 30 minutes of uninterrupted music or a podcast.

Video Takeovers are an ad type that features a full-length video on mobile and tablet.

Overlays are static banners (no audio or video) that fill up the screen when someone returns to the app.

Homepage Takeovers are a standard display ad for desktop users — basically, Spotify will feature your ad on its homepage for 24 hours.

Select your target audience based on location, demographics, interests, and music genre, among other characteristics.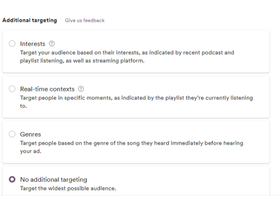 Create your ad!
Top tips for success
Nobody wants to listen to an ad where someone monotonously drones on and on about a random product. Instead, jazz up your ads by checking out Spotify's free services, including voice-over actors.

Consider the context of your ad. When does your target audience use Spotify? Are they working out, commuting, cooking, or working? What kind of messaging will best resonate with them at these times?

Spotify is not the radio, so leave behind the jingles, loud host voices, and dramatic effects. Instead, be more conversational in both the script and production — you want to complement users' listening experiences rather than distract them away from it. This is your chance to paint a picture with words and let your audio storytelling shine.
Reddit
Ah, Reddit, the platform we have to thank for the GameStop craze, ask-me-anythings, and upvotes. And yes, you can launch ads on the platform, especially if your target audience belongs to a niche community. But we're gonna be honest: Though not impossible, success is not easy.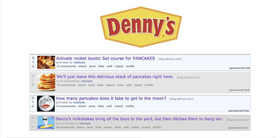 How to get started
Sign in to Reddit and visit the campaign management tool.

Name your campaign, and define your audience. You can target by location, device, subreddits, interest, and more.

Select your budget (either a daily maximum or total campaign budget).

Decide what type of ad you're interested in:

Promoted Posts are either link or text ads. They resemble non-paid content on the platform with a simple "Sponsored" tag. Link ads feature a headline and corresponding link that directs users to a site, while text ads link to another Reddit page with content about your product or brand.

Display Posts are traditional banner ads with rich media, but be warned — they start at around $30,000.

Create your ad!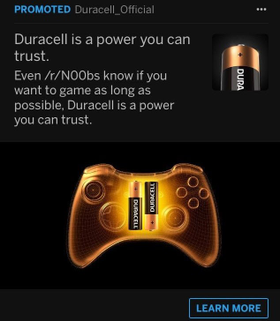 Top tips for success
Reddit features a niche user base, tone, and culture, so it'll be worth your time to understand the platform before creating anything. Plus, it's no secret that Reddit users dislike ads on the platform — the last thing you want is for them to mock you. We recommend interacting in specific subreddits long before you launch your ad, so you're able to align your creative with what users expect.

Engage with users by allowing discussions on your ad. After all, Reddit = community. Use your ad as an opportunity to engage in relatable conversations with your target audience.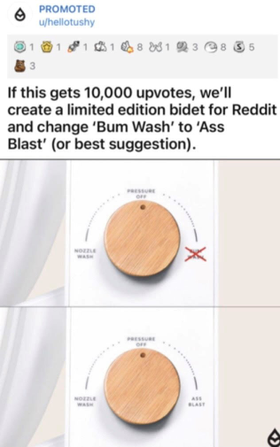 Strive for Uniqueness
Are your creative juices flowing yet? For more awesome ideas on leveling up your marketing beyond these unique ad placements, make sure to check out the AdRoll Marketing Resource Library!
Last updated on October 25th, 2021.