Topics Covered:
Survey any average American, and they'll probably agree that 2020 has been a pretty tough year. It hasn't been easy to cope with a global pandemic, a potential recession, and social struggles — happening all at the same time. However, one company has managed to thrive amid these stinkers: Tushy. 
Tushy is a D2C company selling bidet attachments for home toilets. As their website describes, the Tushy bidet "saves your ass, saves your money, saves the planet, and saves the world." Those are lofty claims for a butt-cleaning nozzle, but so far, the brand has made a sizable impact on consumers and the environment — and it's only the beginning. After all, their products flew off the shelves earlier this year. 
Here are some lessons that D2C retailers can learn from Tushy's journey of disruption and unprecedented popularity. 
Taking the Throne
While electronic bidets are commonplace in European and Asian bathrooms, few American homes have them. A common origin story for Americans' reluctance to embrace the bidet is because they were once used in French brothels as a form of emergency contraception. Since then, bidet companies have struggled to challenge the toilet paper industry and alter Americans' behaviors and cultural norms. 
Enter Miki Agrawal and Justin Allen: co-founders of Tushy. Coming from an Indian and Japanese family, Agrawal said bidets were an integral part of her family's culture. But until her now-husband gifted her a bidet for Valentine's Day in 2012, launching a bidet company was never her career plan. "I was like, 'This is amazing, I didn't know these existed,'" she said in an interview. "But it was so ugly and embarrassing."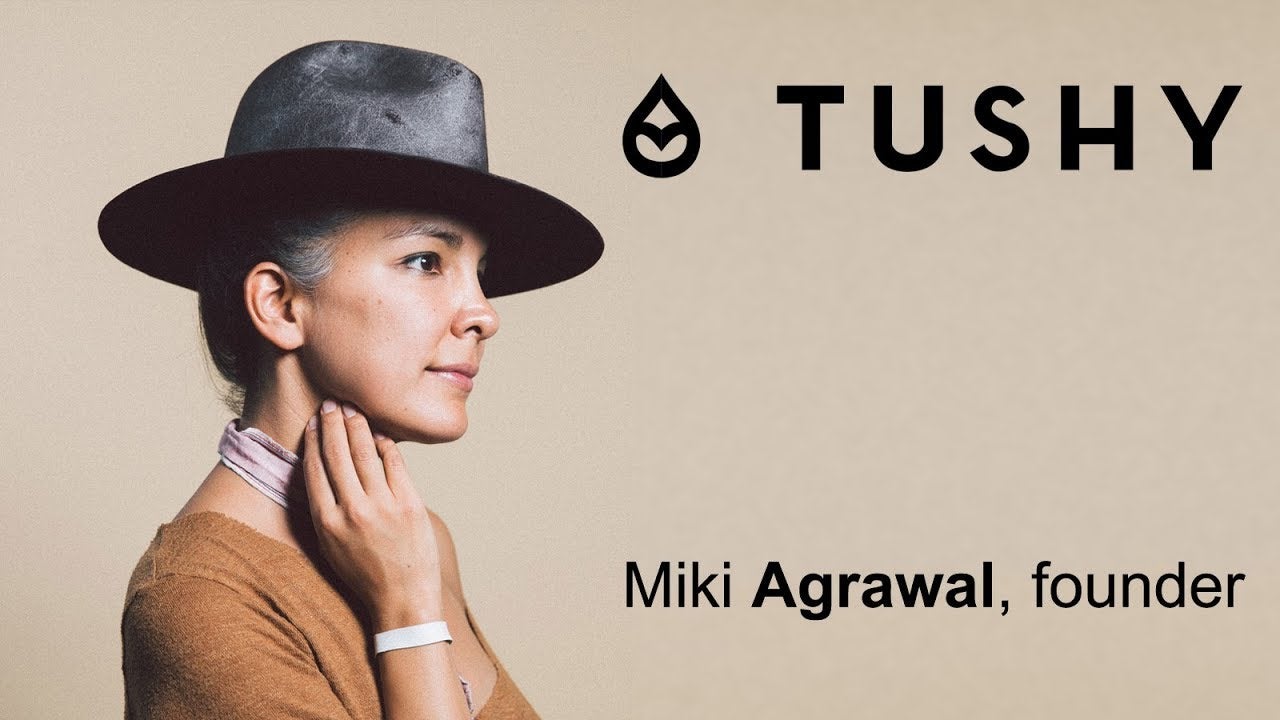 Image: Savvy Broadcasting
For fun, she began brainstorming ways to rebrand the bidet, eventually launching Tushy in 2016. Though it is unclear how she connected with her co-founder Allen, he too has a personal connection to bidets. "I first discovered bidets when I was living in Tokyo while studying abroad there," he wrote in a Reddit AMA. "When I returned back to the States, it was just so clear to me that I wanted to be a part of the revolution of butt cleaning. TP (toilet paper) is gross, inefficient, environmentally destructive and not even good at the job! Smearing poop around and pretending like it's clean is objectively weird."
The pair ultimately raised $1.4 million to launch their company, striving to upgrade the American bathroom experience by rebranding the cold, clinical nature of bidets into a modern, affordable, attractive affair. The company targets millennials and modern households who value sustainable living and good health. Agrawal, who also founded Thinx (a "period-proof" underwear brand), is no stranger to products considered taboo by the mass market. 
On the Tushy website, she explains, "I've always loved questioning the status quo and society's approach to things. Is there a better, more efficient, more environmentally friendly, more design considered, more artful way to do them?" For all her business ventures, she has used the process of nonstop discovery and invention to create new iterations of the product with gradual improvements. 
Even before the toilet paper frenzy this past March, which led the company to see $500,000 in daily sales, Agrawal has described her ambitious plans to expand Tushy to a $50 million valuation. Their next product idea to help them get there? Bidets for babies. 
Tackling the Uncomfortable
Discussing bodily functions isn't exactly the norm. In fact, it's a pretty awkward and embarrassing topic. 
Yet Tushy's branding revolves around the self-awareness that their whole business serves to clean people's butts. Unlike sanitary products or toilet paper ads with puppies or grass, they tackle number-twos in a straightforward and humorous way. For instance, their website headline is "Stop wiping your butt." It's coupled with a picture of a toilet with joyous people using the bidet stream as a water slide.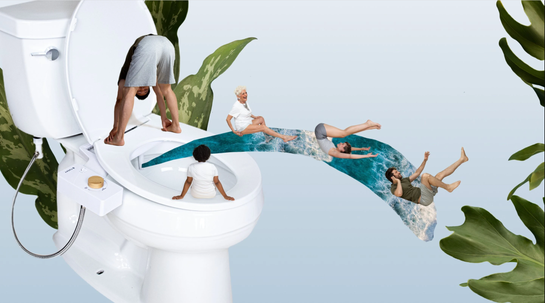 Image: Tushy
This charming, matter-of-fact tone is consistent throughout their site and marketing channels. They point out that wiping with toilet paper after you poop can contribute to a whole host of health issues, including UTIs, anal itching, and anal fissures. Though the messaging doesn't paint the most pleasant visual, you have to admit that it creates a strong emotional impact that's more compelling than the sugar-coated language of toilet paper branding. 
Besides, marketing 101 tells us shoppers want to know how a product or service can solve their problems and improve their lives. Tushy does both, as well as relegate its competitors, namely toilet paper, as part of the problem. With a color palette that alludes to nature (bidets can help the environment by reducing paper use), its branding feels extremely refreshing. 
Solving Market Congestion
Do you remember when shoppers ransacked stores and began hoarding toilet paper earlier this year? Tushy transformed what was otherwise a somber moment and pounced on that opportunity, running ads with headlines such as "OH SH*T! The world is running out of toilet paper!"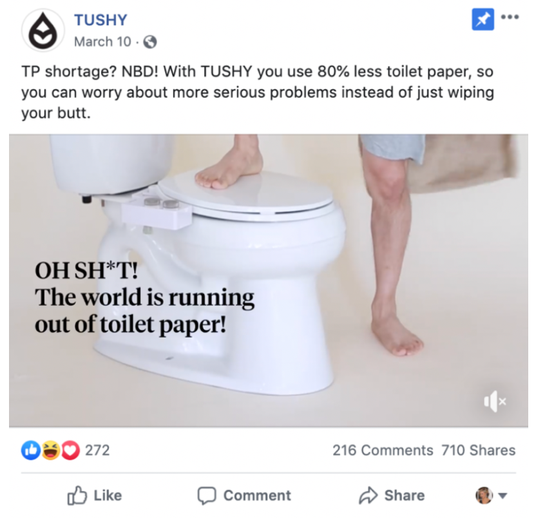 Image: Tushy
That decision to market their products as part of the solution paid off. In March, its sales exploded about 10 times compared to the previous month, its products flying off virtual shelves. As the toilet paper shortage dwindled, Tushy has pivoted to changing the way we think about toilet paper. Its ads tell us that the handy TP roll isn't an essential product — it's actually an environmental polluter that can make you sick. There are better and healthier alternatives. 
Bowl-ed Marketing
Tushy is an expert in transforming taboo bathroom behavior into something funny, relatable, and conversation-worthy. (I mean, your toilet paper go-to probably doesn't post butthole memes on Instagram.)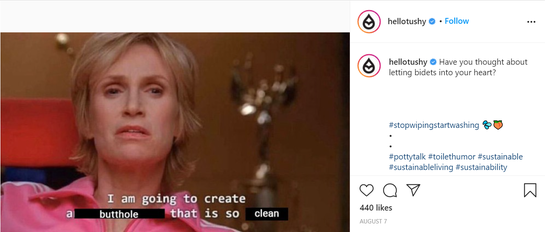 Image: Tushy
Their marketing efforts across the board — social media, video content, website copy — reveal a high level of self-aware irony. And it's hilarious. Here's an example: in one of their ads, your butt talks to you. Let us rephrase: in a three-part video series, a character named Your Butt begs you, in a sexy French accent, to replace your "uncivilized" toilet paper use with a Tushy bidet attachment so that she can become the sexiest butt in the world. Your Butt says lines such as, "Treat me like you treat your hands after you poop," alluding to how we should treat our neglected butts like how we treat any other part of our body. 
The tongue-in-cheek humor and attractive visuals are consistent with the rest of the company's branding. Therefore, instead of coming off as cheesy or awkward, it feels charmin'. 
Making a Big(ger) Splash
Beyond its bottom line, Tushy's end-goal is to positively impact the environment and local communities. After a trip to India, Agrawal decided she had a social responsibility to help tackle the country's defecation problem, so she launched a corporate give-back program. Through the company's partnership with a local organization, every bidet sold provides one family in India with access to clean community toilets. 
Beyond charitable giving, Tushy also sells sustainable products. Its bidet uses 1.3 gallons of water a week, which is significantly less than the 37 gallons it takes to make one toilet paper roll. And since 2017, the company has sold bamboo towels — "bum towels" — that are 100% made from bamboo. Tushy conveys to potential customers that choosing to shop from them is socially and environmentally responsible. With values-based marketing on the rise, this positioning is an effective one.  
The Roll-Up
Tushy is undeniably a winner in this pandemic. After capitalizing on the toilet paper shortage, it has pivoted to sell a product that promises a more sustainable and healthier lifestyle. Here are some takeaways for any D2C looking to grow their business: 
Craft solution-based messaging that solves a problem. Clearly explain how your products can improve your customers' lives. Or even better, turn your main competitors into part of the issue you're trying to target. 
Great branding. Strategic visuals and copy can turn an archaic or even taboo product into something hip and aesthetically pleasing. Disrupt the learned and assumed behaviors that shoppers have by providing a new way of living that is aligned with the aspirations and aesthetics of your potential customers. 
Go above and beyond. About 81% of consumers believe it is important for brands to give back to the community. Whether it's through providing useful content or donating time and money to worthy causes, brands that go above and beyond their bottom line can foster a trustworthy identity. 
Last updated on September 16th, 2022.