Fall Into Social: Getting Your Community Ready for Autumn
Topics Covered:
The leaves are changing, and so is the season, which means there's a fresh influx of content opportunities for your social media channels.
Love it or hate it, fall is probably the most talked-about season of the year, and chock-full of holidays on top of that. All of this can make for great content inspiration for your social media channels, regardless of your industry, audience, or brand. 
Here's how to get your community ready for autumn:
Review Your Profiles and Engagement
It's never too early or late to do some spring cleaning of your social media profiles — we actually recommend doing it quarterly, at least. But keeping in the spirit of bounty and harvest that dominates the autumn ethos, this is the perfect time to conduct a deep-dive into your content choices through the year so far and ensure they've maintained consistent and brand-appropriate voice and aesthetic. 
You should also thoroughly review your engagement metrics for more insight into what types of posts performed best. Maybe this will inspire a new type of content anchor to roll out during this new season. 
Pay close attention to the engagement on each channel as well, for insight into what platforms your brands perform best on, so you know what to prioritize or improve upon this season and even next year.
Rake Up Your Audience
Engagement metrics don't just tell you how successful your content is — they can also indicate how appropriate and targeted your audience is. 
Analyze the data and see if there are any demographics that aren't responding to your ads. If you come across any that are clearly not giving a worthwhile ROI, toss them out of your targeting like a bag of leaves. 
Prepare for Harvest
Once you've determined how your strategy has performed thus far, it's time to set new goals for the end of the year so you can reap maximum rewards. Are there milestones from last quarter you still haven't reached that are imperative to achieve in the next three months? Are there new projects or products that have to be pushed as top priority? 
In order to reap a good harvest at the end of the year, you have to know exactly what you're trying to achieve. Determine your KPIs for the quarter and focus as much of your content as possible on achieving them. 
Conduct an Audit of the Season
There's so much more to fall than pumpkin spice lattes. Yes, orange and yellow leaves and the rapid transition into scarves and long-sleeves can inspire some great branded imagery, but there is so more to mine from this most wonderful time of the year than that. 
Just as you've been diligently auditing your marketing efforts, we recommend conducting a deep-dive audit of the fall season itself, going into every type of opportunity for content there could be. Aside from the aforementioned autumnal aesthetics, here are some other elements to take into account:
The end of the year
The fall equinox officially happens in September, only days away from the start of the final quarter of each year. The theme of fall is about winding down, wrapping up the year, and preparing for something new. 
In the financial and business sectors, this is officially known as Q4. Businesses will look at finalizing budgets for the coming year, as well as how to maximize write-offs before this year's calendar fully closes. 
This time is characterized by reviewing and reflecting on what has unfolded over the year, and reaping the harvest of the past spring and summer. Keep this in mind as you plan your fall social media strategy and content. 
The holidays
Thanksgiving is virtually synonymous with autumn, revolving around the themes of harvest, bounty, and gratitude, but this season also includes Halloween. Since your social media planning likely coincides with fiscal quarters, you need to think about Christmas, Hanukkah, Kwanzaa, and New Year's Eve, as well as any holidays that are important or relevant to your community. 
Sports
Fall is huge for sports, kicking off the NBA basketball season, the NFL football season, and the NHL hockey season. 
Health care
Each season seems to come with its own maladies. In general, frostbite is something that can only happen in winter, and fireworks injuries are probably a summer-only finding in the emergency room. Fall is synonymous with flu season, and Blue Shield of California incorporated this perfectly into their content strategy with this post.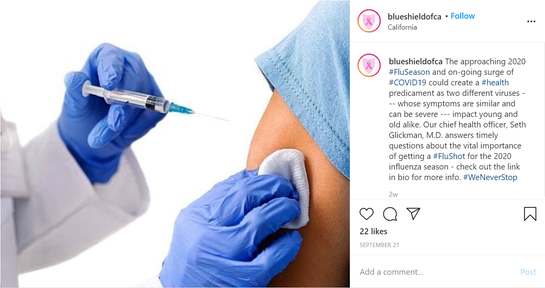 From: Blue Shield of California Instagram
Black Friday
For any companies that deal in retail, this is the single most important day of the year, with massive revenues driven by well-promoted sales and can't-miss deals. Brands will want to get the word out early about the specials they have for Black Friday and remind their audiences frequently to make sure they're lined up outside the store Friday morning — or more likely, ready to make a purchase online. And speaking of e-commerce, fall is also the host of Cyber Monday and Prime Day. 
Adapt Your Content Anchors for Fall
Anchor content is as much of a gift to marketers as it is to the audience who come to expect it. If you have a particular type of content you post on a regular basis, such as a monthly event roundup or tip column, you can greatly improve the efficiency of ideating your social media strategy by plugging the season into these.
Think about it: Those monthly event roundups should include fun fall events or Halloween celebrations. Or, perhaps the tip column can provide advice on how to keep the yard tidy amid falling leaves, or where to find the best pumpkin spice latte. 
Another great example: Camera companies frequently feature the work of professional photographers as pillar content on their Instagram feeds. Take Nikon, which recently featured a snapshot of the autumn leaves. If your channel regularly highlights heroes or influencers within a particular industry, look for someone to profile who's directly related to the season.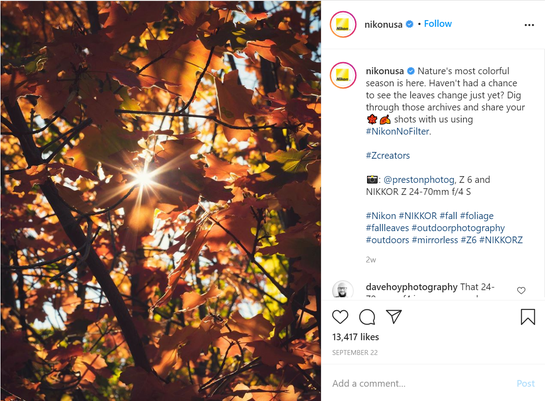 From: Nikon USA Instagram
And yes, if you're a food and beverage brand, you would be remiss not to create content around the pumpkin spice phenomenon.
Create Fall Content That Aligns With Your Brand
Every audience and social media community has particular interests and subject matter they respond to. If you're a sportswear brand, your audience might not be too keen on content about apple-picking or pumpkin patches, but they might respond well to posts about the NBA or NFL season. Likewise, if you're a women's lifestyle company, tips on how to rake leaves will probably be quite out of place. Instead, focus on fall-inspired fashion trends. 
The main takeaway: Don't shoehorn fall content into places it doesn't belong.
Make Sure Visuals Adhere to Brand Guidelines
Google and Facebook are notorious for transforming their logos — not only based on current events, but also for every season.
If you're feeling inspired to spruce up your Facebook profile photo or your Twitter header image to take on a fall aesthetic, make sure it doesn't violate your brand identity. It will stick out like a sore thumb to your audience and company higher-ups. 
Honor the Holidays
Fall (and Q4) are without a doubt the busiest time of the year. In major holidays alone, there's Labor Day, Halloween, Veterans Day, Oktoberfest, Thanksgiving, Christmas, Hanukkah, Kwanzaa, and New Year's. Then, within the retail sphere, there's Black Friday and Cyber Monday. Even Amazon's Prime Day has gathered enough steam to earn a spot on the calendar.
Depending on your audience, autumn also contains Grandparent's Day, Physical Therapy Month, and Breast Cancer Awareness Month.
All of these holidays are great opportunities for content — so they should be taken into consideration while scheduling. But make sure the way you incorporate these holidays into your calendar is appropriate and relevant to your community.
Use Your Platforms to Drive Relevant Conversations
The best part about social media is the way it connects brands and marketers directly to consumers and communities. The most effective social media campaigns create a real dialogue between these parties. 
Outdoor lifestyle brands will benefit from focusing on what their customers are doing to venture out and explore the changing landscape. Companies in the financial and business services sectors will do best by focusing on content that helps their audience close out this year's books and begin planning for the coming quarter. Non-profits will drive dialogue around why their organization is so worthy of end-of-year donations.

You know your audience and what's relevant to them. Make sure your fall seasonal content is driving conversations that are important to them.
Last updated on September 16th, 2022.