How to Build a Community With Content
Topics Covered:
Before the internet came along, brand interaction with customers was mainly a one-way street. Whether a commercial on TV or a printed catalog, the content generated by brands was largely self-centered, and the audience just passive consumers. The "advertorial" concept tried to remedy that by being more than an ad, providing the reader with interesting — albeit promotional — content. 
The internet (and particularly social media) finally gave brands a responsive platform to interact with customers, making them equal and active players in the brand experience. And this forms the basis of the concept of a brand community.
A full third of internet users follow brands on social media. What's more, one person will tell between 9-16 people about their experience with a brand. Leveraging these behaviors by building a brand community isn't only a smart move, it's a critical one. And content — not old fashioned ads and advertorials — is the way to do it.
Here are three essential content types that marketers can use to build active, exciting brand communities.
Interactive Content: When Customers Are Heard
All people want is to be heard. According to one study, feeling unappreciated is the top reason why customers switch brands. And Microsoft found that brands that respond to customer feedback are viewed 77% more favorably.
When brands initiate meaningful conversations, it helps build a community around the brand that can have a real impact, not just on brand awareness but also on product development and sales. D2C gender-neutral underwear brand TomboyX is a perfect example of this. It developed a completely new product - boxer briefs for women - specifically in response to a request by a customer, which quickly became their bestseller. 
These kinds of interactions don't occur in a vacuum. They come from a genuine interest and empathy for customers on the part of brands, and a consistent strategy focused on maintaining open dialog. One way that brands can encourage this type of engagement is by leveraging interactive content, like quizzes, surveys, interviews, and polls.
How one brand does it: The relatively new, but already successful, D2C brand Goodboy offers home delivery service of vitamin supplements for dogs, focused on long-term pet health and high-quality US-sourced ingredients. The Goodboy website features an interactive starter quiz, carefully walking the pet owner through the process of determining which supplements best fit the health care needs of their dog. In addition to the usual quiz format, there is also a free-text portion where customers can communicate exactly what's going on in their minds when it comes to their pet's health.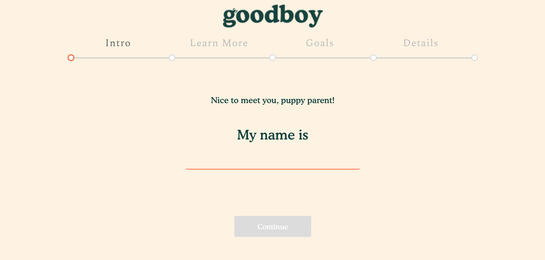 A growing number of customers told Goodboy that their pets were suffering from meat allergies and sensitivities. This led the company to reformulate its best-selling product by removing all traces of meat. According to co-founder Keri Sapp, until the customer conversation started to pick up, they were completely unaware of this significant pain point in the market. And without using an interactive quiz to create a sense of community and openness, they never would have known. As Sapp says, "Our customers are the pulse of our business, and we want to know how our products are working for them."
Educational Community Content: When Customers Are Informed
Content marketing has completely transformed the ways that brands relate to customers. Rather than simply talking at the customer about the wonders of their products, brands can use digital content, like blogs and ebooks, to educate consumers about related topics that are of interest to them. In fact, three-quarters of consumers say they prefer to learn about a brand or product through educational content, rather than an ad. 
Educational content is powerful because it puts the customer at the center, rather than the brand. The trick is to address the customers' pain points and interests with helpful and relevant content that adds value to their lives. A natural by-product of this is a boost in brand perception — in the eyes of the customer, the brand becomes a thought leader, authority, and go-to destination for useful information.
In the real world, shared hobbies and interests have always drawn people to create mini-communities, like sports clubs or book clubs. The same community-building concept can be used by brands today in the digital, virtual world with the help of educational and informative content.
How one brand does it: SALT Lending is a crypto-backed loan services brand that was faced with a steep challenge. Market wariness for all things crypto meant that the company had to work hard to defy perception and build their brand value. This meant leaving behind standard marketing and research practices, getting to know crypto communities in-depth, and creating new avenues to reach them and educate them about the brand's unique story.
In the early days, SALT placed a strong focus on building its thought leadership profile by attending crypto conferences and getting their staff on educational panels. They even sponsored a 21-hour live stream event. All this proved to the target audience that SALT is present for the community to answer their questions and address their concerns. The company found itself misunderstood by traditional financial media, so it looked for other partner channels, such as Brave, the digital marketing magazine, and crypto media, to educate their audience about crypto lending. It also opened a Telegram channel to facilitate open dialog with the crypto community.
When all the usual marketing tactics didn't work, educating customers with content and creating communities around that educational experience became the driver of SALT's success. As Rob Odell, Co-President and CPO, says, "Trial and error have been key."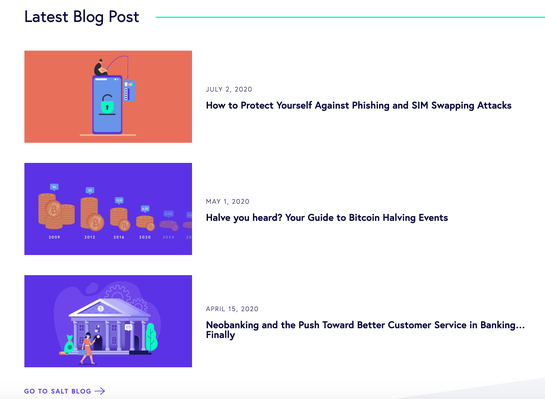 User-Generated Content: When Customers Become Part of Something Bigger
As people become more involved in a brand community, they move beyond reading blogs and lurking in forums to become content generators. Then, brands can start benefiting from the immense power of user-generated content (UGC).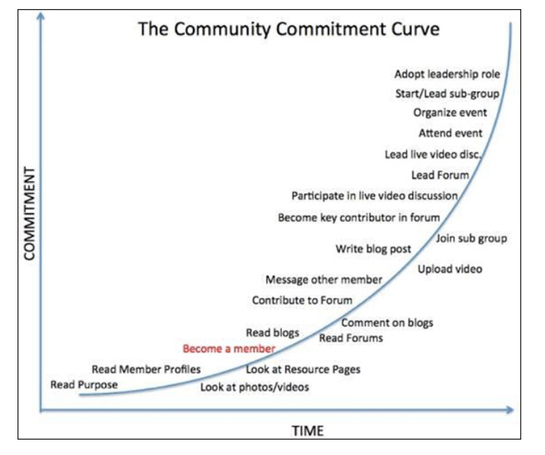 UGC is loved by consumers because it's seen as the most authentic, honest, and trustworthy form of brand communication. There is no slick PR team checking every word and image. The customers themselves are generating the content, whether a Facebook post, Instagram image, or video review. Just how much people love UGC is clear in the numbers. It gets 4x higher click rates than branded content, and 28% higher engagement levels on social media than branded posts.  
UGC doesn't just increase the interaction between the brand and the customer; it boosts interaction between customers too. Besides the word-of-mouth effect (74% of consumers say that word of mouth is a key influencer in their decision to purchase), there is something else at play. Namely, UGC that is built around a shared mission and values can make the community even stronger and more influential. Particularly among millennials and Gen Z, brand values are a critical element to market success. 77% of consumers say they buy from brands that share their values. When consumers can rally around hashtags that are important to them, the bond with the brand and like-minded people becomes the basis of a powerful and meaningful community experience. 
How one brand does it: Women's fashion and lifestyle brand Aerie is prolific in its use of UGC. It goes by the hashtag #AerieREAL and helps to promote healthy, successful role models in a communal space where real women can support, connect, and discuss with one another. The brand has also promoted body acceptance, with a campaign against photo editing that is so ubiquitous in the fashion industry. Customers were invited to share untouched photos of themselves in their swimsuit to celebrate their individuality. The brand donated $1 to the National Eating Disorder Association for every shared post.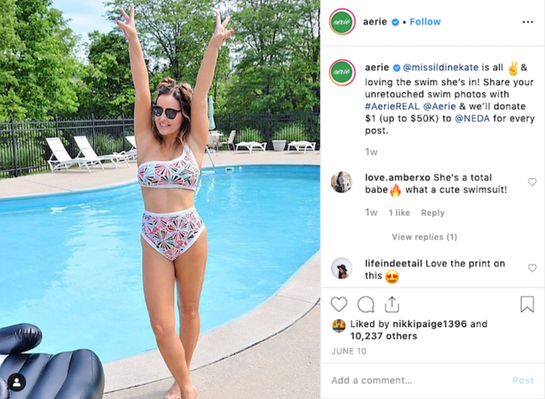 Aerie is an example of a brand that has leveraged UGC to create a large, active, and influential community. The Aerie Real Life community has its own full website and has expanded to include offline events as well, like panel discussions, charity workshops, and more. UGC is vital to building a strong brand community, and once the community really takes off, as has Aerie's, there are endless opportunities to connect with customers and strengthen it even more.
Build It and They Will Come
When a company builds a blog, it's not for the express purpose of selling products. Rather, the blog should aim to educate, entertain, and engage new and existing customers. When done correctly, it becomes much more than a bunch of people just reading content. It grows into a community of like-minded enthusiasts who connect online (and even offline) to learn, share, and live their values. They become stakeholders, part of a vital and meaningful network that connects them to each other, and to the brand itself. This is the true power of community content, and every brand can take advantage of it to build their own community.
Want to learn more about building a community? Check out our resources below!
Last updated on December 2nd, 2022.