Facebook Messenger Ads: A Guide to Getting Started
Topics Covered:
If you're already running ads on Facebook and/or Instagram, it's easy to start advertising through Messenger. But what are Facebook Messenger ads and how does it work for a platform that's focused on personal messaging? We cover the reasons to use Facebook Messenger, each type of ad, how to get started, and some Facebook Messenger ads examples. 
Why Use Messenger?
Fun fact: 1.3 billion people use Messenger every month. Messenger is a great way to connect directly with your customers. The best and unique thing about advertising on a messaging platform is that you can directly chat with potential customers. According to Meta, 66% of online adults say they are more likely to do business with or purchase from a company they can contact via messaging. 
Unlike other social ads, Facebook Messenger ads offer the ability to skip the newsfeed so you can stick out from the crowd and nurture your leads. Messenger ads also seem more personalized when it's delivered to someone's inbox. It's important to note that there are different types of ads on Messenger, and some come with geographical limits. 
Types of Messenger Ads
1. Click to Chat 
These ads appear in a Facebook feed but instead of a "Shop Now" or landing page button, it takes the person right to Messenger, where they inquire about the product or service. If you don't already have a chatbot up and running, it will be essential to have one developed for this type of ad so the chatbot can answer consumers' questions, send promotional offers, and make sales. Try testing out a name for your chatbot; it'll humanize the customer journey and make your customer feel like they can trust your brand. Just make sure it's friendly and aligns with your brand's voice!

Click to chat is also a great way to gather more information about your market and feedback for your offerings. You can uncover any common misconceptions to improve your marketing. Another great feature is the ability to retarget these leads with a Sponsored message, another ad offered with click to chat. You can gain their attention again by reaching out to previously interested customers, but it's necessary to respond in a timely manner. It'll get harder and harder to retain their attention and interest after multiple attempts.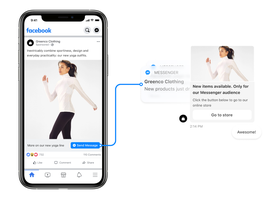 2. Story Ads
According to Meta, 50% of people surveyed say they have visited a website to buy a product or service after seeing it in stories. Story ads appear in between organic stories in Messenger — very similar to the format of Instagram story ads. These ads will work best if it has attention-grabbing imagery and takes up the whole screen. Try telling a mini story and if anyone has questions, they easily send you a message via Messenger using the call-to-action button at the bottom. Another way to drive engagement is by making the CTA button a link to an event or promotion. 

Keep in mind that these ads can only be run with Instagram Story ads or in addition to ads running in the newsfeed. Since Story ads are a bit easier to ignore since the user needs to swipe left to the next, we recommend double-checking the size requirements since rectangular newsfeed ads won't feel natural when viewed by users in Stories.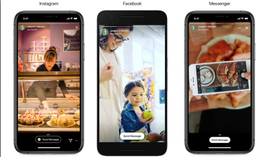 3. Inbox Ads
This ad is directly located in someone's inbox between their other conversations. There's a limited amount of text the person can preview in their inbox before clicking on the conversation so it's important to entice them in the first few words. Your chosen image should stand out — make it memorable since customers see hundreds of images on social media. It'll be hard for them to remember where your ad came from, especially if it's "hidden" in a conversation. 
Once they click on your ad, you have their full attention. The detailed view will display an image in the conversation with a short description of your brand and offerings. Depending on your objective, you can choose to include a website link if you want to drive traffic there, or you can choose a link to your app for more downloads. Regardless of your objective, be sure to communicate your brand's key messages. 
The best thing about using Meta advertising tools is you'll be able to reach people based on what they include in their profiles, Pages, groups and other connections on Facebook and Instagram. Unfortunately, inbox ads are currently unavailable in the U.S., Canada, Australia, and France. E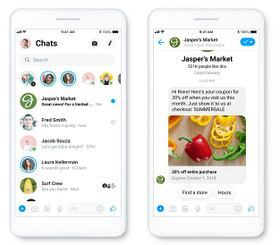 How to Create Facebook Messenger Ads
Creating Messenger ads is surprisingly simple! If you're using Meta Business Suite, choose the type of Facebook Messenger ad you want and select one of the objectives they offer, i.e. traffic, engagement, leads, etc. Then choose between Meta Advantage+ Placements, which automatically places ads to drive results at the lowest costs, or you can manually edit your placements. The final steps are like any other social media ads—select the audience, budget, timeframe and finalize your ad specs. 
Send the First Message
Facebook Messenger ads prove to be an effective way of not only capturing a consumer's attention, but communicating with them as well. Any brand that currently has a chatbot feature should maximize the potential of it through the use of Messenger ads. Messaging directly with consumers is a powerful tool many advertisers will prioritize in the future especially as we see long-term results coming in.  
If you're already harnessing the power of social media ads, it's time to streamline and consolidate into one platform. Check out our Facebook ad management platform, where you can launch, manage, and edit your campaigns with ease. You can integrate your social ads from other platforms, your web ads, and your email efforts. Learn more today.
Last updated on June 20th, 2023.