Chat Marketing: Get Started With This Conversation Template
Topics Covered:
Gone are the days where shoppers have to wait on hold for hours, listening to an annoying jingle on loop before successfully reaching a customer service representative. In today's ecommerce world, customers expect answers to their questions and problems no matter the time of day (or night). Case in point: Brands that aren't investing heavily in customer support are missing out. 
Enter chat marketing. Because chatbots are available to offer help 24/7, it's easy to understand why millions of brands use them to supplement live customer support. In fact, studies have found that 75% of shoppers prefer texting and chatting with brands rather than old-school channels like phone or email. It's not only more convenient for shoppers, but it's also good business — in 2022, retailers will save up to $8 billion by using chat-based automation. 
While implementing a chat marketing solution to your Shopify store is a relatively straightforward process, doing it well takes skill. First and foremost, chatbots have to quickly understand and solve customer problems. But just as important, they should be designed to reflect a brand's personality. In other words, chatbots are not just a customer service tool — they also double as a marketing channel, giving stores the chance to support (and even surprise!) potential and existing customers. 
We're here to help give your chatbot some TLC so your brand doesn't come off as, well, robotic and stodgy. Check out our must-have chatbot messages for your Shopify store, plus a column for you to start crafting your own script. Welcome to the world of conversational UI! 
Keep in mind: This template is simply a starting point. While you want to provide your chatbot with a recognizable voice, it's equally important to communicate clearly and effectively. And for that, we recommend designing a conversation diagram that covers all potential customer journeys for different customer segments.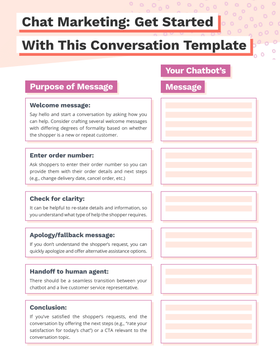 Ready to embark on a journey of even more marketing success? Download the AdRoll app for Shopify.
Last updated on November 9th, 2021.