Dealing with Copycat Competitors as a D2C Brand
Topics Covered:
It's said that imitation is the sincerest form of flattery. However, for direct-to-consumer (D2C) brands battling for customer attention and dollars every day, copycat competitors are a thorn in their side. In a survey of brand marketers, 58% said that the biggest unforeseen challenge that D2C companies face is how to deal with copycats. Why? It's simple. D2C has proven to be a very successful business model, and more and more companies want to get in on the action. 
In several consumer goods segments, D2C brands have disrupted the industry and turned traditional buying habits upside down. When it was established in 2010, Warby Parker flipped the eyewear industry on its head by making it possible to easily order eyeglasses online for the first time. Today, the brand is valued at over $1 billion, and there are dozens of similar companies in this lucrative market, all trying to get a slice of the online eyewear "pie."
When it comes to market competition, D2C and B2C brands fare similarly. A product takes the world by storm, and competitors naturally spring up in its wake. However, the D2C industry is faced with a unique challenge.
D2C brands aren't just competing with each other — they're directly competing with traditional retail brands, too. People are still mostly spending their time and money in physical retail stores. In fact, online sales account for just 10% of total retail sales. For D2C companies, copycat competitors are making business very tough indeed, spreading an already limited customer base even thinner. 
As it stands, the most popular D2C brands are mostly focused on the same consumer goods categories. According to eMarketer research, the top 10 D2Cs ranked by average unique monthly website visitors come from just three categories: wellness and beauty, clothing and apparel, and mattresses.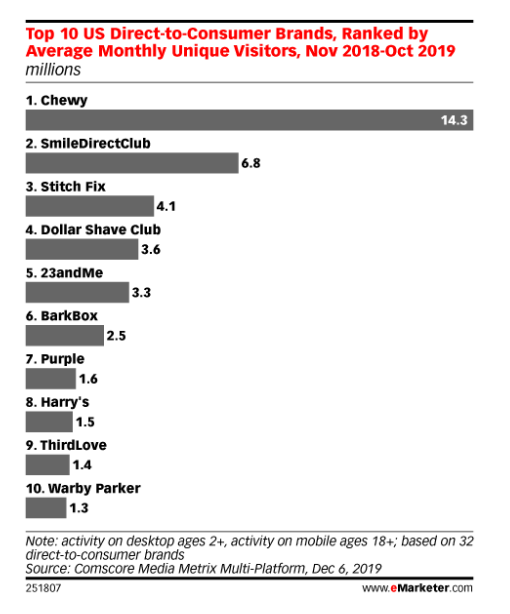 For D2C brands to be sustainable in the long term, they'll need to move into less saturated markets, or learn how to outsmart copycat competitors.
How do cybersecurity experts figure out what real hackers are up to? They get into their minds by studying their methods. D2C brands should do the same with copycats to see how they can stay ahead of the growing competition.
Here are several ways that D2C brands can tackle the challenge of how to deal with copycat competitors.
Build the Brand Name and Character
D2C brands cannot afford to get stuck on the simple act of selling a product. The brand must encompass much more than that in order to stand out and to remain relevant and exciting to their target market. D2Cs must be constantly working to offer that extra "wow" factor that no one else does — even if the products and pricing are similar to the competitors.
A powerful way to do this is via the distribution of unique and valuable content that stimulates discussion, enhances brand value, and satisfies the target audience, emotionally, ethically, or intellectually. This will make the D2C brand memorable and enhance its top-of-mind awareness among consumers, even in the face of copycat competitors.
A great example is an infographic published by D2C ethical clothing brand Everlane that quickly went viral and boosted the company's organic reach by 200,000 in one year. The infographic outlined the manufacturing process of a standard t-shirt and clearly exposed the costs, demonstrating to readers just how much markup they pay when purchasing via a regular retail store. The company then launched its own site with a $15 t-shirt that sold out almost straight away. This is a perfect example of a D2C creating an unforgettable story that inspired its audience and set its brand identity apart from the competitors.
Establish a Physical Presence
An effective way to get ahead of copycat competitors is by creating a physical retail presence that puts the D2C brand face-to-face with customers. Many D2C brands supplement their online marketing and sales activities with brick-and-mortar experiences, such as: pop-up stores in key regions, during special campaigns or holiday seasons; co-marketing with retail chains to display their products in major outlets; or even experiential stores where customers can engage with the brand and its products in person. By establishing a physical presence and creating unique opportunities for interaction with customers, D2C brands can get a step ahead of copycats who are competing only on the product level. 
Expand the Product Range
The success of a D2C brand may have stemmed from the pure popularity of its product. However, most D2Cs don't have the luxury of relying on just one product or series, no matter how successful, to sustain sales and growth in the long term. D2C brands need to focus continually on the improvement of current products, and the development of new ones, to keep solving the customer's pain points and to stay relevant in a market full of copycats. 
Casper, the first D2C mattress brand, disrupted an entire industry and became a $1 billion enterprise in just a decade. However, it didn't get there just with sales of its original breakthrough product — a high-quality mattress that could be shipped in a box. Over the years, Casper has expanded its product range with different versions of the mattress, as well as sleep accessories such as pillows, bedding, bed frames, and even bedside lamps. Although the Casper brand is synonymous with mattresses, it's actually worked hard to expand its brand offering and create an entire lifestyle experience around its original product.
Focus on Relationships
Although D2C brands are digital-first, their customers are real people who are searching for brands that are authentic, inspiring, trustworthy, and aligned with their personal values. The best D2Cs focus a lot of their energy and resources on developing relationships — not just with customers, but also with other parties who can help solidify the brand's position in the market. These include co-marketing partners, social media influencers, thought leaders, and even competitors.
The relationship a D2C brand has with its customers and partners plays a huge role in differentiating its identity and offerings from copycat competitors. For example, D2C brand TomboyX markets underwear that is gender-neutral and size-inclusive, with a strong focus on diversity and minority audiences. To this end, TomboyX places high priority in relationships, constantly seeking out opportunities for direct customer feedback, and adapting its offerings to meet those demands. Its boxer brief for women, for instance, was actually developed based on a special request from a customer. It's now the brand's best-selling product. This type of deep and authentic customer connection cannot be easily replicated by copycats and puts the D2C brand at a definite advantage.
Automate and Streamline Processes
A major challenge for D2C brands is in-house management of the entire pipeline, from developing and manufacturing the products to marketing, sales, shipping, logistics, and customer support. All of these functions and processes eat into the time and resources that could be spent on beating the competition, like product development, branding campaigns, and customer relationships. That's why it's so important for D2Cs to keep operations as lean as possible. 
There's a wide range of automation tools available that can make D2Cs far more efficient and cost-effective. For example, adopting marketing automation software, inventory management software, customer relationship management systems (CRM), and ensuring these tools are properly integrated can go a long way to reducing time spent on rote tasks and streamlining the D2C operation. D2Cs can also employ third-party companies, such as distribution couriers or last-mile delivery companies, to free up precious internal manpower for marketing, branding, and product development that will keep the copycat brands at bay.
Be Proactive for Lasting Success
Although D2C brands face a rash of copycats who try to imitate their success and hijack their customer base, the fact is that no company should waste time in fear of competition. Rather, D2C companies must spend their resources wisely, focusing on smart strategies that'll keep them always one step ahead of copycat competitors. Preemptive and proactive is the best approach for not just how to deal with copycats, but how to use that healthy competition to drive innovation — which is the key to continued growth.
Last updated on December 21st, 2022.