Pop-Up Shops: Buzz for E-Commerce Brands
Topics Covered:
If you're an e-commerce retailer, the thought of selling offline might be unappealing because of the high cost. Understandable, because then you'd have to take multiple costs into account, such as rent, paying utilities, organizing your storefront, and stocking inventory. However, skipping out on engaging directly with the public could be a huge missed opportunity. According to a recent survey, consumers prefer physical stores because of the "ease, immediacy, and experience." So, what's the happy medium between the high price tag of a physical shop and consumers' preference for one? Simple — the key is to look into pop-up shops.
What is a Pop-Up Shop?
A pop-up shop — also known as temporary retail, flash retailing, or a pop-up store — is a temporary storefront space operated by an online merchant. Pop-ups are designed to sell all types of merchandise and come in all shapes and sizes — they can be found in brick and mortar stores, kiosks, or even via a motorized vehicle. 
Introduced in the early '90s, pop-up shops have steadily increased in popularity throughout the years and are expected to generate $80 billion annually. 
What Are the Benefits of a Pop-Up Shop?
It's satisfying shopping online — you get the whole inventory at your disposal, and you can buy anything and everything you need without leaving the comfort of your bed. However, even with all the conveniences that online shopping offers, the experience isn't quite all there. There's no warm "hello," as you visit the webpage, nobody to answer your questions, and you can't physically touch anything you want to buy. 
Daniel Spiegel, Managing Director of Coldwell Banker Commercial Affiliates, states that:
Consumers still want the experience of in-store retail, and the numbers show they're also looking for personalized assistance.
Pop-up shops are ideal for e-commerce brands for many reasons: 
They're cost-efficient. The cost of a physical shop poses a significant barrier to entry for retailers. Pop-up stores are the happy medium because they require low commitment (you're not bound to a lease and can choose to open for days or weeks) and are reasonably priced for the high value. In fact, pop-up stores cost 80% less to launch than a full-time store. 
They increase your visibility. If your business lives exclusively online, it isn't very easy to get people who've never heard of your brand to visit your website. With a pop-up shop, you won't just attract fans of your brand; you'll also intrigue passerby who might become customers.
A pop-up shop is also a great way to spark interest from the media and generate buzz. Pop-ups are compelling because they tell a story and are versatile. And whereas brick and mortar stores are rooted where they are, pop-ups carry an element of surprise because they can "pop up" anywhere, giving journalists a reason to hop on the story before it's too late. 
They help you connect with customers. The pop-up retail medium enables you to build stronger relationships with your customers. They're able to put a name to a face as opposed to just being on the other end of a computer screen. 
They let you "try before you buy." If you do have the funds to start a physical store, pop-up shops are an unparalleled way to test for locations, in-store experiences, and new markets. 
Planning for Pop-Up Shops 
So, you've found the perfect space. But a pop-up shop, while small, takes a lot of planning to get right. Let's break down the process so that you can get started, easier and faster:
Be sure to get any permits, licenses, or insurance in order, depending on your city and state's regulations. 
Confirm the space's utilities — does your pop-up need wi-fi or video equipment? 
Decide how you'll configure your space to showcase your products. It's important to have a design layout plan in place before you start renting furniture and props. 
Develop a marketing strategy that includes how to promote your pop-up. Plan in-store events, or create partnerships with other direct-to-consumer (D2C) brands, and then come up with a social media strategy to build buzz. 
Get your branded materials in order, including signs, posters, and window displays — your pop-up mustn't be off-brand.
Examples of Pop-Up Shops
Spirit Halloween
Because pop-up shops are temporary, they're perfect for seasonal shops that don't make consistent revenue throughout the year. Take the Spirit Halloween chain, for example — while they were formerly big-box stores that shuttered thanks to the economy and seasonality demands, they pivoted to become pop-up stores across the country. They pop up around late summer or early fall and are set up in vacant retail spaces. Then, a few days after Halloween, they disappear until the same time next year.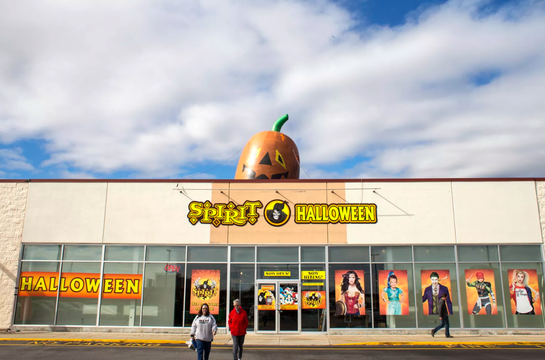 Spirit Halloween is an excellent example of how pop-ups can serve as a smart option for seasonal (or temporary) retailers. While they aren't serving business via pop-up shops, you can still purchase costumes on their website year-round. This way, they get to enjoy e-commerce sales and make a significant impact when Halloween rolls around. 
Birchbox
Birchbox is a beauty subscription brand that found success through pop-up retail. To see whether they should open permanent locations, they launched a national tour across the U.S. so that customers could experience the Birchbox brand. 
Birchbox's pop-ups didn't just sell products — they also hosted fun side activities such as astrology readings and free manicures. There's even a "Try Bar" where customers could test the latest makeup.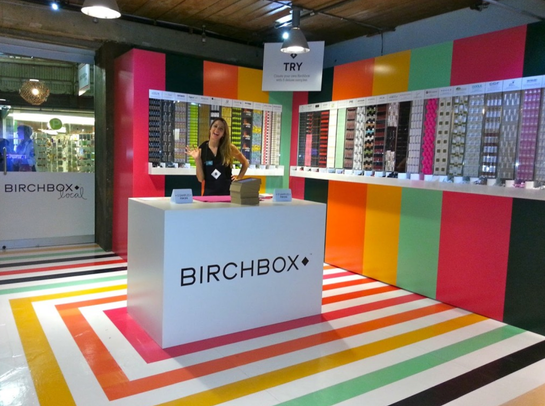 The pop-ups were such a hit that Birchbox opened up its first permanent location in New York City. The brand's success with pop-ups was due to their creativity and ability to engage with their customers. Birchbox provided more than just a product — they also offered an experience. 
Pantone Cafe
Color expert Pantone doesn't exactly need pop-up shops to sell any products, but they took a shot at the pop-up trend during Paris Fashion Week. The brand decided to get creative with their offerings by launching a colorful pop-up cafe that featured beverages and food named after Pantone colors. By tying their colors to the taste of food, Pantone was able to engage with customers through their senses — sight, taste, and smell.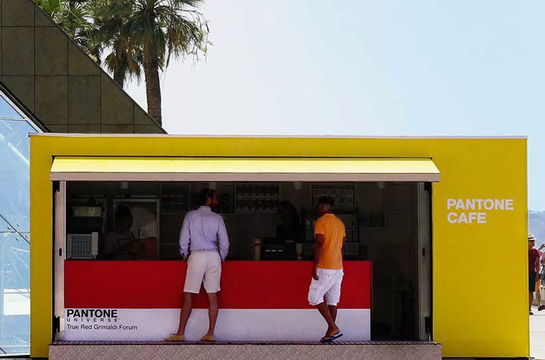 Last updated on December 9th, 2022.