5 Essential Advertising Channels for Your Shopify Store
Topics Covered:
As an ecommerce entrepreneur, launching your Shopify store is the simple part. But making it a raging success? Yeah, that's no walk in the park. Though advertising is a must, embarking on this journey with little strategy and expertise can cause your traffic and sales to plummet. 
Though there are tons of advertising opportunities for Shopify stores, getting started includes a steep learning curve. That's why we're here to help, ready to dive into some basic Shopify ads that'll boost sales and reach new shoppers in no time. Let's get started!  
Facebook and Instagram Ads
There's a good reason why Facebook is the go-to platform for many ecommerce stores: It's easy to launch campaigns in different formats and target highly specific audiences, all for a fairly low cost. Whether you're eyeing dynamic display ads that appear on shoppers' newsfeeds or a sponsored vertical Instagram Story, Facebook can make it happen.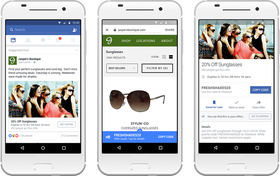 If you're interested in Facebook and Instagram ads, don't miss our checklist to nail your first campaign. It'll take you step-by-step through the entire process of choosing a marketing objective, determining your ad placements, and monitoring your campaign post-launch. 
Best for: New or growing brands looking to expand their social presence, plus established brands hoping to boost their brand awareness, recover abandoned carts, and re-engage with existing customers.
Google Ads
Google is the most-used search engine in the world, so it should come as no surprise that Google Ads are a great way to generate organic traffic. They're designed to increase brand visibility by promoting your products to shoppers who are viewing similar items or searching for relevant keywords via Google Search. 


Similar to Facebook ads, we created a checklist to help ace your first Google Ads campaign. Check it out here. 
Best for: Retailers looking to target potential customers who are ready to purchase and are actively searching for relevant products or your competitors' sites.
Pinterest
Pinterest is one of the most popular social media platforms, with more than 454 million monthly active users browsing pins and boards on everything from home decor to recipes.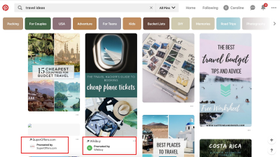 No wonder there are huge opportunities for brands (especially those selling visually attractive products) to grab attention and drive traffic from the platform. According to research conducted in early 2021, you can expect to pay between $2 and $5 per thousand impressions on Pinterest — not bad for building brand awareness. 
Best for: Visual-focused stores that want to attract users in the process of discovering new brands and products.
Snapchat
Snapchat is a low-cost, highly visual platform that's one of the top go-to's for brands that want to reach younger shoppers. In 2018, the platform launched its "Shoppable Snap Ads," allowing brands to feature a collection of items in just one shoppable ad — no need to leave the app. 

Plus, with the Snapchat app for Shopify, integrating your product catalog is beyond straightforward. With these ecommerce features, Snapchat reported some brands, including American Eagle, saw their return on ad spend (ROAS) increase by over 3x.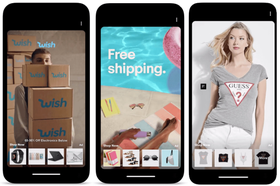 Best for: Companies ready to experiment with and invest in augmented reality, in-app shopping, and other forward-facing ecommerce shopping features.
TikTok
Last but not least, every Gen Zer's favorite platform: TikTok. Just like the other apps on this list, TikTok offers an Ad Manager tool, allowing marketers to choose their campaign objective, select an audience to target, set a budget, design their ad, and push it live. 
Pro tip: For those unfamiliar with the TikTok ecosystem or who need a refresher on the different TikTok ad types and formats, check out this quick 101 post.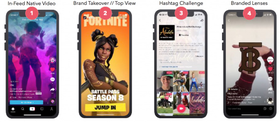 Best for: Fun and creative brands who aren't afraid to be lighthearted and experimentative with short-form video. TikTok is also great for those looking to target younger audiences.
Link Your Ad Accounts to Shopify
No matter what platform you use, there's one step you can't forget: link your ad accounts to Shopify to properly track conversions. How else will you know what's working and what's not?
Good thing most of these platforms are partnered with Shopify and have designed apps that allow you to integrate your marketing efforts with your store in just a handful of clicks. (For the technophobes out there, this means there's no need to manually copy pixel data and mess with your store's back-end code.) Check out the step-by-step guide for linking your ad accounts to Shopify here.  
Next Steps
Now that you've connected your store with various advertising channels, the next step is to decide what types of campaigns to run on each channel, who your target audience is, and how to reach them. Learn more about how you can use digital advertising to take your business to the next level in part 2 of this post — Advanced Shopify Ads: 5 Ways to Make the Most of Your Ecommerce Ad Budget Advanced Shopify Advertising.
And remember: Each channel has its unique characteristics. That's why we recommend a cross-channel approach to find the right mix of platforms to promote your Shopify store. For that, you'll need a cross-channel marketing tool like AdRoll — check out how we can integrate all your marketing efforts.
Last updated on March 24th, 2022.