Topics Covered:
Email marketing is one of the best ways to reach shoppers and keep them engaged with your brand — especially when you use tools like segmentation and personalization to tailor your message to subscribers' preferences, needs, and wants.
The best way to reap the benefits of email marketing? With an email solution, of course! If you need help setting up your first email campaign or are looking to level up your existing email strategy, it's time to consider using an email service provider like AdRoll or Mailchimp.
While both are fantastic, easy-to-use options for brands, they do have their pros and cons — let's dive into them so you can decide which one is right for your brand.
AdRoll: A Quick Introduction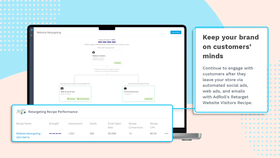 AdRoll is an all-in-one marketing platform and email service provider that covers everything from display ads to social media ads to email marketing. Because we're an AI-powered one-stop shop, you save a tremendous amount of time and money launching, managing, and optimizing your marketing campaigns across platforms. No matter your industry or business size, having this cross-channel view of your marketing efforts means you enjoy better data and, as a result, a bigger bang for your buck, whatever your KPI or conversion goals.
Mailchimp: A Quick Introduction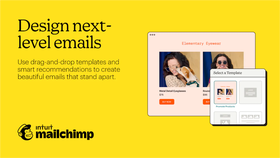 Mailchimp brands itself as a marketing, automation, and email platform — but, as its name suggests, it's most famous for its email services, including list management and signup forms. However, Mailchimp also dabbles in a hodgepodge of other solutions, including website creation, appointment scheduling widgets, custom domains, and an address finder tool for direct mail.
AdRoll vs. Mailchimp: Features
The email marketing landscape is a competitive one, making it challenging for marketers to find the best tool for their needs. AdRoll and Mailchimp offer brands A+ marketing features, with both having: 
Professionally built email templates with the ability to add dynamic, personalized content blocks (such as product recommendations) via easy drag-and-drops

Automated email campaigns triggered by shopper behaviors, such as cart abandonment

Scheduled emails for promotions, newsletters, or announcements

Powerful performance dashboards with extensive tracking capabilities and optimization recommendations

Audience segmentation, targeting, and management tools
(Fun fact: AdRoll and Mailchimp are both Shopify Plus Certified App Partners — an accolade awarded to only 1% of all Shopify apps with proven A+ product quality, service, performance, privacy, and support for small and large businesses alike.)
Differentiators
What differentiates AdRoll and Mailchimp, however, are the features you get beyond email marketing — AdRoll is renowned for its web and social media ads that tackle brand awareness, retargeting, and abandoned cart recovery. Our machine learning engine hosts a treasure trove of data from 70% of the world's online shoppers, which we then leverage to ensure your marketing campaigns across email, social, and ads are delivered to the right audience at the right place and time. While Mailchimp also offers digital and social media ads, it's tough to compete with AdRoll's tried and true AI-powered infrastructure.
AdRoll vs. Mailchimp: Pricing
Starting at $36/month, AdRoll's Marketing & Ads Plus plan unlocks all our features — display ads, social ads, email marketing (with unlimited email sends!), audience segmentation, measurement and attribution, and more. (Psst: You also get a 30-day free trial and $75 signup credit!)
Mailchimp, on the other hand, has a more complex pricing structure that fluctuates according to the number of contacts on your email list. Although its recommended Standard plan starts at $17/month for those with 500 contacts (or $90/month if you have 5,000 contacts), you have to pay for overages as soon as you exceed your contact or email send limit. Additionally, the Standard plan does not include advanced segmentation — a must-have for growing digital brands.
AdRoll vs. Mailchimp: Which One's Right for You?
Here's the million dollar question: Should you opt for AdRoll or Mailchimp? 
For growing brands, the features you get for AdRoll's prices are unbeatable. With one app, you can streamline many key parts of your MarTech stack — no disparate solutions needed for ads, emails, and analytics. We're also designed to help you scale, so you'll never be penalized for growing your contact list. For enterprise brands requiring advanced feature sets that go beyond what we currently offer, we can support you as an integration partner, helping you connect your email data to the ads running on our platform.
Comparatively, because Mailchimp charges according to the size of your email list, costs can quickly balloon out of hand. As a result, the email service provider works better for hobbyists or side hustle solopreneurs looking to send an occasional newsletter or just starting to experiment with email marketing — these brands can also benefit from Mailchimp's other tools such as its website builder and appointment scheduling widget.
Find Your Perfect Email Marketing Solution Today
Whether you're looking to grow sales, build relationships with customers, or improve your brand image, email marketing is a must. Not only is it one of the most inexpensive ways to deliver your messages to your target audience, but with the right automation tools, you can also have it whirring away in the background to save you massive amounts of time and energy.
If you're ready to save time and money with one of the most powerful all-in-one marketing solutions available to growing brands, learn more about AdRoll!
Last updated on September 6th, 2022.