5 Spooktacular Halloween Campaigns to Draw Inspiration From
Topics Covered:
Spooky season is right around the corner: Pumpkin spice is back on the menu, Home Depot's 9-foot skeleton is back on the shelves, and Spirit Halloweens are popping up around the country.

While it can be tempting to dedicate all your attention to planning for Black Friday and Cyber Monday, there's no reason you can't launch a Halloween campaign to capitalize on shoppers' love for the holiday. Here are five frightful Halloween campaigns to draw some blood... er... inspiration from.
1. Hulu's Huluween
One of the best ways to celebrate All Hallow's Eve is with a good scary or not-so-scary TV show or movie, whether Scream or Hocus Pocus. Enter Huluween: Hulu's aptly named hub featuring all the Halloween content you need to get you through October.
To ramp up excitement for Huluween 2020, Hulu decided to take it up a notch with a full-fledged experiential campaign that expanded far beyond on-screen content. They created the Huluween Drive-in Theater, a four-night event during which attendees drove through a haunted forest (complete with jump scares by iconic characters) and then enjoyed frightening flicks (including new Hulu originals) from their cars.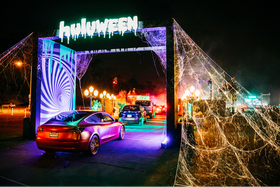 The takeaway: Have extra room in your budget? Consider expanding beyond a digital campaign and venturing into experiential marketing, like an in-store activation or a virtual murder mystery (that you connect back to your brand, of course!)
2. Temptations' Tasty Human Cat Treats
If cats were bigger, would they eat humans? That's the question cat food brand Temptations set out to answer with their Halloween campaign, where they released limited edition Tasty Human flavored cat treats. (In case you're wondering, they were actually chicken, liver, and beef flavored.)

To promote this scary snack, Temptations naturally had to launch an equally creepy campaign. The ads are hilarious (as expected), and encourage cat parents to treat — or possibly trick — their furry friends for Halloween.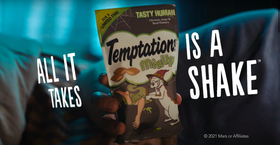 The takeaway: Halloween is a fun holiday, so don't be afraid to run with wacky ideas for your products or ads! Clever marketing is one of the best ways to grab attention, and trust us when we say that it's "all out" ideas that'll get shoppers talking.
3. Crest's #BringOnTheCandy Safes
Everyone loves Halloween candy but cavities? Not so much. Unsurprisingly, toothpaste brand Crest had the perfect angle for a Halloween campaign in 2021: Protect your candy and teeth.
The concept was simple: Customers were invited to enter a raffle for a limited edition Candy Safe, so kids could safely hide their candy stash from their sneaky parents. The rules were similarly straightforward — participants simply had to share on Instagram why they want a Candy Safe and why their family loves Crest, using the hashtag #BringOnTheCandy.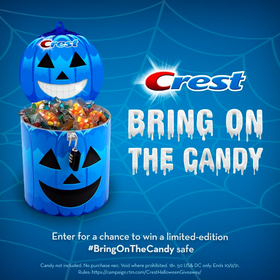 The takeaway: You don't have to be a traditionally "scary" brand to celebrate Halloween — it's all about finding unique ways to relate the holiday to your brand and products. Hashtag campaigns are also great ways of driving engagement.
4. Marmite's Trick or Treat Jars
Marmite — you either hate it or love it. (It's literally their brand slogan.) That's why a few years ago, they released two limited edition Halloween-themed products: the Trick jar ("poison for haters") and the Treat jar ("potion for lovers"). It may be a simple packaging change, but for Marmite fans, the jars were must-have collectibles and made perfect gifts.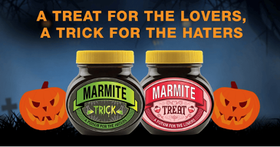 The takeaway: If you're feeling a little stumped while trying to craft a good Halloween campaign headline, consider brainstorming punny interpretations of your brand slogan.
5. Butterfinger's Turn Yourself In Competition
Is there a more heinous crime than parents getting into their kids' Halloween candy stash? We've all seen Jimmy Kimmel's annual "I Told My Kids I Ate All Their Halloween Candy" compilations of submitted videos — which is precisely why Butterfinger decided to tap into the trend.
For its Turn Yourself In campaign, the candy brand encouraged parents who stole their children's trick-or-treat Butterfingers to share their mugshots. The reward for fessing up and contributing to the Butterfinger Case Files? $25,000!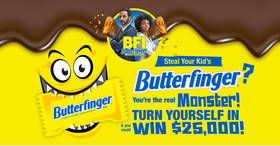 The takeaway: Make sure you know precisely who your campaign's target audience is, whether that's trick-or-treating kids or their guilty parents. Additionally, one great way to ensure your campaign is relevant is by tying it to recent trends or viral moments.
All Treats, No Tricks
Ready to get started with your own festive campaign in Q4 (whether spooky or merry)? Check out our holiday marketing and advertising guides below! 

Learn more about how AdRoll can help you launch, optimize, and report on your holiday campaigns all in one platform.
Last updated on October 3rd, 2022.