4 Ways to Transform Black Friday Shoppers Into Repeat Customers
Topics Covered:
Black Friday has come and gone, cargo ships are packed to the brim, and you've finally whittled down your holiday shopping list. Whether or not your Shopify store saw stellar Black Friday and Cyber Monday sales, give yourself a pat on the shoulder — you survived this year's frenzied retail extravaganza as both a seller and buyer. Whew!
Though "50% off everything!" is no longer plastered on every physical and digital storefront, your work is far from over. You've managed to capture shoppers' attention once, arguably in one of the noisiest holiday ecommerce landscapes ever. It's now time to transform them into repeat customers — or even better, loyal fans. 
After all, it costs significantly more to acquire a new shopper than to retain an existing one, and who doesn't want a higher return on investment (ROI)? Read on for expert ways to boost customer retention and transform your deal-hungry Black Friday shoppers into everlasting customers. 
Provide Excellent Communication and Customer Service
Despite the fantastic deals that Black Friday and Cyber Monday are known for, these shopping holidays are synonymous with one harsh reality: shipping delays. Recent pandemic-related supply chain issues have only exacerbated this phenomenon. 
That's why a retailer that sets expectations around realistic shipping and delivery times will do a better job at retaining shoppers compared to one that doesn't provide timely, transparent communication and customer service.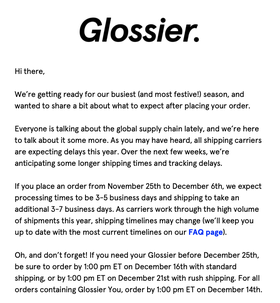 To increase customer retention, you'll want to consider:
Using email, SMS, or app push notifications to keep shoppers updated on their order status

Letting customers easily track order status on your website

Providing multiple customer support channels (e.g., website chatbot, social media help, dedicated help desk email address, etc.) 

Making sure shoppers can quickly speak to a live agent, if needed 

Crafting clear and genuinely helpful FAQ pages 

Offering friendly returns and exchanges policies
Invite Shoppers to Your Loyalty and Rewards Program
We all know the most effective way to create loyal customers is to make them feel like they belong to your brand. So give shoppers a reason to participate in your loyalty, rewards, and referral programs. 
Provide fantastic rewards, offer friendly redemption terms, and simplify the sign-up process. Even better, use your programs to thank them for participating in desired actions beyond making a purchase, such as sharing a post about your brand on social media or writing a review. 
Brainstorm Creative Ways to Offer a Memorable Shopping Experience
This one's simple: Customers who find your shopping process simple and fun will likely remain loyal to your brand beyond the holiday season. The better the experience and products you provide, the more likely they'll return to click "buy" again and again.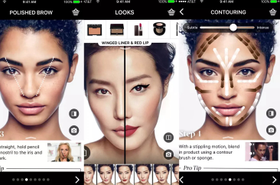 Here are some ideas to get started:
Publish valuable content — think reviews, blog posts, social proof, free digital downloads, etc. 

Create a digital app that allows shoppers to do everything they need, right at their fingertips!

Move to an omnichannel retail model, where all your brand and marketing efforts are seamlessly integrated

Research new AR and VR technologies that'll help your brand come to life no matter where a customer is 

Incorporate experiential marketing into your strategy, from pop-ups to virtual events
The more creative you can get, the better. Remember: You're not only offering a memorable experience now, but you're also laying the groundwork for customer retention down the line.
Remarket to Stay Top-of-Mind 
For all your efforts to turn shoppers into repeat customers, don't forget that you're still competing against millions of other brands for attention. 
That's why it's essential to continue to remind customers about your business. Set up retargeting campaigns through Facebook or Google, or use email follow-ups with enticing content to secure future sales. 
It's worth noting there's a fine line between a friendly nudge and an annoying spammer, though. Make sure you're not remarketing to a customer immediately after they place an order. Plus, rather than only delivering nonstop messages urging them to shop now, mix up your content — invite them to participate in a challenge or competition, remind them of your brand values, or deliver a fun quiz. 
Black Friday Sales Every Day! 
You have a treasure trove of new sales at your disposal — your existing customers. Once you get the hang of all the ways to attract them to return, you'll enjoy a steady stream of revenue in no time. To keep yourself organized, make sure to bookmark this worksheet template as well. 
If you're ready to get started with retargeting ads and emails to drop that friendly "Hello, it's us!" message, check out the AdRoll app for Shopify — our one-and-done solution to massively boost customer retention.
Last updated on December 3rd, 2021.