3 Winners in the Post-Cookies Ecommerce Landscape
Topics Covered:
As the third-party cookies we once loved continue to crumble, digital marketers have to start getting creative. In many ways, we're returning to the days before third-party cookies became the default approach to digital marketing — a time when you had to build your strategy based on the first-party data you collected rather than rely on trackers to know exactly who your audience is.
We've got good news: As we usher out third-party cookies, plenty of tools and tactics are still available for brands looking to deliver relevant marketing to their target audience. Who's winning in the post-cookies ecommerce landscape? We've got the deets right here — and if you play your cards right, you, too, can stand to win during this major industry transformation.
🏆 #1: Brands That Have Heavily Invested in Email Marketing
Email marketing has been around for decades, but it remains one of the most effective ways to build relationships with customers. Without having to worry about data privacy compliance issues, brands that have heavily invested in building their permission-based email marketing lists are able to deliver segmented and personalized messages based on subscribers' interests, demographics, and behaviors.

Next steps: Use these tips to build up your email list, then check out how AdRoll can help you design and send optimized emails, and track and analyze the impact of your email campaigns.
🏆 #2: Brands With a Strong Contextual Targeting Strategy
With behavioral targeting going out the window, contextual targeting is the next best alternative. 
The beauty of contextual targeting is that it doesn't rely on third-party cookies to deliver relevant ads; instead, it simply places your ads next to relevant content throughout the web to reach your target audience based on their interests — no tracking or asking for personal information needed!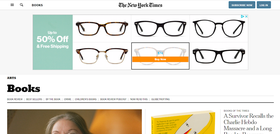 Next steps: Learn more about contextual targeting with this guide, and see how AdRoll's contextual targeting solution works.
🏆 #3: Brands Prioritizing First-Party Data
The deprecation of third-party cookies has made it clearer than ever that marketers need to take advantage of all the new data available to them as soon as possible. Unsurprisingly, brands prioritizing first-party data (aka the data you own) and using it to inform everything from ad creative to targeting methodologies are enjoying a massive head start.
To start reaping the benefits of your first-party data, the first step is to identify what data you have, including your sites, apps, and point-of-sale systems. Then, you need to develop a strategy for putting this data into action. This might involve adding new first-party data sources, creating new customer segments, or finding new opportunities to build more personalized customer experiences.
Next steps: If you don't have a strong first-party data collection strategy in place yet, now is the time to start looking into it — we've got you covered with this cheat sheet.
The Post-Cookies World is Full of Opportunities
The post-third-party cookie ecommerce landscape may be full of new opportunities, but marketers need to act fast. While there's still some uncertainty as to what exactly these changes mean for brands and consumers alike, one thing is certain: the sooner you can start making sense of all these changes, the more prepared your business will be.
Interested in learning more about what the cookieless digital world means for your brand? We've got guides for every level of marketer right here.
Last updated on August 29th, 2022.