Why Your Ecommerce Store Needs a Blog (and How to Get Started!)
Topics Covered:
Does your Shopify site have a blog? If not, you're missing out on a critical marketing channel — blogging is a great tool for ecommerce stores to attract new customers and keep them coming back for more. 
The beauty of blogging is that it isn't limited to just product promotion either. It has the power to educate, provide support, entertain, and create relationships between your brand and its customers. After all, studies have found that 60% of shoppers feel more connected to a brand after reading blog posts on their site. 
Without further ado, here's everything you need to know about blogging and content creation. 
You'll Boost Your Search Engine Ranking — and Attract New Customers! 
With a blog that provides relevant content to your industry and targets shoppers (and what they're searching for in terms of keywords), search engines will rank your site higher. 
Plus, search engines love sites that are regularly updated with fresh content — new blog posts are a fantastic way to notify them that your shop is staying current. 
You'll Become an Industry Expert
Your blog is a way to share valuable knowledge and insights with your audience by lending them a helping hand — whether that's solving a problem or introducing a new idea. Creating and maintaining this reputation can go a long way when it comes to establishing trust and encouraging visitors to shop with you when they're further down the funnel. 
Producing informative content is also a great way to attract people to your site (and get them talking about your brand), even if their initial intention wasn't to purchase. 
🔑 to Success: A blog post riddled with spelling and grammatical mistakes won't help you gain status as an industry expert. It may take more time, effort, and resources, but it's worth the effort to publish genuinely useful, original, and well-written articles rather than just posting something for the sake of posting. 
You'll Develop Your Brand Identity
A blog is a vital cornerstone of your marketing strategy because it serves as a home base for your brand. It's a fantastic opportunity to demonstrate what you stand for, feature the people who make your company, and take readers on a behind-the-scenes tour of what you do. 
Providing intimate, relatable content that helps your readers learn more about your brand will build loyalty — which will eventually convert to sales!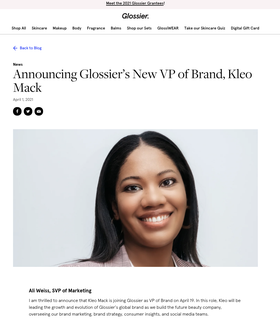 🔑 to success: Your blog will ultimately represent you as a company, so it's crucial that the tone of your posts aligns with how you want to be viewed. Are you funny? Sassy? Serious? A tone and voice guide can help keep your content aligned with your brand identity — it's particularly helpful if you have multiple writers with distinct writing styles. 
How to Get Started With Your Blog 
We created a checklist to help get you started, covering everything from developing your content strategy to setting up your blog on Shopify. Find it here. 
As you work your way through our checklist, keep these tips in mind:
Get creative with your content! There's no need to only focus on products and sales when writing blogs. Be generous with your content and offer helpful, useful information to readers and customers. 

Invite other industry leaders to do a post exchange. Both parties will get access to a whole new audience — talk about a win-win! 

Choose a manageable posting frequency and schedule, and stick with it. This will help set expectations with your readers. 

If blogging just isn't your forte, don't hesitate to hire a professional. From content marketing agencies to Shopify Expert freelance editors, having someone polish your drafts is never a bad idea. 

Pick Up the Keyboard
Blogging can feel intimidating at first, especially if it feels like you can never find the right words or come up with an original idea. Here are some great resources to keep your ink (or keyboard) flowing:
Once you've launched your blog, check out the AdRoll integration for Shopify to power up all your other marketing channels and efforts.
Last updated on October 26th, 2021.