How the Starbucks Red Cup Campaign Became a Cultural Phenomenon
Topics Covered:
Can you smell the intoxicating aromas of peppermint mochas and caramel brulée lattes in the air? Every year, coffee lovers worldwide eagerly await a seasonal transition. No, not for the leaves to change color, but instead for Starbucks to replace its usual white-and-green cups with jolly holiday designs.
But how did our cultural obsession with Starbucks' festive red cup get started? And what holiday season marketing tricks can brands learn from this coffee giant? Brew yourself a cup of joe, and let's dive in.
A Whole Latte History
While the Starbucks holiday season has, in recent years, been embroiled in political controversy (more on this later), its roots are as innocuous as they can be: a marketing campaign aimed at spreading festive delight and cheer. 
The company unveiled its first holiday cup in 1997 — you may be surprised to learn that it wasn't in the iconic Starbucks holiday red color but of a more magenta hue. Setting the stage for the dozens of holiday cups to come, the first design included swirls, holly leaves, and coffee beans.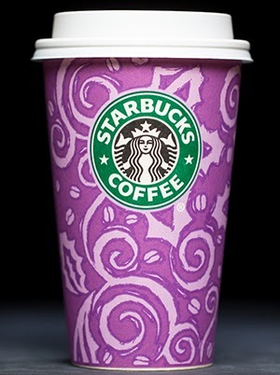 It was only two years later, in 1999, when the signature Starbucks holiday red arrived on the scene. Creative design manager Jon Cannell recalled, "I remember it all started when the creative director asked us, 'What is holiday red? Is it burgundy? Is it more of a ruby color? We brought in all these holiday items in a range of reds, and we landed on a red that we all agreed on." 
As you're probably familiar, Starbucks' holiday cups have since included safe, tasteful images, abstract patterns, and iconography that evoke the holiday spirit, coupled with that joyous shade of red.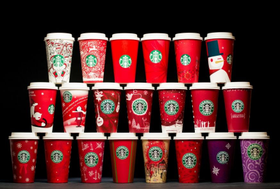 As the years went on, Starbucks' holiday cups slowly transformed into a cultural phenomenon, serving as an exciting symbol of the winter season. Fans even started to design clocks counting down the days until the cups made their annual return.
Once they made their way back into stores, customers would then post pictures of their cups on social media, providing Starbucks with more user-generated content and media coverage than they ever could have imagined. 
But in 2015, Starbucks found itself in the middle of an unexpected cultural battle. Rather than decking its cups with the usual snowflakes, candy canes, reindeer, ornaments, and holly leaves, the company opted for a more modern design featuring a two-toned ombre and nothing else.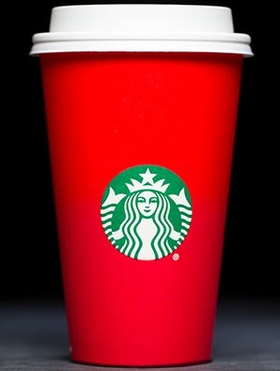 "In the past, we have told stories with our holiday cup designs," Starbucks' VP of design and content Jeffrey Fields said in that year's cup statement. "This year, we wanted to usher in the holidays with a purity of design that welcomes all of our stories." 
It was a wise choice: Starbucks customers have grown increasingly diverse over the years — and not all of them celebrated Christmas. 
A small, outspoken group of naysayers were outraged by the design, launching a tirade about Starbucks stoking the "war on Christmas" — a message which various politicians and media outlets further amplified. 
Starbucks immediately released a statement that explained how the cup had nothing to do with purging Christmas. It was meant to simply be a celebration of simplicity, reiterating that "creating a culture of belonging, inclusion, and diversity is one of the core values of Starbucks." 
A Cup of Steaming Hot Issues
The controversy surrounding the 2015 holiday cups reminds us that Starbucks isn't just a place where you get your coffee — supporting the chain is a reflection of your values, ideology, and politics. 
In today's hot cultural climate, brands that take a stance on any issue risk alienating a subset of customers, but this doesn't mean you should simply sell products and stay quiet on everything else. 
Take a look at Nike, for example. After its partnership with Colin Kaepernick, conservative groups and individuals  across the country declared they would boycott the company, with many filming and posting footage of them burning or trashing their Nike products. 
Though this level of backlash gave the appearance that it would have long-lasting, devastating consequences for Nike, what happened came as no surprise to seasoned marketers: Nike's progressive customers doubled down on their support. In the end, this decision to stand firm on their values contributed to an uptick in Nike's stock and led to a record high. 
Similarly, the Starbucks brand with its Seattle roots is synonymous with a metropolitan coastal liberal customer. Howard Schultz, Starbucks' former CEO, was known to be outspoken about his progressive politics. The company also operates a program aimed at hiring more refugees. 
The modern customer doesn't just compare prices, deals, and product quality before clicking the "checkout" button — studies have found that more than 70% of shoppers find it essential for brands to have a public stance on social and political issues, with nearly the same percentage citing they believe brands can enact real change. Unsurprisingly, over one-third of shoppers say they'll spend more money with brands that have similar values.
Long story short: If your brand stands for something, especially if it's a hot cultural topic, you're going to see a two-fold effect. You may lose a small sampling of customers, while others may become even more loyal to your brand. 
Before deciding to take a stance on an issue, make sure you know exactly who your audience is and what their values are. Having an unapologetic identity that influences company policy, marketing, and sales decisions can ultimately help your bottom line. 
Keeping the Controversy Grounded
In 2017, two years after the controversy, Starbucks debuted yet another holiday cup — this time, swirls of red and white were paired with a coloring book-inspired design.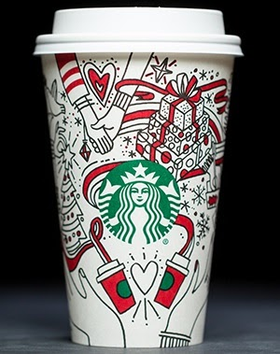 "We're inviting everyone to color in the holidays in a way that's meaningful to them," said Leanne Fremar, executive creative director of Starbucks. 
However, this cup design also experienced some controversy, despite the traditional Christmas elements. The discourse soon fizzled — and with a ton of people mocking the outrage online, the company enjoyed a stream of free publicity.
Brand + Customers = The Perfect Blend
Starbucks realized its holiday cups were a massive opportunity to make customers feel included. In 2016 The brand held a social media contest that invited artists worldwide to submit a holiday cup design. It was a strategically designed competition — first, you had to buy a cup of joe to create your designs on, then you had to post it on social media for all your followers to see. 
Starbucks received more than 1,200 submissions, of which they picked 13 hand-drawn white designs against a red background created by customers from six different countries.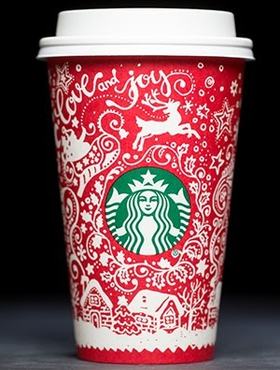 The background of that year's designs, as well as the designs themselves, were extremely wholesome and applauded by everyone (even the haters).
Keeping It Fresh
The Starbucks holiday season is about more than just its iconic cups. Through a full-fledged seasonal marketing campaign, the coffee chain brings back its annual holiday drink flavors, including the chestnut praline latte and the peppermint mocha, alongside a handful of new, never-before-tasted items. 
By releasing seasonal products that customers eagerly await every year — much like the famed fall icon, the pumpkin spice latte, Starbucks keeps its holiday campaign fresh and exciting.
Brew-tiful Ad Campaigns
While Starbucks' holiday marketing drives plenty of publicity, engagement, and social media chatter on its own, the coffee chain doesn't skimp on its ad dollars. 
In 2020, its multichannel holiday campaign included various TV spots, digital banners, print ads, and social media activations on Facebook, Twitter, Instagram, and Snapchat that introduced the new holiday drinks flavors, coupled with the tagline, ​​"Festive is a tap away, download the app today."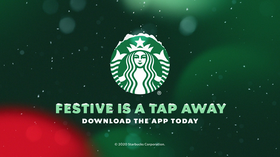 Promoting app downloads as the call to action (CTA) was a risky yet strategic bet. With the pandemic in full swing, the brand wanted to dissuade customers from hanging out in stores. Instead, they emphasized the efficiency of their app ordering and delivery service. 
This multichannel marketing strategy was a success — the social media chatter around the brand in December was bustling. Plus, more than 3 million new users subscribed to the Starbucks Rewards loyalty program. (To start creating your own multichannel marketing holiday campaign, check out this guide of all the tasks you'll need to complete.)
The Roll-Up
Since the late '90s, Starbucks' holiday cups have marked the beginning of the festive season. While your brand may not compare to the coffee chain in terms of scale, size, and budget, here are some takeaways and tips that'll help you conquer the holiday season: 
Offer something novel every year. Whether it's your packaging or product design, offering a novel holiday product line keeps customers on their toes. Consider commissioning local artists to customize your packaging — even better, donate a portion of your holiday products to causes that are relevant to your brand. Playing up the limited-time aspect can also go a long way in driving urgency. 

… But also provide something familiar. Especially during uncertain times, people seek familiar comforts. From holiday products that return every year to using warm holiday images, colors, and copy, offer shoppers the marketing equivalent of a pair of cozy, fuzzy socks. 

Don't be afraid to take a stance — but make sure your positioning aligns with your customers' values. Shoppers don't just want to purchase products, they also want to support brands that care about the same issues they do, whether that's social justice or the environment. 

Diversity and inclusion are a plus. Not everyone celebrates Christmas, and an easy way to connect with your customers this holiday season is to avoid explicitly wishing them a "Merry Christmas." Instead, lean into winter-themed elements and general holiday well wishes.  
It's time to dust off your ugly reindeer sweater, hang up your string lights, and holiday-ify everything in your ecommerce store. But navigating the chaotic holiday season — complete with pricy ad spaces and ridiculously slashed prices from your competitors — is no walk in the park.
Launch Your Own Holiday Campaign With AdRoll
Lucky for you, AdRoll is here to help. Check out our holiday resource library for everything you need — CPM predictions, calendar templates, and all the how-to guides you can imagine — to rock this season like never before.
Last updated on August 8th, 2023.