Unrolling: The Ryan Reynolds Brand
Topics Covered:
Mounties, poutine, Degrassi, Ryan Reynolds. Canada has given the world a veritable cornucopia of goodness over the years. That last one is the subject of this month's Unrolling — the AdRoll series in which we take a deep dive into the challenger brands that are breaking and remaking not just their industries but popular culture. Ryan Reynolds makes for a particularly interesting topic because he simultaneously manages to be a person, a brand, and a key component of many other popular brands.
Ryan Rodney Reynolds was born in October of 1976 in Vancouver, British Columbia. Reynolds grew up in a pretty typical middle-class neighborhood, went to Catholic school, and ended up dropping out of Kwantlen Polytechnic University. However, none of these things are remotely important in understanding Reynolds' cultural impact.
In 1991, he landed a role on the Canadian soap opera for teens, Hillside, which has been described in various places as Degrassi, but minus the charm and feeling (although Reynolds did win a Best Young Actor Co-Starring in a Cable Series award in 1993.) This was followed by a number of minor roles, and finally, a leading role in Two Guys and a Girl, a series that's utterly unremarkable except for giving the world Ryan Reynolds and fellow Canadian sci-fi icon Nathan Fillion. None of these things are important for understanding Reynolds' cultural impact, either.
The story really begins in 2002, with National Lampoon's Van Wilder. The film itself isn't particularly exciting, playing to the same tropes and stereotypes that turned Animal House into a cult favorite. Still, it gave us the character of Ryan Reynolds that we know and love today: A loveable douchebag who seems to coast through life on limitless reserves of charm and wit, but who's also an unabashed romantic with hidden depth. He's both a person and a character who can maintain ironic distance while still being wholly earnest and genuine.
Reynolds used that archetype to build his brand as an actor, continuing it in Waiting, The Proposal, Blade: Trinity, Green Lantern, and most successfully, Deadpool and Deadpool 2. And then, as if being People Magazine's Sexiest Man Alive, breaking box office records, and being the king of Twitter weren't enough, Ryan Reynolds also bought a couple of companies: Aviation Gin and Mint Mobile. And he didn't merely lend his name to these products — he's also involved in the day-to-day operations. The obvious question on everyone's mind is: "Wait, what? How did this happen?"
(Anti)Hero Origin Stories
Making the transition from celebrity to business owner isn't terribly uncommon. Especially with a beverage brand — everyone from George Clooney to Channing Tatum to Marilyn Manson has one (Manson's is delightfully named Mansinthe). In fact, Clooney ended up making hundreds of millions of dollars when he sold his Casamigos brand for almost $1 billion. But that's George Clooney — everything about his public persona just screams, "I can go to sleep, have an idea in a dream, and it'll be in production and profitable by lunchtime tomorrow."
Reynolds, on the other hand, plays charming slackers and tries to stay out of the spotlight thanks to bouts of anxiety. Outside of a couple of high-profile breakups with Alanis Morissette and Scarlett Johansson, he tends to be pretty private except for strings of consistently hilarious Twitter and Instagram posts. For much of his career, his public appearances have been limited to promoting and supporting his movies.
Then, one day, Reynolds tried a life-changing Negroni. And then another one. And another, just to be sure that it was the best Negroni he'd ever tasted. Less than a year later in 2018, he ended up purchasing a stake in Aviation Gin, the reason the Negronis were so good. While the details of the sale weren't disclosed, Reynolds has said that he'll be taking an active role in the sales, marketing, and distribution of the brand, and has since thrown himself deep into the fray.
Ginning Up Business
It can be challenging to gauge the success of a private company. Especially one that's been around since 2006 and was already widely well-received. But despite high praise from critics and drinkers, Aviation just hadn't spread as far or as fast as other premium spirit offerings. The brand, born in Oregon, was sold with little fanfare to Davos Brands, LLC in 2016 and was quickly resold. Usually, two back-to-back sales are a sign that something isn't working. Enter Mr. Reynolds: a self-admitted shut-in, class clown, and complete business novice.
Reynolds was quick to point out that while he'd be deeply involved in revenue operations, he would leave the day-to-day running of the brand to professionals. Rather than try to be something he isn't (a gin distiller), Reynolds has instead chosen to play a role he's very familiar with — off-beat kidder and social media one-liner-spewing fan favorite.
It's still too early to say whether the arrangement is working, but Aviation Gin marketing has managed to make a big splash. Search volume for the brand has steadily increased since Reynolds took the promotion helm, to the point where calculating an increase is almost pointless — the brand went from zero to a 100, real fast. 

Even more telling is the impact on the brand's social media. While it's next to impossible to put a detailed history of follower growth on platforms like Instagram or Twitter, it's possible to compare accounts in a category to get a sense of who's doing it better. So for reference, here's the Insta profile for White Claw, which came out of nowhere to become last summer's social media favorite breakout star, and the fastest-growing alcoholic beverage brand of all time: 

And here's the profile for Aviation Gin:

Yes, that's a gin brand that has twice as many followers as a light-drinking hard seltzer that's supposed to be the biggest thing among millennials since the Nintendo Switch and appreciating things ironically. Yes, follower count is an imperfect metric, and yes, followers can easily be bought, and engagement and marketing value aren't correlated with follower count at all. But on the other hand, the American market has been notoriously resistant to any real breakout gin brands: Tanqueray and Bombay Sapphire have been trying to establish a premium gin category for decades. Meanwhile, a list of America's top 10 favorite spirits only features one gin, and it's the bottom shelf variety you get when you order a $6 gin and tonic.
Hidden Greatness
Then Peloton Wife happened. The commercial from the maker of interactive exercise bikes sparked outrage online almost the minute it aired. The New York Times, hardly known for its sensationalist headlines, called it "sexist" and "dystopian." Things got so bad that Peloton had to disable comments on YouTube, the last resort for brands that rely on communities for their success. Then, Ryan Reynolds' ad agency stepped in to be the hero we deserve.
The Peloton ad, in case you somehow missed it, features a man getting his wife a Peloton for Christmas, and she records her journey using the machine — starting with a shot that can best be described as a macabre mask of terror.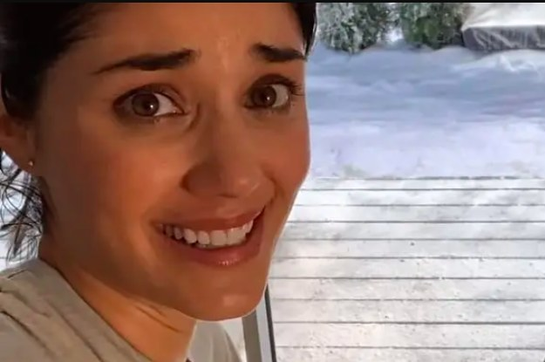 In the Aviation Gin parody, Monica Ruiz (the same actress as in the original ad) sits at a bar, that same awkward face staring directly into a camera as her girlfriends get increasingly uncomfortable. Then the silence breaks as she exclaims, "To new beginnings" and downs her drink. She did it — she escaped from the bike and the husband that mentally chained it to her, and Aviation set her free.
To say the ad was perfectly timed and executed would be selling it short. It's punchy, uncomfortable, and doesn't shy away from controversy or pull any punches. And it's hilarious in light of the media firestorm the original ad inspired. It even manages to be more uplifting, inspiring, and feminist than the original ad was supposed to be. And Reynolds and his team did the entire thing, from tracking down the actress to filming to post-production, in under 75 hours from having the idea.
This wasn't the first time Reynolds managed to catch lightning in a bottle — there was the ad within an ad within an ad. There's "The Process," a montage of every possible cliché you can stick in a beverage commercial. There are off-beat ads for various mobile games. And every one racks up YouTube viewer counts that would be impressive for an established firm, let alone an amateur who started his agency (Maximum Effort Productions) on a shoe-string budget to promote a pet movie project. All from a guy who claims he likes to keep a low profile and occasionally says funny things on Twitter.
The Roll-Up
So, how does an actor go from playing never-do-wells to single-handedly building one of the biggest breakout blockbusters in movie history to starting the most buzzed-about agency of the last several years? There are a couple of lessons we can learn from Ryan Reynolds's march to the top:
Be true to your brand: Reynolds never tried to pretend he was anything other than a goofy guy with a good sense of comic timing and mild anxiety. There was no over-the-top Hollywood persona, no public face to be put on before leaving the house in the morning. Just Ryan Reynolds, all day every day.
Do things that you're passionate about: Reynolds has been a professional actor since 1993 but didn't hit his stride until he took on a project that he felt deeply about: Deadpool. He purchased Aviation because he loved the taste and wanted to share it with the world. He founded an agency because he wanted to see his creative vision come to life. The best marketers are the ones who are passionate about what they do and who they do it for.
The best marketing connects with people on a personal level: Reynolds's Twitter account, the framing of Deadpool and Deadpool 2, and the success of his marketing for his brands all work because it's not larger than life. Marketing, especially modern marketing, often tries to reach for the grandiose and provide a spectacle. But a spectacle doesn't get engaged consumers — personal stories that are relatable and at a "human scale" do. Reynolds has been a master of turning these personal, intimate moments into gold. Other brands should take note.
Don't be afraid to go there: The Peloton parody ad deals with suspected or implied abuse, divorce, and coping with the end of a relationship. It's a dense group of themes to tackle in an ad for gin. But it works because it doesn't shy away from any of these real implications. Many brands that try to tackle more serious themes end up downplaying or minimizing their impact because of the fear of going too far. Reynolds proves that not going far enough can be just as dangerous.
If you get nervous, pretend to be Deadpool: Everyone gets anxious sometimes — except everyone's favorite merc with a mouth. If life feels overwhelming, just pretend you're wearing a mask, swinging a katana, and carrying on an internal monologue about your love of chimichangas and Bea Arthur.
Last updated on December 2nd, 2022.