Unrolling: SmileDirectClub
Topics Covered:
Gone are the days of scheduling several trips to the dentist and paying upwards of $8,000 for braces just to achieve straight teeth. Now, you can simply order an impression kit, make a 3D mold of your teeth, and receive invisible aligners regularly — all from the comfort of your own home.
In true direct-to-consumer (D2C) fashion, SmileDirectClub has managed to transform something as mundane as orthodontics into a fashionable and efficient experience. So, how did this teledentistry company disrupt the status quo? How can other brands shed their outdated, ineffective marketing strategies and learn from their model instead? Here's the story of SmileDirectClub:
Making Smiles Affordable
Did you know that 60% of counties in the United States do not have an orthodontist office? Because of the inaccessible and unaffordable nature of teeth straightening, only 1% of Americans receive orthodontic care each year. 
Realizing that removing these barriers can pose a huge business opportunity, Jordan Katzman and Alex Fenkell founded SmileDirectClub in 2014. By leveraging a new supply chain and D2C strategy, the company was able to operate at a lower price point than its competitors and offer better deals to customers. 
Since then, SmileDirectClub has exploded with popularity:
More insurance companies have added the company as an in-network option. 
Partnering with CVS, they opened 350 SmileShops, where customers can have their 3D molds made. 
With more than half a million customers, the company posted $750 million in revenue in 2019. Now, their founders have their sights set on global expansion.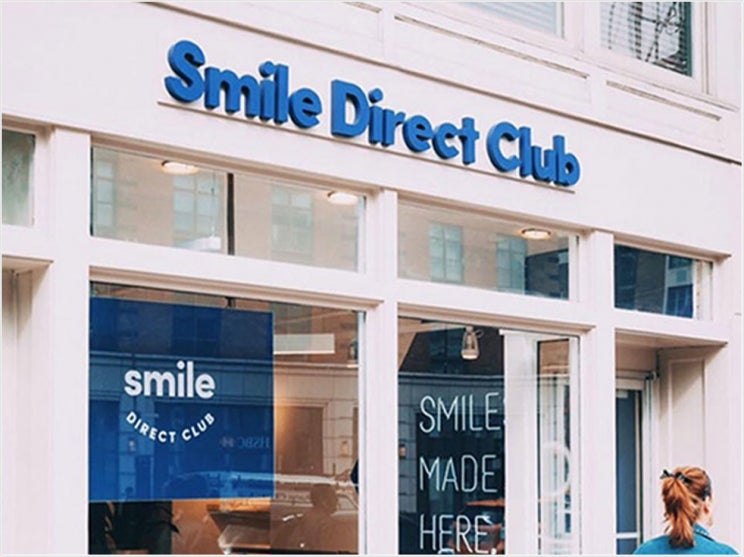 Grin and Share It
Staying true to their motto of "Smiling is contagious. Join the club," SmileDirectClub has focused on a social approach to their marketing. Although they run TV and over-the-top (OTT) platform ads, social channels — including Facebook, Instagram, Pinterest, and more recently TikTok — form the bulk of their marketing efforts. Some of their social campaigns include:
Launching a #SuperlativeSmiles challenge on TikTok, where teens dressed up as their favorite yearbook superlative (such as "most likely to succeed" or "best dressed") for a chance to win a teeth alignment treatment. The campaign was a huge success, racking up over 1.5 billion organic views on the platform. 
Leveraging influencers, such as Sofia Vergara, Brandi Cyrus, and Michael Evans Behling, who share their teeth aligning journey with followers. 
Cultivating an active group of SmileDirectClub members on Facebook, who all regularly post user-generated content, such as selfies documenting their experience. 
Opting for a social strategy has helped the brand boost its customer acquisition rates, as potential customers can quickly grasp the "what" and "why" of the brand. By putting real faces and stories behind the product, the company's marketing efforts feel authentic and trustworthy. But beyond that, the brand has helped build a community of existing customers who can support and motivate each other's dental transformation journeys.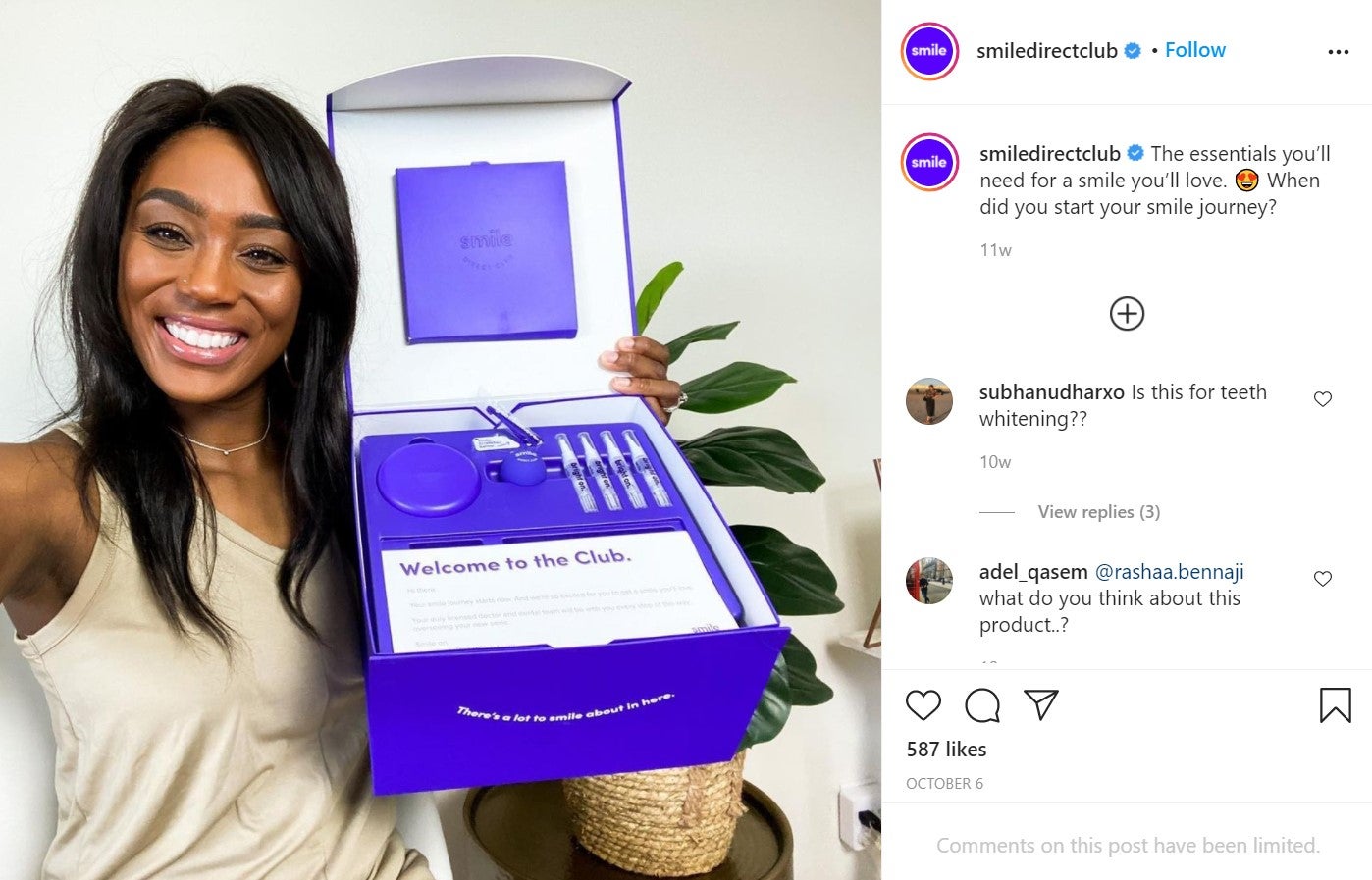 From: SmileDirectClub Instagram
Smile Fast, Smile Hard
As with other D2C brands, SmileDirectClub is notorious for moving fast, thanks to their data-first approach and in-house marketing agency. "We like to say that we fly the plane by the instruments, and the instruments are the data," said SmileDirectClub's CMO, John Sheldon, in an interview. 
For brands that need to iterate in real-time, having internal creatives, analytics, and media groups can be hugely beneficial. For example, after gaining new insight into how Americans think about daily budgets, SmileDirectClub's strategists, copywriters, and designers launched a whole campaign revolving around new value propositions in half a week. Now that's moving fast. 
Everyone Deserves a Brighter Smile
Even though SmileDirectClub pushes a majority of its marketing dollars toward digital channels, it uses trigger-based direct mail, too. For example, they will mail resources to customers who, based on their digital behaviors, are struggling to use their teeth impression kits. Not only do these resources provide practical information, such as how to replace a lost aligner, but they also tap into the emotional aspect of improving your smile (self-esteem and mental health). 
Every Smile Is Worth Millions
Though the pandemic has delivered big wins to e-commerce retailers, Americans have had less discretionary spending for cosmetic treatments. In fact, SmileDirectClub's revenue dropped by almost 45% in Q2 this year compared to 2019. 
But that didn't deter the company, which still spent $35 million on sales and marketing that quarter. As initial panic over the pandemic quelled, more Americans opted for dental treatments since they were masking up anyway. Placing a big bet with a heavy investment in marketing paid off — about 60% of the customers they obtained since were not prior leads.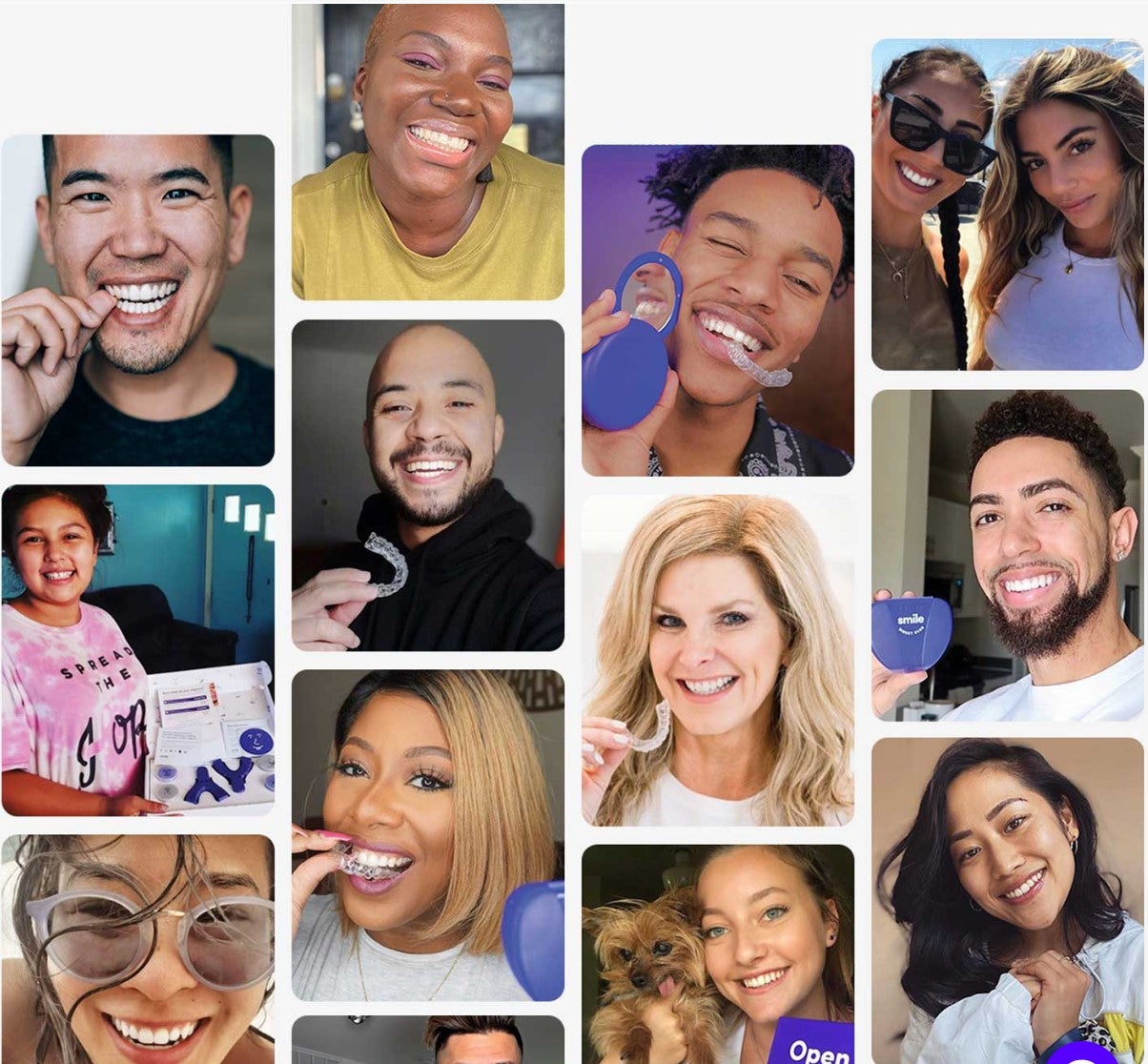 The Roll-Up
Remember: There is no one-size-fits-all business and marketing model — dare to think differently, as long as your product or service targets consumers' unmet needs. There are many opportunities to maximize gaps in the market, improve outdated customer experiences, and shake up existing industries with a fresh viewpoint. 
No matter what your product is, tap into the emotional side of people. Instead of focusing on product specs, approach your marketing from the position of improving the lives of customers. 
If you want to move fast, go for an in-house marketing team. It allows for more control, faster decision-making, and real-time analysis. 
SmileDirectClub is just one of the many D2C disruptor brands. If you're looking for a partner to help replace ineffective marketing tactics in your quest to transform your industry, take a look at some of the features we offer here at AdRoll.
Last updated on December 2nd, 2022.