Community Marketing: How 6 Brands Unite Customers
Customers will go to great lengths for the brands they love — from getting face tattoos to even putting toothpaste on their mother's eyebrows. This kind of unwavering enthusiasm and dedication creates a real opportunity for companies to develop a tight-knit community and then tap into the benefits of community marketing. Unlike other forms of marketing, community marketing is unique in that consumers must actively choose to participate — and if done right, you'll realize these customers engage and become your brand's best advocates. 
As noted in a prior post, brand communities feature three components: people, sentiment, and unity. From Starbucks to Sephora, here's a closer look at six brands with millions of loyal customers who actively engage in community marketing through branded experiences: 
Binding Customers With a Common Interest
The first step to building a thriving brand community is virtually connecting customers and future customers together over a common interest From taking a workout class and reading a book together to starting an IG movement or playing a video game, providing an enjoyable way for your customers to connect online unites them around your brand.. 
Though brands should be careful not to overstep, they can still benefit from customers interacting with each other in a community environment that's hosted by your brand — similar to what GoPro and Sephora have done.
The GoPro Family
In 2018, camera manufacturer GoPro won a Shorty Award for its community marketing efforts, which focuses on uniting customers through Instagram. It came as no surprise, considering the company's Instagram page is a creative hub for 17 million followers. Known as the GoPro Family, the program harnesses GoPro's social media following to fuel user-generated content and "word-of-mouth" marketing. 

Because GoPro produces "versatile action cameras," its products — and those who use them — help create engaging visual content, which fans eagerly share online. This then highlights what GoPro cameras can do for an even wider audience.
Instagram allows GoPro customers to bond over a shared love of adventure and learn more about the brand's products. Even more enticing, GoPro rewards customers by featuring their photos and videos on company-wide social feeds, which reach millions of people every day. The brand also uses Instagram to listen for customer concerns.
Per GoPro's stats, community members engaged with its Instagram content 113.5 million times in 2018 alone, while the U.S.-based @GoPro account saw more than 178 million video views. That's a serious number of eyes for a single brand. 
Sephora's Beauty Insider
Beauty retailer Sephora connects consumers through its Beauty Insider program, an online community that reportedly boasts 25 million members. Here, customers can ask questions, share looks, exchange tips, and try new products.
Beauty Insider includes a main community forum — which allows shoppers to interact with one another, as well as smaller groups, focused on specific interests like skin type and clean beauty. It also features a gallery for user-generated content and product ratings and reviews. 
Whenever a registered Beauty Insider tags a product in an uploaded image, their photo appears on corresponding product pages through Sephora.com, helping other shoppers get a better sense of what the products are like in real life. This bridges the gap with physical retail, where consumers can typically take advantage of free samples before committing to a product. Other Beauty Insider perks include brand chats, industry news, community meetups, and exclusive events.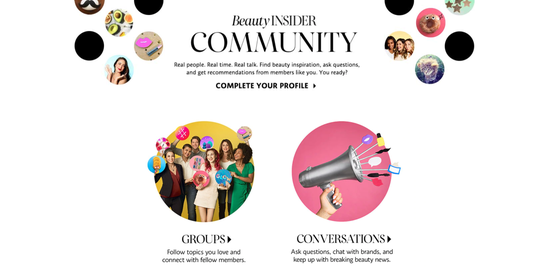 Uniting Customers Over a Shared Passion
Another critical aspect of a brand community is to translate virtual connections into real-life engagement. Harley-Davidson and Lululemon are great examples of companies with highly engaged customers who bond over their shared passions in the real world, too. 
Harley Owners Group (H.O.G)
Founded in 1983, Harley Owners Group (H.O.G) is one of the oldest examples of community marketing. It unites owners of Harley-Davidson motorcycles over a shared love for the brand, the bikes, and the open road. 
H.O.G offers a tiered membership system, from associate to full-life, with corresponding perks like merchandise, free admission to the Harley-Davidson Museum in Milwaukee, and credit card points for miles ridden. (It, too, welcomes user-generated content for its website and H.O.G magazine.) To put the brand's power into perspective: H.O.G welcomed its millionth member in 2006.
A big part of owning a Harley-Davidson motorcycle is riding it. That's why H.O.G. offers access to nearby clubs and hosts gatherings, all to foster in-person connections. Often, these initiatives bring together Harley riders from around the world, allowing them to bond over their bikes and shared love of all things Harley. 
Lululemon Ambassadors
From its start in 1998, athleticwear brand Lululemon sought to "create a community hub where people could learn and discuss the physical aspects of healthy living, mindfulness, and living a life of possibility." Lululemon even has a manifesto to hammer home its brand culture and encourage conversation within its community. Somewhere along the way, it became clear that brand customers also united over a shared obsession to sweat.
Lululemon's most passionate community members can become official ambassadors, which work out of its 400+ stores to "inspire their local communities through their passion for sweat." There's also a program for global ambassadors to cater to more elite customers, like professional athletes.  
Through its ambassadors, Lululemon develops stronger connections with individual communities and receives a steady stream of feedback to inform future growth. On the other hand, ambassadors test out products, tap into "a network of like-minded people," and become an extension of the brand — all while establishing Lululemon's position as a powerhouse brand in the global health and wellness industry.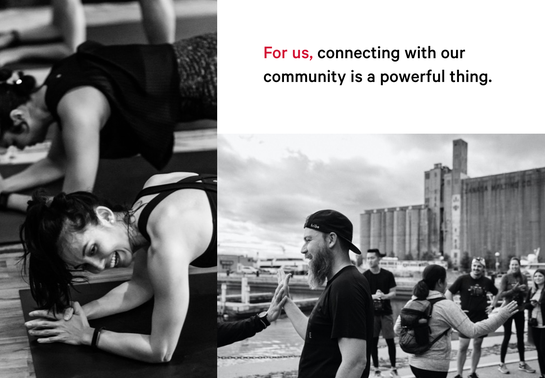 Helping Customers Collaborate
Some brands tap into consumer fandom to develop new products and services to enhance the user experience. As a result, they unite their biggest customers and give them a platform to help shape a company's future. 
Lego Ideas
The Lego Ideas community is an online forum for Lego enthusiasts to share their love of Legos and showcase their proudest building accomplishments. It also offers exercises to help budding master builders practice their skills. More importantly, community members can influence Lego's future in a very important way: by suggesting new Lego sets and supporting ideas from fellow customers.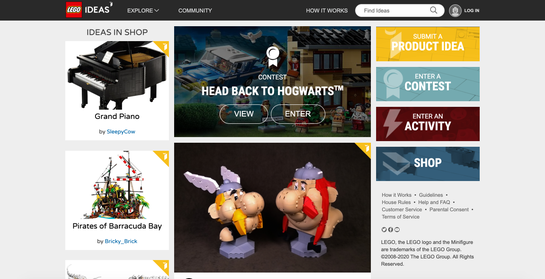 Lego itself admits "product ideas take a long time to develop." But the brand is serious when it says fan suggestions can become real-life products. The online Lego store currently features a number of fan-inspired Lego Ideas sets, including the International Space Station, the coffee shop Central Perk from the 1990s sitcom Friends, and a scene from the 1960s cartoon The Flintstones.
My Starbucks Idea
Coffee chain Starbucks fosters community in numerous ways. First, there's the Starbucks Reward Program, which reportedly included 16 million active members as of March 2019. Then there's the My Starbucks Idea program, which invites anyone to submit an idea to improve the customer experience. With every submitted comment, community members share, vote, and discuss.
"The site was founded to create an open dialogue and collaborative environment with consumers to share their thoughts and ideas and allow them to play a vital role in how they interact with Starbucks, both in and out of stores," according to Starbucks. 
The concept dates back to 2008 and has since yielded hundreds of changes, including splash sticks, mobile payments, and products like cake pops and mocha coconut frappuccinos. 
In a 2013 statement, Alex Wheeler, who was then vice president of global digital marketing, said, "We don't know what the next big idea from our customers may be, but we're thrilled to keeping listening, engaging, and making adjustments to improve the Starbucks experience for fans everywhere." 
A Community-Customer Feedback Loop
When brands unite customers online and in real life, great things happen. Consumers develop relationships with each other, and they exchange information and learn. They do what they love best together. Then, ideally, they buy more products. 
After using those products, they return to the community with even more brand-related feedback. They may even have thoughts on what their favorite brand should do next. But remember: without the community, none of it would be possible.
Last updated on September 16th, 2022.