Topics Covered:
Since the invention of the console in the late 1960s, video games have been a ubiquitous part of modern culture. From Animal Crossing to Pokemon to Minecraft, young people across generations have embraced video games as a medium for distraction, entertainment, and socialization. 
Today, the reigning champion of the video game industry is Fortnite, a video game that boasts the largest Gen Z player base (the youngest professional Fortnite player is only 13 years old!). Unlike its predecessors, the game has conquered mainstream culture internationally, inspiring everything from dance moves to branded nerf guns. But beyond that, its popularity has allowed the game to grow into a full-fledged 3D virtual space rife with marketing, social networking, and digital experiential possibilities. 
If you're curious about the future of reaching Gen Z consumers, it starts with Fortnite. Here's why:
What Is Fortnite?
Released in 2017, Fortnite is a battle royale first-person shooter — players aim to gather the best weapons, eliminate 99 other players, and remain the last person standing in an ever-shrinking arena. 
Though the premise may seem simple, the game has earned impressive accolades. It made $2.4 billion in 2018, in part because players can purchase cosmetic skins, game mods, and even dance moves for their avatars. It has both the biggest audience and the most streamers on Twitch, an eSports streaming platform. And its young players love it — those between the ages of 10 to 17 who log on at least once a week spend a whopping 25% or more of all their free time playing it. 
One reason for Fortnite's popularity? The experience it offers spans far beyond the value players typically receive from a video game. Instead, it combines the unique benefits of gaming, social media, and streaming into a singular experience. After Epic Games (Fortnite's software developer and publisher) released the game's Party Royale mode, a no-combat hub, players have flocked to the platform to socialize, complete special challenges, and hang out. No wonder one study found that the game has more in common with Facebook than a game like Call of Duty. 
What's more, Fortnite has embraced its identity as a multifaceted channel by providing players with something that Facebook, Twitter, and Instagram are itching to achieve: live digital experiences. The game organized a Travis Scott concert — where the musician's kaiju-sized avatar was accompanied by psychedelic visuals synchronized with the music — which saw a 12.3 million-person audience. Following that event's success, the game partnered with DJ Marshmello, Steve Aoki, and deadmau5 for a Super Bowl music festival, which saw similarly impressive audience numbers. The game also experimented with a trailer release event for Star Wars: The Rise of Skywalker, where players danced with director J.J. Abrams's avatar and caught an exclusive preview of the film. These events demonstrated an unprecedented amount of scale and digital capabilities. 
From: Marshmello YouTube
Looking for Ads? Nah Bruh 
Brands have capitalized on opportunities related to video games for years, from sponsoring eSports tournaments (see: Nike and League of Legends) to paying for mobile game interstitial ads. On Fortnite, there are no traditional advertising opportunities — as a player, you won't see a digital billboard, nor can you access rewarded video ads that allow you to redeem a booster. 
However, there are unique product placements. For a short while, players could redeem an exclusive pair of Nike Jordans. When the third John Wick movie was set to release, they could play as John Wick and access special ammo. They could also dress their avatars with NFL jerseys from the league's 32 teams.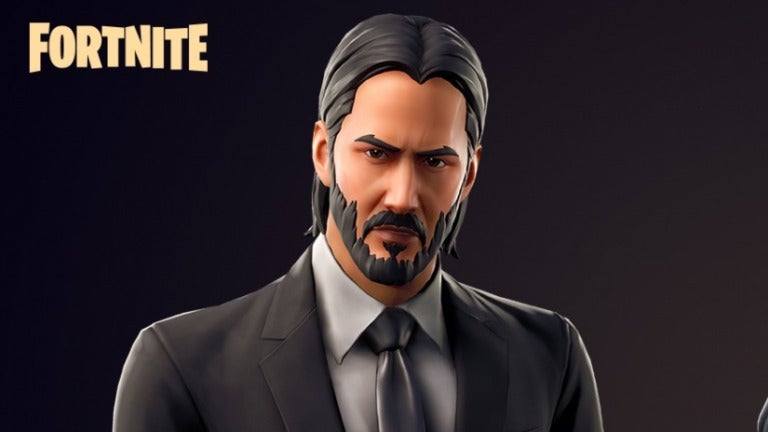 From: Den of Geek
Though these limited-time marketing efforts were fun and well-received by players, they were not cheap. Creating an in-game branded object for players, whether a virtual skin or an interactive item, costs brands around $500,000 — and that's only for one week! 
At this price point, these branded promotions aren't necessarily about reaching new audiences. Instead, it's about using the game as a platform to reward your real-life community (who are also Fortnite gamers) with a unique and memorable experience, which can then be amplified through traditional channels. 
Partnering with Streamers = Goals
Luckily for marketers, there are plenty of other ways to engage with the Fortnite base without forking over a colossal budget. Some brands have chosen to sponsor Fortnite's most popular streamers. For the unacquainted, you can think of them as pro player influencers who see millions of viewers tune into their gaming live streams on Twitch and Youtube. 
One example is Ninja, the most followed Fortnite player on Twitch. In 2018 He partnered with UberEats to launch a promotion where for the number of "kills" he made from the minute he ordered food through the platform until it arrived at his door, viewers would receive 1% off their UberEats order. He ultimately won fans a 25% off discount. The promotion was supposed to last one week, but it was so successful that the company reached its maximum number of redemptions in one day. 
Branded sponsorships with pro players come at a much lower price tag than partnering directly with Epic Games while still allowing brands to connect with the Fortnite community. Companies that offer a compelling deal or activate an engaging creative campaign will attract new customers and help existing fans build brand affinity. 
From: The Sun
Prevent Epic Fails With Authenticity 
The key to success in any Fortnite related campaign is authenticity — Gen Zs are known for brutally roasting brands that pander to their demographic. Remember that this game is a social platform for young people to socialize and express themselves. It's a community that should be treated with respect, which is why campaigns must be thoughtfully integrated and provide true value. 
One example of a company that has done their research well before jumping on the Fortnite bandwagon is Wendy's. When Epic Games promoted "Food Fight," a limited-time mini-game where players have to choose either fictional restaurants Durrr Burger and Pizza Pit to fight for, the food chain made a Wendy's avatar and streamed the game on Twitch. Because Durrr Burgers had freezers, Wendy's, with its "fresh never frozen" mantra, decided to root for Pizza Pit instead and spent the time eliminating all burger freezers. 
It was a huge success. Not only was the brand able to demonstrate their commitment to fresh ingredients, but the stream also generated massive awareness — viewers watched over 1.5 million minutes worth of content. This case study was a masterclass in advertising transformed into fun entertainment.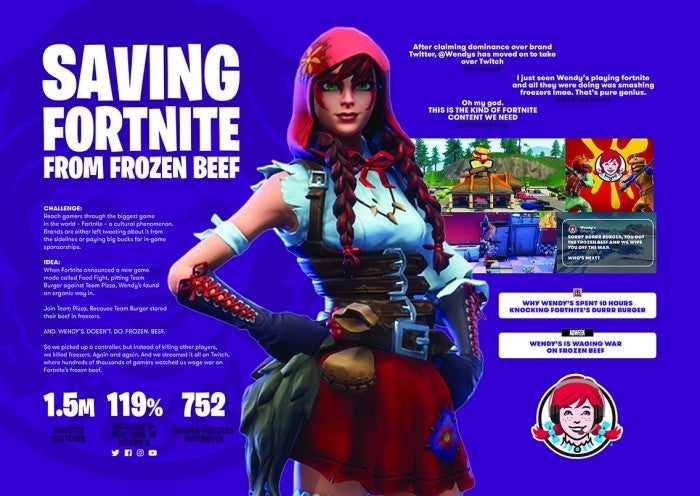 From: The Drum
The Roll-Up
It's only a matter of time before Fortnite evolves into an all-encompassing marketing channel for brands, with other video games following suit — consumer spending on video games has significantly risen as people have stayed home, reaching $159 billion this year. Here are some takeaways for brands looking to capitalize on young consumers' enthusiasm for Fortnite and similar games:
Pay attention to Youtube, TikTok, and Twitch. To target Gen Z, you have to meet them where they are — and that's not Facebook and Twitter. For the best grasp of the latest trends, lingo, and cultural conversations, start subscribing to the top influencers in each space. After all, younger consumers are revolutionizing the ways that mass culture creates and consumes entertainment. 
Be open-minded. Brands winning in the Gen Z market are bold and non-traditional risk-takers in the eSports landscape. As digital games grow to become even more robust, the way brands connect with games will dramatically expand, and those that have already spent the time experimenting and forging connections with the community will see big wins. 
Start early. The eSports space is getting increasingly competitive — even luxury brands like Louis Vuitton are sponsoring teams in the top tournaments. Get a head start by forging connections with up-and-coming players. Brands dedicating their resources to online virtual worlds will be best poised to succeed when more consumers, especially the young ones that brands covet, congregate in these digital spaces. 
Before you start brainstorming an unconventional eSports marketing campaign, you'll want to nail down your traditional marketing channels — from social media to email marketing — that will support and add value to new branded efforts. Check out how AdRoll can help you master the basics so you can successfully bring delight and engagement to new customers. 
Last updated on June 8th, 2023.