The Ultimate List of Social Media Changes
Topics Covered:
It doesn't take a seasoned marketer to know that the social media landscape is fast-paced and dynamic, full of minute-by-minute updates and new features. Though social media updates translate to even better ways to impress shoppers and existing customers, they're not the easiest to keep track of — if you feel like you're constantly on your toes, you're not alone. 
To save you the headache, here's our ultimate list of every update and new feature to hit your favorite social media platform as of August 2021. 
In this article:
Instagram
Pinterest
TikTok
Facebook
Clubhouse
Four Ways to Navigate These Social Media Changes
Stay Informed
Instagram
Ads in Reels
When Instagram first announced Reels last August, in 2020, many users mocked the platform for copying TikTok's success formula. But since then, Reels has taken on a life of its own — for example, NFL teams' Reels generate over 67% more engagement than their average video posts.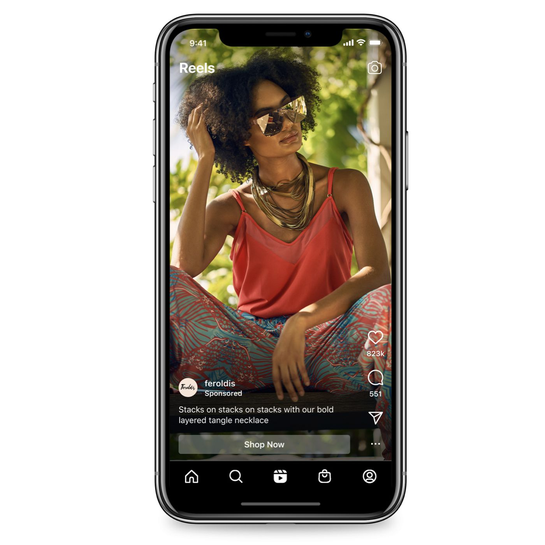 Fast forward to one year later, and Instagram has recently announced yet another marketing opportunity for brands — ads in Reels. Similar to other ad opportunities on Instagram, ads in Reels will be an excellent way for brands to reach users who aren't already their followers. 
The format of ads in Reels will be similar to Instagram Stories — vertical, full screen, loop-able videos up to 30 seconds long. Instagram users will also be able to like, comment, and share these ads. 
For more on purchasing Reels ads, the Instagram help center is a great place to start. 
Video > photos
Some massive changes are coming to Instagram. On June 30, Adam Mosseri, the head of Instagram, announced that the platform wouldn't just be a photo-sharing app anymore — instead, it'll be pivoting more toward video content. 
While there haven't been that many details about what this change entails, Mosseri said: "We're also going to be experimenting with how we embrace video more broadly — full screen, immersive, entertaining, mobile-first video. You'll see us do a number of things, or experiment with a number of things in this space over the coming months."
Keep your eye out — and if you haven't already, check out this post on how to get started with creating video content. 
Instagram Insights now available for 60 days
Ever wish Instagram offered more data and insights? There's good news: The platform has recently extended its tracking period from 30 to 60 days, providing marketers with a better overview of their results. They've also launched a new calendar tool where you can select specific dates you need data for.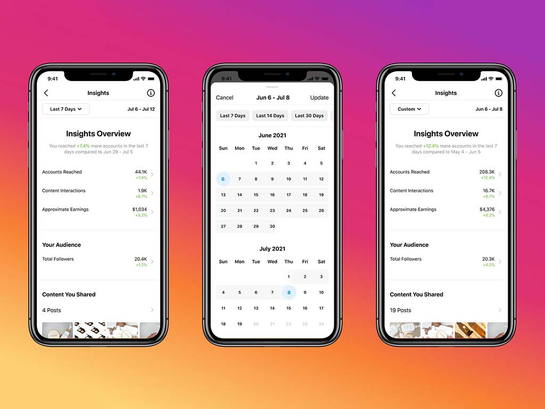 Pro Tip: For those who want a more robust analytics tool, check out AdRoll's new UTM dashboard. Not only does it provide a snapshot of all your conversion, traffic, and revenue data for every one of your channels, but our deduplication technology also means you can pinpoint precisely where attribution credit should go, rather than credit multiple channels in the customer journey. Plus, it works more accurately than if you were to pull data manually from Instagram. 
Pinterest
No more weight loss ads
Pinterest's goal has always been to create a platform where people can connect for inspiration when curating a life they want. In other words, a space for everyone, regardless of who they are or what they look like. 
That explains why Pinterest recently announced it would start banning all content and ads related to weight loss, diet culture, body shaming, and eating disorders, including: 
Any weight loss language or imagery
Testimonials or reviews from users and creators that recommend weight loss products or hacks
Language or imagery that promotes certain body types over other ones
References to body mass index or other weight indices
Promotional content of weight loss pills or other products
Before-and-after weight loss images
Unrealistic claims about cosmetic surgery and weight loss procedures (e.g., fat burning or liposuction)
In its announcement, Pinterest explained that the new policy was a response to the National Eating Disorders Association's (NEDA) new research that found an increase in eating disorders, unhealthy eating habits, and dangerous dieting behavior in young people during the pandemic. Pinterest's ban was also part of its goal to empower users, prioritize their mental health and well-being, and encourage them to seek positive content related to their health. 
It's not surprising that Pinterest is one of the leaders in the social media space when it comes to removing harmful messages and misinformation. In 2016, Pinterest banned ads that contained sensitive content related to inappropriate costumes and cultural appropriation. In 2018, they prohibited political ads. They were also the first platform to block all anti-vaccination content during the pandemic. 
Accompanying these changes throughout the years has been messaging from the company encouraging other social media platforms to follow suit, or at least consider the real-life harm that certain content and ad messages on their platforms can cause. 
Shopping in-app
On a lighter note, Pinterest has recently expanded its in-app shopping features, allowing most global users to shop directly from Pins, boards, and searches.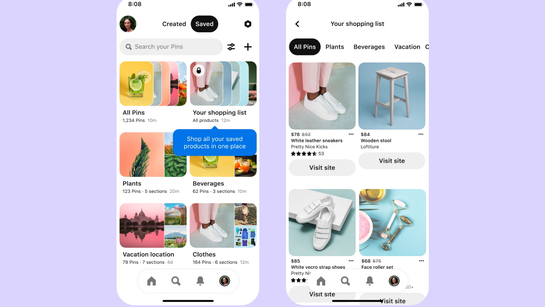 Additionally, "Shopping List" is a wishlist-like new feature that allows users to save shoppable items they plan to purchase later. Even better, users can receive price-drop notifications for items on their Shopping List, so they can make the most out of limited-time deals. 
Verified merchant program
With more social media platforms providing new opportunities for ecommerce brands to sell, market, and attract, Pinterest now displays a blue verified checkmark on brand profiles that have met its criteria for high-quality products, customer service, and easy-to-navigate websites.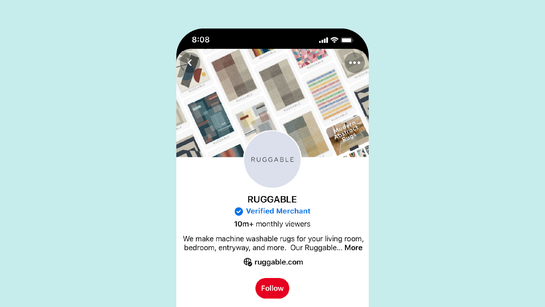 To verify your store, check out pinterest.com/verified. 
TikTok
No more cryptocurrency promotions
TikTok recently enacted a ban preventing users and ads from promoting financial products and services, including cryptocurrency, loans and credit cards, trading platforms, foreign exchange, and investment schemes. The company says the move is aimed to mitigate the likelihood that young savers take misleading financial information from TikTok non-experts. 
New Spark ads
Looking to advertise to younger shoppers? You're going to love this: TikTok's new Spark ads allow brands to sponsor trending content that's related to their niche or products. 
Rather than creating original content and hoping it goes viral, marketers can now leverage Spark to pinpoint existing organic TikTok videos relevant to their brand. Then, all you have to do is reach out to the creator, obtain an agreement, and repurpose their content for your ads. 
Facebook
A new podcast feature
Given the growing popularity of podcasts and audio content, Facebook launched a new feature that allows users to create and discover podcasts on its app.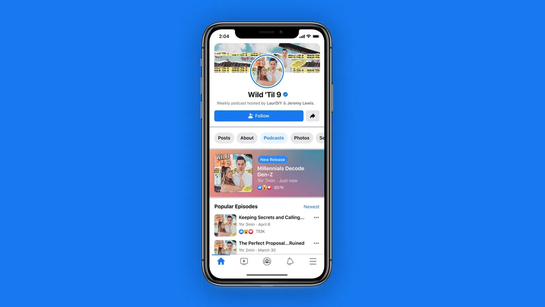 Now, you'll be able to listen to podcasts without leaving the Facebook app, as well as create, discover, comment on, and recommend podcasts to your friends. For brands, it's a great opportunity to get more listeners. 
Ecommerce, everywhere
Ecommerce is all the rage right now — and Facebook is making the most out of it by expanding "Shops" to WhatsApp and Marketplace. It's unclear what this will look like, but it's a move that capitalizes on the company's recent findings that "one in three shoppers globally say they plan to spend less time in-store even after the pandemic is over, and almost three-quarters say they get shopping ideas from Facebook, Instagram, Messenger or WhatsApp."
Hello, Bulletin!
If your brand invests heavily in content creation, you're way ahead of the game. Facebook just launched Bulletin, a platform similar to Medium or Substack, where users can share long-form articles and audio content. While Bulletin is hosted on a separate site, you'll be able to see its content in the Facebook newsfeed and News sections.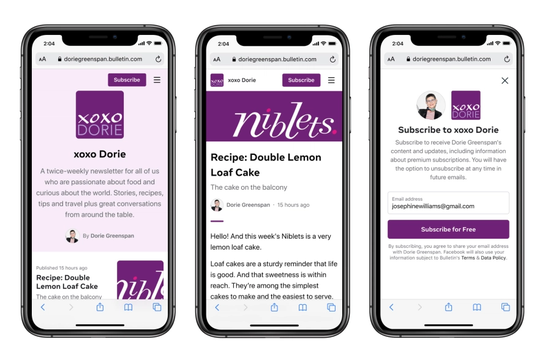 Bulletin offers publishing and subscription tools for creators, making it easy to get started on creating multimedia content, monetizing that content, and growing audiences. You can even create a brand website in Bulletin, complete with your own publication name, logo, and color palette. 
Clubhouse
Beta has ended — now open to all users
Clubhouse, the buzzy new audio-based social media platform where users can join different groups and participate in audio chats, has moved out of its closed beta program. (Previously, users interested in joining had to receive an invite from an existing user. Now, anyone can download the app.)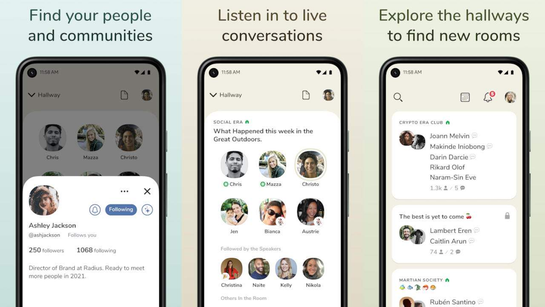 There will likely be a boost in Clubhouse users in the weeks to come, with more opportunities for brands to host public events and play in the audio content space. If you're unfamiliar with how Clubhouse works, check out their website. 
Four Ways to Navigate These Social Media Changes
With all of these ongoing social media changes, keeping up with the latest trends can feel like a second job. With these four tips, stay on top of what's going on without feeling like your head is about to explode.
1. Don't chase after every new fad
Before you start anything in marketing, it's crucial to have a plan of action for what you need to accomplish. If you're specifically using social media to drive traffic to your own channels, (like your website), don't be distracted by every new shiny object in the room. 
Fads can (and will!) sidetrack what you're trying to accomplish. Even worse, they can make your brand seem inconsistent. Instead, stick to your marketing strategy (and if you need tips on developing one, check out this guide!). 
2. But dare to try something new
Sticking to your social media strategy does not mean you should ignore the latest industry trends or technology changes. Given the fast-paced evolution of social media platforms, it's easy for brands and marketers to get left behind if they don't think out-of-the-box and evolve with the times — and you definitely don't want to accidentally fall out of favor with your target audience altogether. 
Dare to try new things that are out of your comfort zone. Never dabbled in audio content before? With Clubhouse now expanding to the mass market, the time to experiment is now — or at least before all your competitors hop on the bandwagon. Also, challenge yourself to change your content strategy for the channels you want to grow, rather than sticking to a proven formula. You never know what will work best until you try. 
Remember: When trying new things, don't be afraid to fail. In the social space, risks are expected (and often applauded!).   
3. Always drive traffic to your owned channels
Nobody will care about your social media presence if they can't move on to the next step: shopping with you. Make sure there are clear CTAs that drive them to your website, newsletter, or branded app. Don't be afraid to tap certain social channels to promote others (e.g., using Facebook to share your Pinterest account), especially if they serve different purposes. 
4. Stay informed
The key to staying ahead is staying informed. Take a few minutes every day to:
Read industry-related blogs
Join webinars
Download ebooks that social media platforms are publishing
Check out what other marketers in your niche are sharing
Review case studies of social media success stories (so you know what the latest best practices are)
Participate in online communities (e.g., Linkedin) that allow you to ask questions and have conversations with other marketers
Plus, be sure to check out our resources below!
Last updated on May 22nd, 2023.