9 Social Media Retargeting Mistakes All Marketers Should Avoid
Topics Covered:
Social media retargeting is one of the best ways to re-engage cart abandoners, existing customers, and site visitors — but it's not the easiest marketing tactic to execute perfectly right off the bat.
Regardless of their industry, business size, and penchant for creativity, beginner marketers tend to make several common mistakes. Though some of these can be harmless on their own, not identifying and tackling them immediately is a first-class ticket to a wasted social media budget.
Don't panic just yet: With this list of retargeting mistakes, you can prime your social media retargeting efforts for raging success. Let's get started!
1. Delivering the Same Ad Repeatedly
Social media retargeting is an opportunity to reconnect with people who may have explored your site but failed to take action.
So the best strategy is to show the same (or similar) ad across platforms to catch their eye, right? Not quite. One of the biggest red flags when executing your social media retargeting strategy is delivering the same ad over and over again. Not only are you risking ad fatigue, but you're also exacerbating users' feelings that you're following them across the web in a creepy way.
Instead, try this: 
Set frequency caps so users don't see the same ad more than twice.

Create a sequence of ads that features different images, CTAs, and headlines. Consider spicing them up with testimonials, informative content, and flash deals.

Mix up your ad formats: carousels, single images, and videos are great places to start.
2. Running a Set-it-and-forget-it Approach
Automated marketing platforms are great — they take care of the long list of daily tasks you otherwise would have to handle manually. But with great power comes great responsibility: Beware of relying too heavily on your retargeting platform and falling in the trap of a set-it-and-forget-it mindset.
By failing to monitor and optimize your social media retargeting regularly, you risk flushing your limited marketing budget down the drain. Instead, we highly recommend consistently A/B testing new creative, experimenting with your audience segments, and even trying new social media platforms to launch your retargeting campaigns.
3. Not Retargeting Top-of-funnel Shoppers
Social media retargeting is an extremely flexible tactic you can use to achieve a multitude of goals, yet, many companies fail to use it for top-of-funnel objectives, such as boosting brand awareness.
While one of the primary reasons for retargeting is to get a shopper to return to your site and take an action (whether that's making a purchase, signing up for your emails, or registering for an event), it's tough to make this ask if the shopper doesn't really know who you are.
Make sure you understand how you're using social media retargeting throughout the customer journey. For top-of-funnel shoppers, consider retargeting as an opportunity to introduce them to your brand rather than immediately opt for the hard sale. After you begin building the foundational relationship, you can use retargeting to encourage a conversion.
Remember: Experts estimate that, on average, shoppers require 28 to 62 touchpoints or interactions with a brand before they purchase.
4. Using Broad Audience Segments
One reason many marketers love social media retargeting is it's the ultimate way to deliver personalized ads to shoppers. Boosting the relevancy of a marketing message can do wonders to help shoppers choose between scrolling past your ad or pausing to contemplate what you have to offer.
However, the first step to personalization involves narrowing your audience segments — for example, rather than developing ads that target "cart abandoners," you can segment according to the value of their abandoned cart. You might then offer free shipping to shoppers with cart values under $15 and a bigger deal (such as 15% off) to shoppers with higher cart values.
5. Leveraging Just One Social Media Platform
The key to successful retargeting is reaching the right shoppers at the right time and at the right place. So, make sure your social media retargeting strategy encompasses more than one platform. Facebook and Instagram are great places to start, but depending on where your target audience hangs out, consider branching out to Twitter, LinkedIn, Snapchat, or TikTok, which all offer retargeting ad options.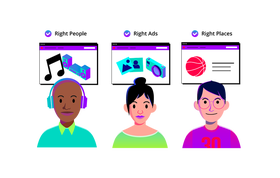 6. Focusing Too Much on Clicks
Vanity metrics, such as clicks, are one of marketers' biggest weak spots because they're flashy. However, you can have a million clicks with zero translating into actual sales.
Ultimately, when analyzing your campaign performance, you want to focus on more reliable metrics like conversion rates, which is what you want your retargeting ads to produce: new sales, email sign-ups, or loyalty program subscribers.
7. Not Testing Your Landing Page
You can have the best retargeting ad in the world, but if it's sending people to a poorly designed landing page, it will cost you conversions and sales.
Your social media retargeting ads need to work as part of your overall marketing ecosystem, landing page included. And if you're not testing your landing page's headline, body copy, images, and CTAs to see what resonates best with your audience, you're simply leaving money on the table.
Remember: Optimization never ends — don't let your campaigns go stale because you're not continuously improving them.
8. Having Messy Data Collection and Management
We're going to make a bold statement here: Acing your retargeting efforts is impossible without good data.
If your data collection and management are a mess, you're likely missing out on valuable insights you could otherwise use to level up your retargeting efforts. And it's not just about where you get your data — it's also about how you manage and analyze it. After all, the more accurate and detailed information you can collect about your website visitors, the better chance you have of crafting compelling ads that convert them into paying customers.
One common pitfall we see is when marketers gather data from individual social media platforms — when a shopper sees both a Facebook and TikTok retargeting ad before purchasing and both dashboards attribute the sale to themselves, you're essentially double counting the credit.

Here's where analytics tools can help. AdRoll's Cross-Channel Performance Dashboard lets you choose the right attribution model for your brand and de-duplicates conversions accordingly. In other words, you can accurately pinpoint which retargeting efforts contribute to a sale to picture how users interact with different touchpoints in a customer journey.
9. Setting Up Your Social Media Retargeting Campaign in Isolation
Social media retargeting is just one piece of the puzzle — you should never set up your social media retargeting campaign in isolation from your other marketing efforts.
Aim to create an omnichannel strategy that weaves in your social media retargeting efforts with other channels like email — our research shows that ads and email can increase conversion rates by 2x. When all your touchpoints work together, you ensure you're reaching your audience where they're most active.
For more on how to create a robust social media retargeting strategy:
Last updated on June 17th, 2022.