The Ultimate Holiday Marketing Calendar
Topics Covered:
Many marketers make the common mistake of waiting until Black Friday (or sometimes even later) to launch their holiday digital marketing campaigns. But every savvy marketer knows the value of getting started months before December rolls around. To do that, you need a holiday marketing calendar.
After going through our customer spending data from 2017**, we found that impressions are often served at a higher rate in October than at the end of the year—with costs per thousand impressions (CPMs) rising dramatically once November rolls around. To help you boost sales and avoid high costs, we've provided a holiday marketing calendar to lay out marketing best practices for the rest of 2018.
August
CPMs rise slowly from August through the end of the calendar year; however, impressions served are also highest during the months leading up to October. Think of this time as the pre-launch phase, when you prepare to shift your campaigns into high gear. Serving holiday ads during this period will get you in front of your target audience at cheaper costs, while ensuring you're firing on all cylinders once you've finally touched down on the holiday season.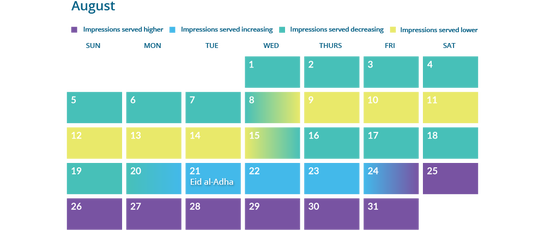 September
September is when the countdown to launch finally begins. When examining our internal data, we noticed that most campaigns saw their click-through performance in September rival that of late November and December. Couple that with the fact that nearly half of parents start their holiday shopping by mid-September, and this month becomes key to ensuring your holiday marketing success.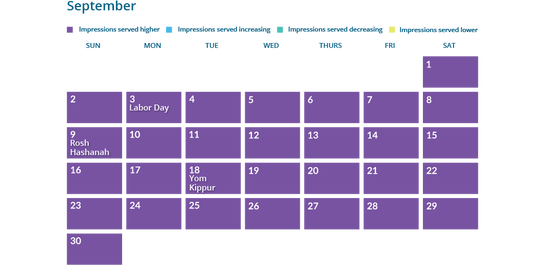 October
October is when holiday campaigns finally start to take flight. This is the last month before digital marketing competition begins to soar to new heights. This is because CPMs and costs per click (CPCs) rise, while impressions sometimes fall, over the final two months of the year. To make sure your ads are breaking through the holiday marketing noise, it's best to start running them no later than Halloween.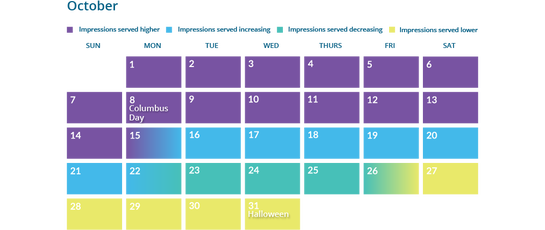 November
November is full blast-off mode. Black Friday, Small Business Saturday, and Cyber Monday all fall within the month. For e-commerce marketers, the week after Thanksgiving is now known as "Cyber Week" and can be incredibly lucrative for driving online sales. Competition may be fierce, but your target customers are still on the hunt for that perfect holiday gift. Deliver your messaging to your key customers by running performance marketing efforts across the web, social, mobile, and email. The more platforms you can reach them on, the more likely you are to make the sale.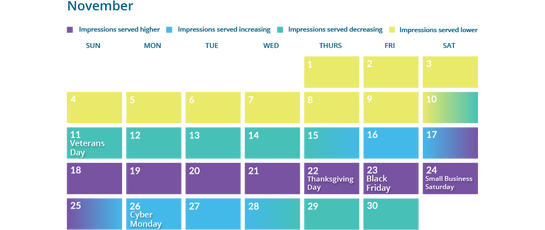 December
You've broken through the stratosphere and are finally heading straight for the stars. But don't give up on your journey just yet. Many, many customers are still in the market for the perfect gifts for their loved ones. Ensure your campaigns are humming along through the end of the month in order to capture the attention of these last-minute shoppers. Also, don't forget the cut-off date for shipping. Ramp campaigns and increase your promotion around this date to ensure customers get their gifts in time for their holiday celebrations.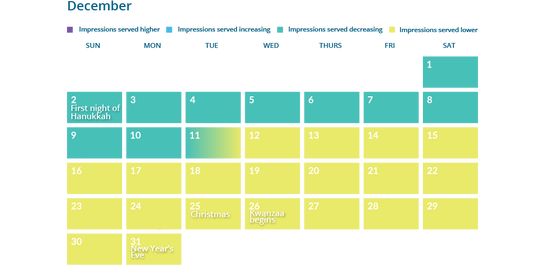 January
Time to relax, right? Not just yet. January is a great time to take advantage of the influx of high-intent users visiting sites with gift cards and returns. This population is high intent because it already identifies online shopping as a goal. In fact, we noticed a nearly 20% increase in the number of impressions served in January 2018 compared to the previous month—but with CPMs over 30% cheaper. In November plan for a short-term January media plan to carry you through the initial regroup period after the holidays. Get ahead of your competition by reaching the post-holiday audiences they refuse to target.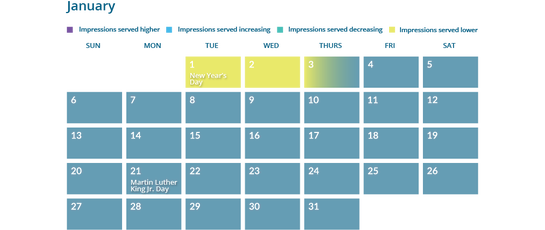 The holidays can be a turbulent time for e-commerce marketers, but we're here to help you take advantage of seasonal marketing trends. With these insights, you'll be better prepared to out-market your competitors and rocket your business into hyper-growth throughout the rest of the holiday season.
Update your AdRoll campaigns or speak with your Account Manager about your holiday plans. Need an account? Sign up for one here!

Last updated on September 16th, 2022.