D2C Brand Spotlight: She Loves Blooms
Topics Covered:
While brooches used to be strictly reserved for gran, they're now a popular fashion statement used to easily personalize any outfit. Think about it — you can throw on a simple dress and make it pop with a colorful brooch or round out a jeans-and-t-shirt ensemble with your favorite animal pin. The mix you choose is something that nobody else can recreate. 
It's this love of personalization and creativity that first drew Yvette Smith to whimsical brooches. To her, they aren't just fashion accessories; they can also tell a story to support worthy causes. 
The Talk of the Town
Jewelry, in general, is an excellent conversation starter. Why? Because they're meaningful purchases — they're tied to holidays, special occasions, and anniversaries. Whether they're bought as gifts or for fun, there's always a meaning behind a necklace or a ring. 
That's why Yvette launched She Loves Blooms in the summer of 2019, to use brooches as a way to spark joy amongst customers and open conversations around philanthropic causes close to her heart. 
A big one is raising awareness for endangered animals. A couple of examples include the "Polly the Pangolin" brooch, which sheds light on the mammal's plight as the most trafficked animal in Asia, and the "Delightful Mr. Dhole pin," which calls attention to the apex predator's status on the IUCN red list. And awareness isn't the only thing that these brooches generate; a portion of the proceeds are also donated to conservation centers.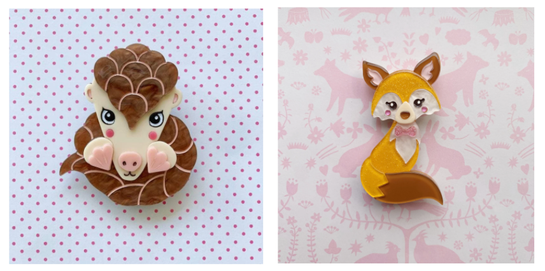 From these animal brooches, Yvette has expanded to personalized portrait pieces that customers can relate to. For instance, there's the fur babies collection for the adoring pet lover (proceeds go to the Humane Society International to stop the dog and cat meat trade in Asia and Africa). There's also the collection that highlights the simple pleasures of staying at home during the pandemic (proceeds are donated to Australia's Indigenous Literacy Foundation).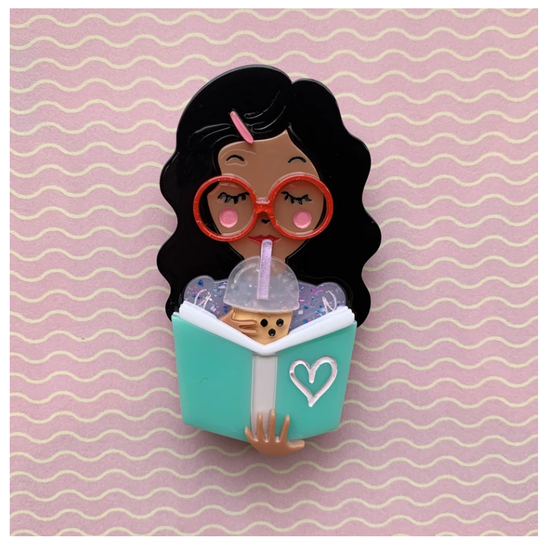 No matter what she creates, Yvette hopes that her brooches will help kickstart the narrative on endangered animals, social justice issues, and more. 
A Focus on Feedback 
The biggest challenge around online shopping has always been the lack of in-store personal experience — customers can't see or feel any items, and there aren't store clerks to help answer questions. Yvette is well aware of this and does everything she can to bring the in-home shopping experience to life. 
This means sharing the weight, thickness, and other specs of her brooches in detail on Instagram and Facebook. Every professionally-shot photo is also accompanied by a short description that details how the brooch was designed and what inspired it. 
Yvette takes it one step further by sharing all of this information before a piece is officially released. This way, she can collect her community's feedback to ensure that her products are perfect while also making customers feel like they're part of the team. 
This quest for feedback has shaped some of She Love Blooms' bestsellers. For example, the first fur baby prototype featured a pin-up girl with a white kitty. A user suggested that a black cat would better suit the design, and Yvette took that advice to heart. Now, that particular design is one of She Love Blooms' top favorites.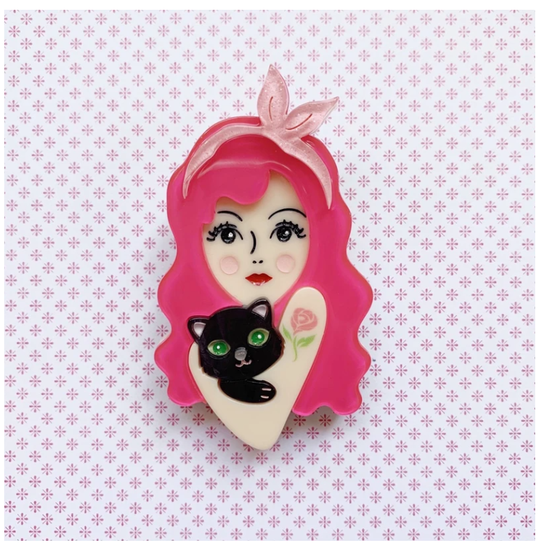 "There's a strong brooch community in Australia," says Yvette. "So I need to be on top of what the community is saying and what they want. I want to know how I can make my brooches better so that they'll always bring joy to my customers."
Growing and Looking Towards the Future 
While business has been steady, maintaining a business behind unique brooches — which involves not only design work, but also supply chain management and marketing — has been challenging with only two people behind the helm. 
"We had a slow start because items go out of stock so quickly," says Yvette. "There's also quite a bit of research required to build my own supply chains around the world. The business is growing, and it gets daunting when it's just me and my husband."
The ongoing goal has been to expand brand awareness, specifically the British, Australian, and U.S. communities. "We use AdRoll as a platform to retarget our ads, keep brand momentum, and push our brand forward," says Yvette. "We're also looking at influencer marketing — I want to work with and build relationships with influencers who not only have a connection to the brand but share the same values as well." 
Advice for D2C Marketers
"The Australian brooch community has a lot of repeat customers, so I've learned that you need to give every first customer a great experience so that they'll return," says Yvette. "That's the most important thing." As for her other top three tips, Yvette encourages other brand builders to focus on the following: 
Create a frictionless experience. You can reduce friction in your customer journey by providing high-quality personalized content to your consumers, reducing the need for them to look around your website or app and potentially look through lots of products that aren't a good match for them.
Make sure customers can relate to your brand. In Yvette's case, she seriously takes her customers' feedback to ensure that she's creating relatable products. Surveys, polls via social media, and message boards are excellent ways to keep a pulse on your community.
Have a unique value proposition. Remember what your brand is, what it stands for, and that your messaging reflects that. 
Last updated on September 16th, 2022.