Operationalizing an Ecommerce Business: 4 Tips for Success
Topics Covered:
Are you ready to transform your scrappy ecommerce startup into a sales machine? Perhaps your mid-size company is ready to level up to the big enterprise leagues? Wherever you are in your ecommerce journey, it never hurts to receive some expert help from world-class marketers. 
AdRoll President Roli Saxena recently joined host Benjamin Shapiro on the MarTech Podcast, a resource hub that invites marketing and tech leaders to share ideas, career wins and losses, and thoughts on how new innovations can drive ecommerce growth. 
On this first installment of the MarTech Podcast's "Ecommerce Growth Week," Roli provides tremendous insight into the many challenges current ecommerce brands face, plus some ways to operationalize your business to drive success.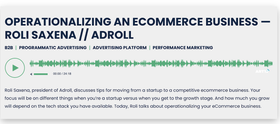 For those who prefer listening, check out the episode here. Otherwise, read on for the highlights.
1. Leverage Technology for Cross-Channel Audience Management and Measurement
The ecommerce landscape has shifted dramatically: "Ecommerce as an industry has grown almost 10 years...in just the last one year during the pandemic," Roli shared. 
This transformation has had a twofold impact on businesses. On one end, it has become more challenging for brands to grab attention. If your return on investment (ROI) has decreased this year, you know first-hand what we're talking about. 
On the other side, an increasing number of MarTech tools are now available — a whopping 7,000 of them, according to Roli. With the proliferation of technology, from social solutions to SEO optimizers, it has never been easier to launch an ecommerce business. 
That's where the problem starts, though: How do you capture attention, differentiate yourself from competitors, and determine which tools you need for your brand?
No need to panic. Roli recommends investing in technology to help with:
Attracting and identifying the right audience. Rather than trying to reach everyone at once, the key to successful marketing is targeting audiences with the highest propensity to convert. 

Determining which channels are most relevant to your target audience, whether it's Facebook or Google ads, emails, or SMS. Successful ecommerce is all about reaching the right people at the right time in a way that'll best capture their attention. 

Measuring your results and continuously optimizing your efforts. There's no one-size-fits-all solution to marketing, and the only way to determine what works best is by constantly testing, analyzing, and tinkering with your strategies.
No matter what you decide, make sure to prioritize MarTech solutions that manage your audience across channels and measure efficacy and performance, which will then allow you to fine-tune your budget and strategy. Integrating these two functions — audience and measurement — will give you an even more powerful marketing engine.
2. Know Your Customer
If you recently launched an ecommerce business, it's important to make sure you have a deep understanding of who your customers are and what problems you're solving for them. 
"[About] 98% of all online shoppers visit a store and never make a purchase," Roli explained. "And 3 out of 4 customers who do make a purchase never come back and do a second round." 
That said, keep these questions in your mind:
Who is the buyer I'm pursuing?

What is my audience niche?

What does my target audience need?

What will create the lightbulb "aha!" moment for them?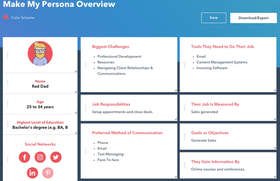 But how do you determine who your audience is if you don't have customers yet? The answer is simple: Don't be afraid to get your hands dirty. In your early stages, it's all about qualitative data — interviewing prospects, conducting product discovery, and validating your product ideas. You won't have all the data you need until you test it out. 
3. Evaluate Your People, Tools, Processes, and Your Data
If you're a competitive ecommerce business that knows its customer profile and is ready for new growth opportunities, then one major way to operationalize your company is by evaluating whether or not your existing resources will help you conquer the next stage. 
Take it from Roli: "Scale for me is when your revenue growth is exponential and is significantly higher than the level of investment you're making in the business." The key to exponential growth is creating more efficiencies that allow you to scale faster — which means leveling up your team, tools, processes, and data, so your marketing is a repeatable engine. 
Consider moving away from a DIY-style marketing stack to an integrated all-in-one solution, along with upgrading your Shopify store to become a Shopify Plus Merchant, or hiring a marketing agency to develop your ad creatives rather than customizing pre-made templates. 
Don't underestimate the importance of more useful, reliable, and relevant data, too. Given brands' limited budgets, leveraging the right data will help you make important decisions on allocating resources. 
4. Focus on Collecting First-Party Data
With the death of third-party cookies looming over the marketing industry, it's time to start amping up your first-party data collection — think email addresses, phone numbers, and other relevant customer information — to help build strong audience profiles. 
Ads aren't going away anytime soon, and the shift to a healthier, safer internet is good for everyone, brands and shoppers alike. If you're already an AdRoll customer, there's no need to worry — our team is working closely with Google in testing new protocols and targeting via cohorts and group-based behaviors in a post-third-party-cookies world.
AdRoll Has Your Back
Remember: Growth and operationalizing your ecommerce business is an iterative cycle — don't pressure yourself to get everything right the first time. Learn from your mistakes, and stay open to trying new strategies. 

If you're ready to get started with these tips and tricks to success, check out what AdRoll can do for your brand right now. Looking to launch cross-channel marketing, from retargeting ads to emails, for specific audiences? We got you covered. Want a performance dashboard that encompasses all your touchpoints? We have that too! 
Get started with AdRoll here.
Last updated on December 9th, 2021.