Instagram Advertising Template for Shopify
Topics Covered:
Creating an Instagram ad is hard work, especially for marketers whose schedules are so crammed that any creative brainstorming can feel overwhelmingly draining. The platform is incredibly visual, full of amazing content from curators and creators who seemingly have an unending stream of ideas for new posts. Meanwhile, it's browsed by the most digitally savvy and cynical audience anywhere on the Internet (those young shoppers can be ruthless!). The nature of Instagram forces brands to get creative to stand out from the crowd but punishes them when they get too obviously precious or clever. 
And the most unfortunate part? Instagram's algorithm can be random in a way that most marketing isn't — it's near impossible to predict whether your amazing and novel idea will go viral or not. In fact, success is oftentimes the result of careful planning and preparation that helps you to devise the right post promoting the right product to the right person at the right time. Whew, that's a lot of factors at play! 
But no need to wring your hands, bombard each post with a ton of hashtags, and toss your phone away just yet. Here at AdRoll, we've devised this guide to help you build the perfect Instagram ad. We know that constantly coming up with ideas for social media posts that are interesting, relevant, and attention-grabbing can be super difficult, which is why our mission is to make the process easier for you. 
Simply work those creative muscles while following these m(Ad) (libs) prompts, and get ready to create some content. Remember: Don't be afraid to try something a little more fun, different, and daring! Without experimenting, you won't figure out what resonates best with your target Shopify audience. While these new ads may not lead to an immediate viral hit, you'll be well on your way to getting more likes, comments, and follows. 
Oh, and one more pro tip: Team up with leading Facebook partner, AdRoll, to be well on your way to Instagram advertising success.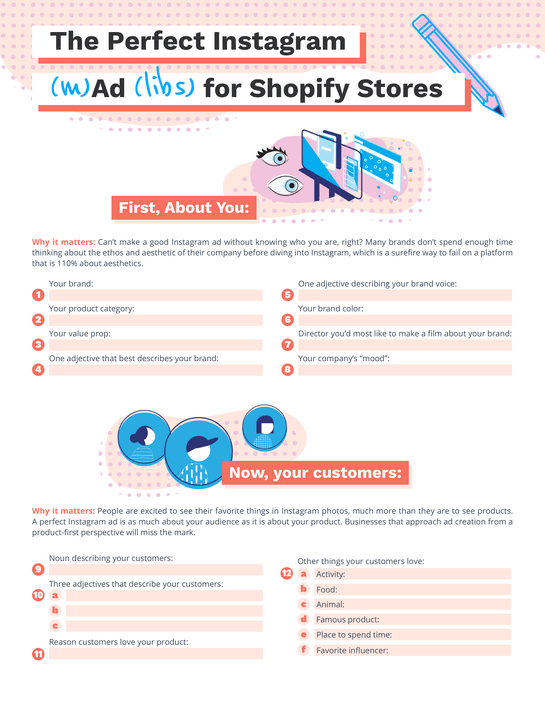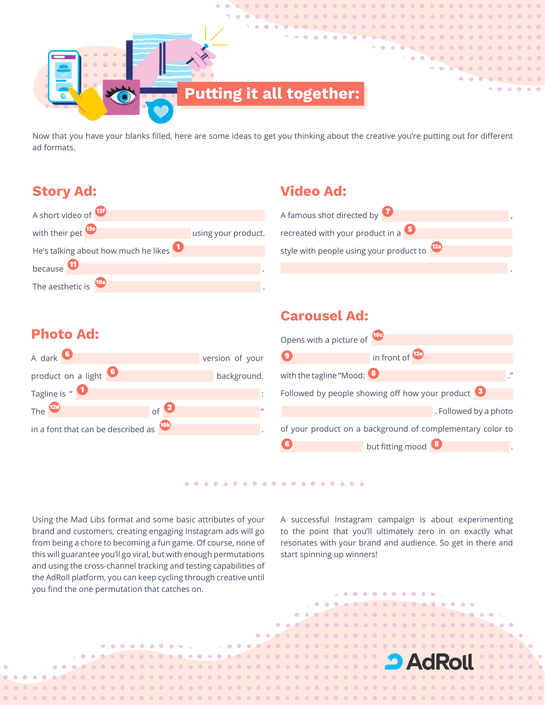 Last updated on September 16th, 2022.