Blast Off Your Holiday Planning [INFOGRAPHIC]
Topics Covered:
The holidays can bring in as much as 30% of a retailer's total sales in just one season. While this is a great opportunity, it can also stress out digital marketers who need to juggle omnichannel campaigns, market to new mobile shoppers, and optimize on past successes. But there's no need to worry because we're here to help out with holiday planning.
We pulled together industry trends and dug into our own data to reveal the key strategies necessary for running successful marketing campaigns this holiday season.
Holiday Marketing in October? You Better Believe It
One of the biggest misconceptions about holiday marketing is that you need to get your ads up and running just in time for Thanksgiving weekend and Black Friday. This isn't the case. In fact, over 40% of US consumers plan to begin their holiday shopping before November, and a solid 20% plan to start before October even begins. But does it make sense to run ads that early on? We took a look at our internal data and found out that October might just be the very best time for marketers to get their holiday planning figured out and campaigns up and running across the web, social, and mobile.
This means that ads running in October are typically cheaper than during the holidays—allowing you to set up your high-performing marketing campaigns to run on all cylinders during the holidays.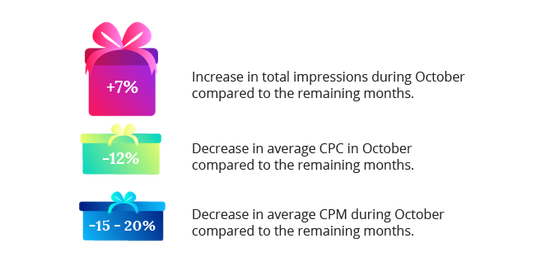 While October is arguably the best time to start running your campaigns, this doesn't mean that you should skip out on November and December altogether. In fact, as we look at how the average click-through rate (CTR) changes for AdRoll customers from August to December, we can see that your most engaged traffic will show up later in the year.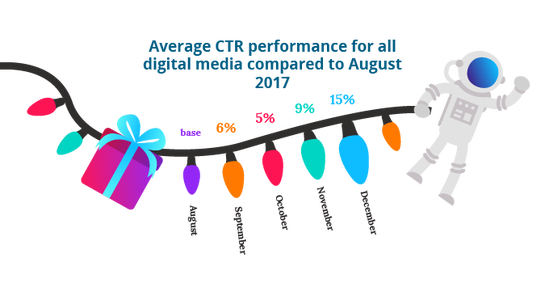 The Rise of Mobile Marketing
41% of all purchases. In fact, on Thanksgiving, mobile shopping actually accounted for more purchases than those that came from a standard desktop computer. Better still, the average cost per click (CPC) is 63% cheaper on mobile than it is on desktop for the average holiday campaign. If you're looking to get the most out of your budget this holiday season, it's important to make sure your ads and your site are optimized to capture this mobile audience.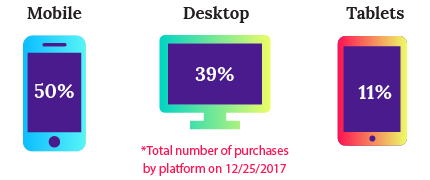 Beyond that, cross-device campaigns feature some of the absolute best performance when compared to regular desktop or social media campaigns.
And this performance doesn't stop after Black Friday and Cyber Monday have ended. We've found that many people are still shopping on Christmas Day. More than 60% of those who opened presents and continued to shop did so from a smartphone or a tablet. So, if you're looking to get your ads in front of your target customers' eyes, then mobile ads are a must.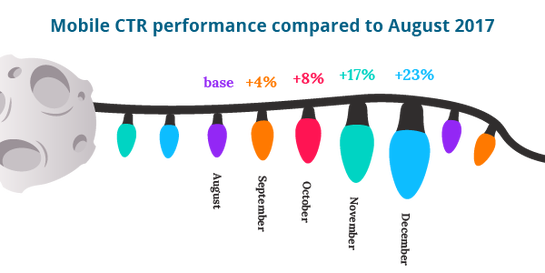 While mobile advertising performance can be incredibly successful and efficient, it is important to remember that the earlier you run your campaigns, the less competition you'll likely see. By starting early, you'll be able to reach both new and existing users with strategic holiday messaging at a lower cost to you. As the holiday season ramps up, so will the competition. However, you'll be ahead of the game and can focus your budget on bringing your new high-intent users down the funnel to convert.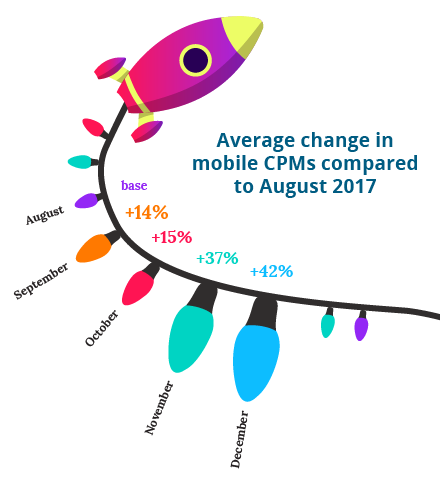 Tapping Into Facebook and Instagram for Success
One of the best ways to take advantage of a mobile audience is to make sure that you're running your ads across social media sites like Facebook and Instagram. Marketers who run ads on social platforms can add over 10% more potential impressions to their campaigns. While social platforms can be pricier than their desktop or mobile counterparts, their higher engagement rate means that every marketer should look to run ads across multiple social networks.

You read those numbers right. For the months of August through December in 2017, Facebook and Instagram's highly visual ads saw click-through rates and average costs per click that vastly outperformed counterparts on traditional display sites.
While performance on the platforms can be stellar, it's still important to get your campaigns up and running early to avoid the increase in average impression costs.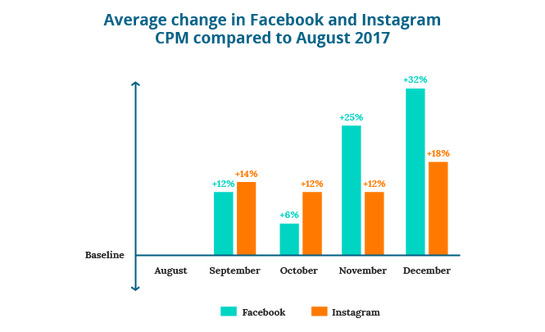 No matter how far along you are in your holiday planning for 2018, AdRoll is here to help. Whether you're looking to optimize last year's campaigns or blow it all up and start again, we've compiled proven strategies that will help your company meet their sales goals and end the year on a high note. To learn more, visit AdRoll.com.

*Unless otherwise stated, all data is pulled from AdRoll Group's spending customers from July 1 through December 31, 2017.
Last updated on September 16th, 2022.