How To Create A Holiday Shopping Guide For Your Ecommerce Store
Topics Covered:
'Tis the season when ecommerce reigns king, and we're here to help you make the most out of it. From updating your store with festive colors to transforming one-off Black Friday shoppers into loyal customers, it's time to go all out. 
Today, we're taking a page out of Santa's playbook — making a list and checking it twice. That's right, we're diving deep into how to create a holiday shopping guide for your ecommerce store! (But don't worry, we'll leave it to Santa to judge who's been naughty and who's been nice.) 
What's A Holiday Shopping Guide, Anyways?
A holiday shopping guide is a roundup of product recommendations for different people on your shoppers' lists. Not sure what to purchase for a coworker you've picked for Secret Santa? Esquire's got a gift guide for that. Need some ideas on what to buy your Taylor Swift-obsessed friend? Fortune's got you covered!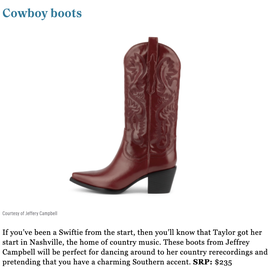 For publishers, holiday shopping guides are a great source of affiliate income. (If you're not sure how affiliate marketing works, we've got a quick 101 here.) For brands and retailers, they're a fantastic way to streamline the shopping journey and promote your products. In 2020, more than 45% of shoppers used gift guides to inform their holiday purchases, and as with other types of content marketing, gift guides can also help dramatically boost SEO.  
How To Create A Holiday Shopping Guide
There's more to the question of "how to create a holiday shopping guide?" than just slapping together a list of products. Ultimately, you want your content to aid discovery, reduce choice anxiety, and convert casual browsers into paying customers. 
Consider your target audience
By now, you've hopefully gotten a firm grasp on who is your target audience. So before you start curating your holiday gift guide, consider how you can segment your audience — what would interest repeat customers versus first-time buyers? How do their price points differ? Are there different product categories that will appeal to these unique groups? 
Review sales data from prior years 
The key to most marketing is data, and creating a holiday shopping guide is no different. We recommend reviewing data from previous holiday seasons, looking specifically at bestsellers, customer segments, and shopping trends. 
Identify relevant products
Now comes the fun part: Building your holiday shopping guide! Armed with research and data, you now have a better sense of which products to feature in your guides. Remember to minimize decision paralysis by keeping your lists relatively straightforward; a gift guide isn't helpful if you overwhelm shoppers with too many options. 
Brainstorm different angles for gift guides
Gift guides shouldn't be one-size-fits-all. Instead, using your identified segments and products, it's time to start organizing and brainstorming various angles. Here are some to consider:
Recipient: "5 Gifts For Every Mom"

Personality: "5 Gifts For Every Outdoors-Obsessed Person In Your Life" 

Price: "5 Gifts Under $10 That Look Expensive" 

Gender: "5 Romantic Gifts for Her"

Style: "5 Gifts Your Minimalist Friend Actually Wants"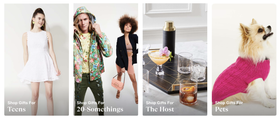 Add a bit of festive spice
Shopping for friends, family, and coworkers should be fun and exciting, and that's precisely the type of feeling you want to evoke in your holiday gift guide. Use celebratory pictures, videos, graphics, and descriptive copy that inspire people to click "add to cart" and "checkout" right away. 
Repurpose your content for different channels
Your gift guide doesn't just have to live in the blog on your ecommerce site; you can also create a dedicated landing page or design an email campaign around it. The easier shoppers can find the gift guide, the more effective it will be. 
Whichever format you decide to use, triple-check that all the links work and images are clickable. Additionally, try to keep the layout relatively clean with enough white space so the design doesn't overwhelm shoppers. 
Santa Claus Is Coming To Town
And there you have it! Now that you know exactly how to create a holiday shopping guide, get ready to ship more gifts than Santa's elves. 
After you've put in all that work to curate these guides, your next task is to ensure that they are as widely distributed as possible. Here's where the AdRoll integration for Shopify can come in handy. With our platform, you can launch ads, emails, and other marketing efforts to promote your guides and successfully grab shoppers' attention — yes, even in a highly competitive holiday ecommerce landscape. Check it out today!
Last updated on January 5th, 2022.