How Social Advertising Can Add Rocket Fuel to Your Ecommerce Business
Topics Covered:
Ah yes, social media: the beloved technology that permeates modern society. From keeping us informed about our friends' engagements to providing us with a never-ending stream of entertainment, social media is an inescapable part of our everyday lives. 
With the ability to reach over 3.2 billion users worldwide (that's nearly half of the entire human population!), it's unsurprising that advertising on social media platforms is one of the top tactics that Shopify marketers currently rely on. Collectively, brands spend a whopping $100 billion on global social advertising every year. Some experts predict that by 2023, this number will rise to over $242 billion. 
Though social advertising can be incredibly powerful, you don't want to accidentally blow up your budget in the process. Let this guide teach you everything you should know about using social ads to launch your Shopify brand into the stratosphere. Strap in, and let's get started! 
In this article:
What Is Social Advertising?
How Are Social Ads and Other Types of Ads Different?
Best Practices for Each Social Ad Platform
9 Ways to Run a Successful Social Advertising Campaign
Ready to Add Rocket Fuel to Your Ecommerce Business?
What Is Social Advertising?
Social advertising involves creating and deploying clickable ads that appear on a social network, such as Facebook, Instagram, or Twitter. But they're far more complex than just slapping together a graphic and posting it on multiple channels — what makes social ads incredibly powerful is their ability to target particular audience segments, drive CTAs, and engage with users. 
As a result, they're a great tool for Shopify retailers that want to boost brand awareness, generate leads, and drive conversions — some studies have found that social ads see a 55% greater recall rate compared to their non-social counterparts. 
How Are Social Ads and Other Types of Ads Different?
While we can't sing enough praise for social ads, it's important to note that every kind of ad — such as promotional emails, web banners, or paid search advertising — has its unique place in your marketing stack. 
With that being said, more and more social advertising opportunities pop up every day with the advent of new platforms and the growth of existing ones. Because social media platforms often offer a robust trove of user data, social ads are particularly fantastic for Shopify brands wanting to:
Tailor a message to particular audience segments, e.g., based on past behavior and purchase history
Reach a new set of shoppers
Have more control over an ad campaign — with social ads, you get real-time data, allowing you to adjust your creative or budget as needed
Promote CTAs, e.g., leave a review, make a purchase, sign up for emails
Collect rich metrics on who's engaging with the brand
Best Practices for Each Social Ad Platform
While Facebook and Google collectively earn about 60% of all social ad dollars (we're talking over $77 billion in the U.S. alone), the playing field spans far beyond the platforms they manage. However, the challenge mounts when you realize that every social network has its own unique advertising offerings, best practices, and user characteristics. 
Don't worry! We've made it easy for you by breaking down all the major social channels — including what they offer, why they'd be great for your Shopify brand, and pro tips to keep in mind. 
Facebook
We can't talk about social advertising without diving straight into Facebook, the tech behemoth with over 2.45 billion monthly active users. As the largest platform, it's seen its fair share of controversy — yet, its users always return for more, making Facebook perfect for brands that want to leverage its robust social ad offerings. 
Today, Facebook serves over 7 million advertisers and has the largest share of display ads among all social networks. Additionally, it offers the highest ROI for social advertisers, making it perfect for up-and-coming brands with limited budgets.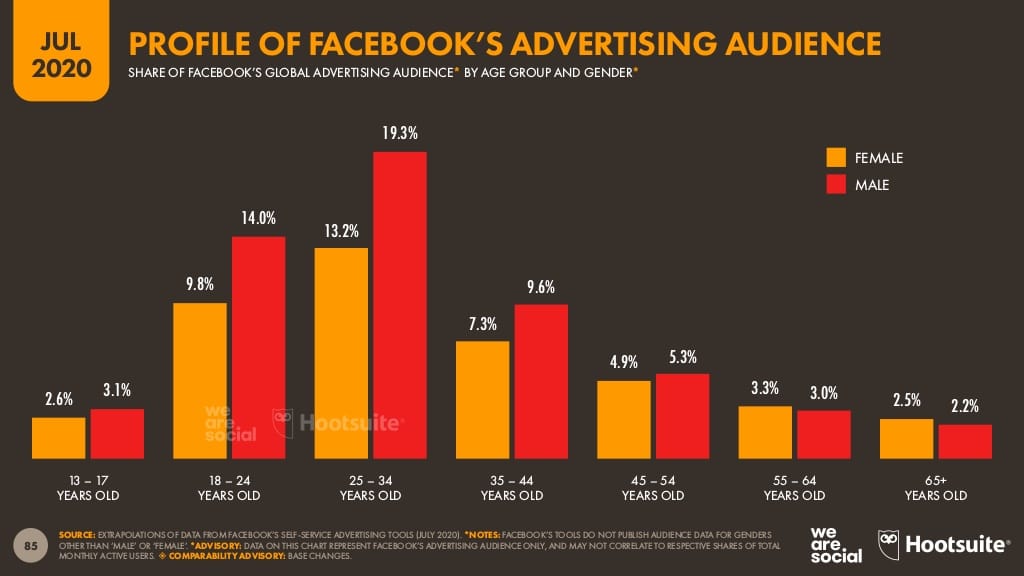 Types of Facebook ads
Generally speaking, there are three types of campaign objectives that Facebook offers:
Awareness: Build your brand reputation or increase reach
Consideration: Encourage users to take action, such as visiting your website, engaging with your page, installing an app, watching a video, filling out a form, or messaging your brand on Facebook Messenger
Conversion: Drive shoppers to purchase your products
Brands can target audiences based on: location, age, gender, education level, relationship status, job title, interests, past purchases, device usage, and more. You can also use its powerful lookalike audience tool to create customer profiles similar to your existing ones and expand your customer base. 
Beyond offering comprehensive targeting options, there are also a whole host of creative Facebook ad formats, including:
Photo ads: A series of photo-only ads on Facebook can drive 1.7x more unique traffic to your Shopify store compared to other types of ad creatives
Video ads: From short clips that loop and autoplay to 241-minute long videos on desktop, there's a video type for every purpose 
Carousel ads: Have a whole range of products you want to promote? Carousel ads let you include up to 10 images or videos with unique links — all in one ad 
Slideshow ads: If you're looking to create a video ad but don't have the resources to develop it, Facebook will make one for you! Just supply the static images for the slideshow 
Collection ads: Perfect for brands that want to feature product photos and pricing. Think of it as a little peek into your catalog
Messenger ads: Ads nested between your conversations in the Messenger app 
Stories ads: These six-second photos (or 15-second videos) are displayed in Facebook Stories for just 24 hours, making it perfect for limited-time marketing messages (e.g., flash sales)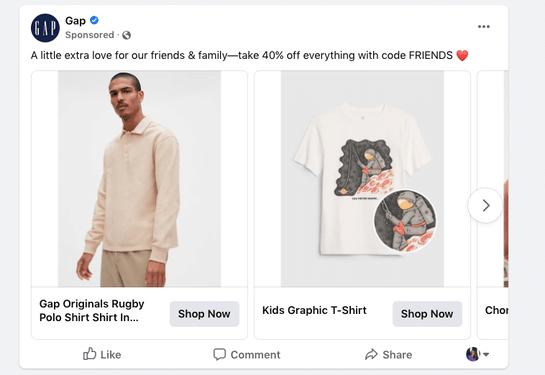 Instagram
Instagram is Facebook's younger — and dare we say, cooler? — sibling. With over 1 billion monthly users and 25 million business profiles, it's the perfect social ads platform for highly visual brands. And while plenty of Gen Xers also use the platform, Instagram is most popular with millennials and Gen Z. 
Additionally:
Types of Instagram ads
Since Facebook owns Instagram, it's not surprising that their social advertising and targeting capabilities are similar: 
Story ads: Either five-second photos or 15-second videos that last for 24 hours. Pro tip: IG stories with interactive elements (such as poll stickers) can significantly boost engagement and reduce cost-per-video-view
Video ads: Up to 60-seconds long, video ads are displayed between newsfeed posts. You can add a CTA button too 
Photo ads: They look like a regular Instagram post, except for a button at the top right that says "sponsored"
Carousel ads: To see the next photo in your carousel, users simply have to swipe left 
Collection ads: While Instagram Collection ads don't include space for a headline, you can add 90 characters of text in the caption 
Ads in Explore: Instagram's Explore feed is a place for users looking for new accounts to follow. Advertising on this page means a prime spot next to trending and relevant content
IGTV ads: Instagram launched IGTV back in 2018, giving users a platform to post long-form videos. More recently, brands can create 15-second video ads for IGTV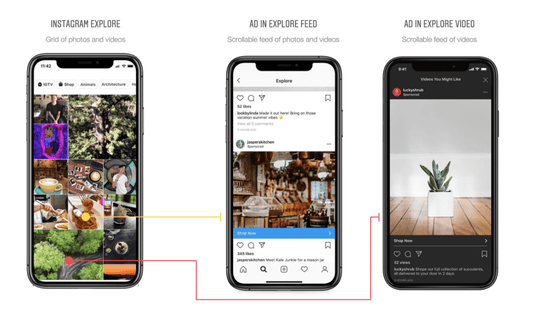 Twitter
It's time to shift gears and talk about Twitter, a popular platform with a significantly different user base from Instagram's. Nearly two-thirds of Twitter's audience is male, and people primarily use the platform to share their opinions, engage in discussions, and jump on trending topics. 
Types of Twitter ads
There are two ways for brands to create ads on Twitter:
Promote an existing Tweet: You can target the promoted Tweet based on location and select a budget between $10 or $2,500
Twitter ads campaigns: Based on your marketing objectives, you can set up campaigns based on boosting brand awareness, encouraging app installs, driving website clicks, increasing your follower numbers, and more. Your ads can be videos, app previews, or even polls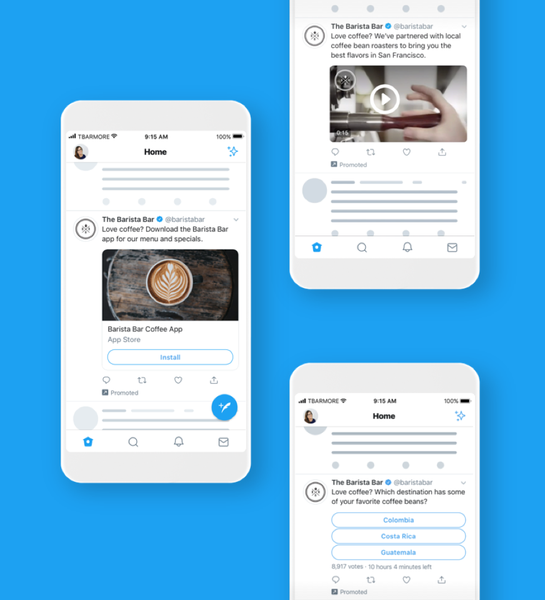 Pinterest
Pinterest is more than just a hub for styling, wedding, and home decor ideas — 55% of its users say they use the platform specifically for shopping. The platform works as a virtual corkboard, where users can "pin" ideas and images they like (which includes sponsored content) to different boards that their Pinterest connections can see, share, and re-pin.
If you're looking to target females who are open to new brands and products, this is the platform for you. 
Pro tip: Given Pinterest's "research" and "discovery" nature, the platform has a longer lead time. If you're hoping to promote a seasonal product, consider running your Pinterest campaign at least 45 days earlier. 
Types of Pinterest ads
Pinterest ads are also known as Promoted Pins — which look just like regular pins with a small "Promoted" tag — that are targeted at a wider or specific audience. Promoted Pins can be:
Images
Videos
Carousels with up to five images
One-tap pins (that takes users directly to a landing page)
App pins (that take users directly to a mobile app download page)
Buyable pins (that will reveal product info when tappen on)
Story pins 
One interesting thing to note: If users save your Promoted Pins to their individual Pinterest boards, the "Promoted" tag disappears, and it lives as an organic post (aka bonus free exposure!) 
YouTube
YouTube is the king of social platforms when it comes to longer-form video content that informs and entertains (think vlogs, how-to tutorials, and day-in-the-life shoots.) In terms of audience, it has slightly more male users than female ones, with a fairly even distribution across ages. 
Types of Youtube ads
There are various video ad formats available for brands on Youtube — and because Google owns Youtube, your ads may also appear in other parts of Google's display network, like apps or games. 
Skippable in-stream ads: They play automatically before, during, or after videos and can be skipped after five seconds. Try to keep your video ad 30 seconds or less, with your most important info at the very beginning
Non-skippable in-stream ads: Maximum 15 seconds long, these are short ads that users see at the start, middle, or end of videos
Video discovery ads: These video ads, which appear as a thumbnail image with text, are located next to related Youtube videos, on the results page of a Youtube search, or on the mobile homepage
Bumper ads: They work similarly to non-skippable in-stream ads but are six seconds long max
Masthead ads: Have a bigger budget? Make a splash with masthead ads, which have limited placement availability (you'll need to contact a Google sales rep). Masthead ads will autoplay a preview for a maximum of 30 seconds above the Youtube homepage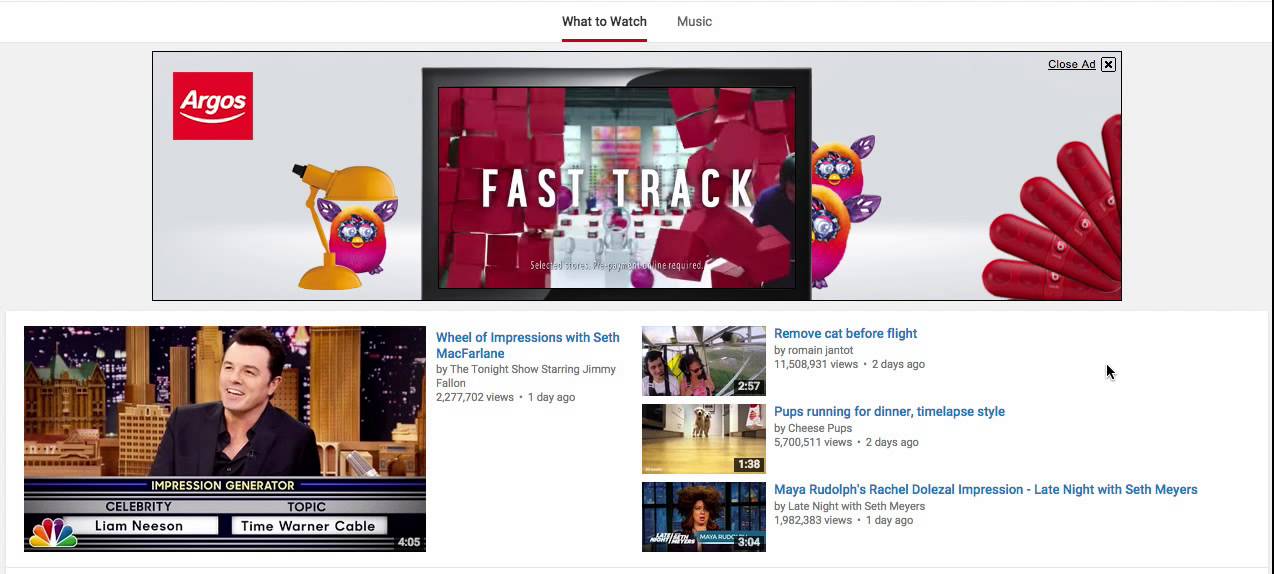 TikTok
Finally, we have the youngest addition to the social media world: TikTok. With 47.4% of U.S. TikTok users under the age of 29, it's the go-to app for Shopify brands looking to capture the attention of younger shoppers. However, keep in mind that depending on the type of ad you're looking to run, you may need to work with a TikTok ad manager. 
Types of TikTok ads 
In-feed video: Create a full-screen image or video that'll appear in a user's "For You" newsfeed. After nine seconds, a card will appear with your brand's display name, plus a CTA and any additional text 
Brand takeover: These are three to five-second-long full-screen videos that show up when someone opens the app 
Branded hashtag challenge: When a brand asks TikTok users to complete a challenge (such as a choreographed dance) and share it using a branded hashtag. These'll also pop up on the Discovery page 
Branded effects: Create a custom sticker, filter, or lens that users can use to spice up their videos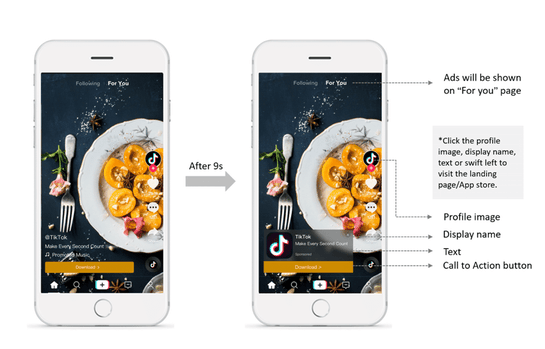 9 Ways to Run a Successful Social Advertising Campaign
Excited to jump in and start creating your social ads? Hold on for just a second. While social ads are relatively cheap compared to other marketing channels, creating effective ones still requires strategy, detailed planning, and creativity. 
Here is everything you need to know about running a successful social advertising campaign for your Shopify store. 
1. Determine your business objectives
As you've probably figured out by now, social platforms can offer a ton when it comes to supporting your ad campaigns. That's why the last thing you want to do is select the wrong campaign objective and see your costs skyrocket without corresponding traction from users. Take a moment to review your business objectives, which will not only help you choose the best platform but also the most appropriate ad solution within that platform. 
Some common objectives include:
Promoting a limited-time sale
Encouraging existing customers to leave a review
Boosting brand awareness
Increasing email sign-ups
Fill in the blank:
The objective of my social ad campaign is to ____________.
2. Know your target audience
Each social network has its unique pool of users, with powerful capabilities to help laser-focus on specific segments. To make the most out of these robust targeting solutions, you'll need to have a thorough understanding of who exactly you're trying to target. The more you can tailor your social ads to the right people, the more you'll get for your buck. 
Take a moment to develop your audience personas. Try to create at least three profiles with consideration to the following: 
Gender
Age
Location
Income
Education level
Role/title at their company
Hobbies/favorite activities
Favorite media channels (e.g., radio, TV)
Preferred communication channels (e.g., email, text)
Favorite brands
Purchasing incentives (e.g., discounts)
Common pain points
Goals/aspirations
How can your brand/product help them?
3. Determine your budget
Whether you're looking to launch a hundred-dollar or million-dollar social media campaign, there's an ad solution for you. That's because most social networks sell their ad space in an auction format. Long story short, you'll set a maximum bid for a target action (e.g., a click, 1,000 impressions, a conversion) or a daily maximum budget. The platform will then provide a recommended bid based on your campaign goals, budget, and factors such as the type of audience you're targeting or the placement within the network. Even the time of year, week, or day can impact the cost.
For more, check out this template for building your marketing budget. 
4. Select the best platform 
Now that we've covered the most popular social platforms, you should have a good sense of which ones are most relevant to your brand and goals! Consider:
The demographics/characteristics of each platforms' users and how well they match your audience personas
The cost and expected ROI for each platform
The creative and placement options for each platform
Which platforms your brand already performs well organically on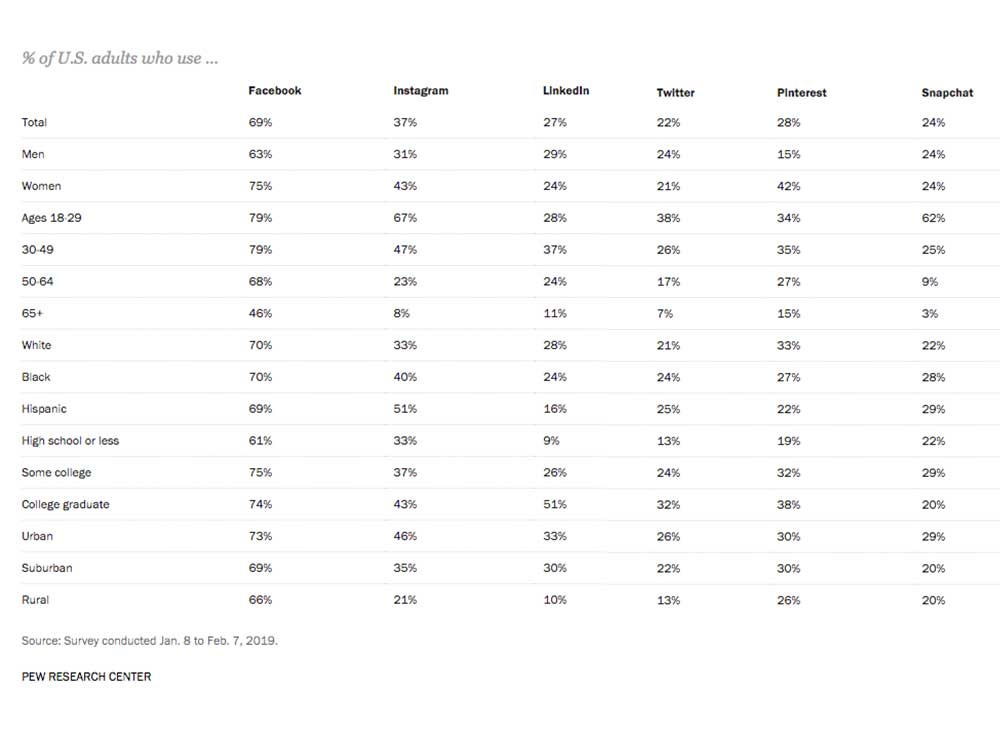 5. Get inspiration from your organic posts
If you've started posting organic content to different social media platforms, you already have a treasure trove of insight! Draw up a similar table to the one below to see if you can spot any trends — you'll want to replicate these successful organic posts in your social ads. 
| | | | | |
| --- | --- | --- | --- | --- |
| | Platform | Post link | Post details | Why do you think it's performing so well? |
| Post with the most clicks | | | | |
| Post with the most likes | | | | |
| Post with the most comments | | | | |
| Post with the most shares | | | | |
| | | | | |
6. Design with mobile in mind
When was the last time you scrolled through social media on a desktop? If it's been a while, you're not alone — mobile reigns supreme when it comes to devices for social media. 
With that being said, your mobile ads should be designed specifically for smaller screens. Be careful not to cram too much tiny text in your visuals, and make sure all landing pages are mobile-optimized, so people don't have to pinch and scroll. 
Take a moment and look at your Google Analytics data. What are the top five screen sizes of your users?
7. A/B test your ads
One of our favorite things about social ads is real-time analytics, where you can quickly gauge the effectiveness of everything you're doing. 
But rather than blindly launch your ads with plans to iterate as you go along, we recommend testing several ad creatives and placements with smaller audiences to see what works best. With the results in hand, you can then refine the winning ad and use it for your primary campaign. 
Use this checklist to A/B test your ad creative:
✅ Layout
Location of text
Location of logo
Location of CTA button
✅ Image
With (vs. without) text
Text font 
Font color
Product shot
User-generated photo
Stock photo
Lifestyle shot
Background colors
Number of products displayed
✅ Video
Duration of video
Brand placement (e.g., in the beginning, at the end, or throughout)

✅ CTAs

✅ Headlines
Content
Length
Tone (e.g., FOMO) 
8. Measure your results
Equally crucial to determining your goals before launching your ad campaign is measuring and analyzing your data as they roll in. Fortunately, the social platforms we've discussed all offer a vast amount of information that'll help you confidently determine whether you've hit your goals. 
Whenever your social ad campaign wraps up, ask yourself:
What worked?
What could I have done differently?
What was the ROI, and how did it compare to my target ROI? 
9. Automate your ad buying
If you think that social ads seem like a ton of work — well, you're not exactly wrong. But there's one thing coming to the rescue: automation. 
Automation tools like AdRoll integrate your social ad campaigns, CRM, and other marketing channels to take the work off your hands. This includes publishing ads on multiple platforms in multiple formats, offering cross-device retargeting, and maximizing your spend. 
Remember: Automation platforms don't replace marketers. They simply leverage data in a way that helps you make smarter and more strategic decisions when it comes to ad buying. 
Ready to Add Rocket Fuel to Your Ecommerce Business?
Social ads offer tremendous value for Shopify brands that want to engage and convert audiences. However, given the immense possibilities with all the different platforms, creatives, and placements out there, it's true that social ads are not for the faint of heart (nor those suffering from indecisiveness). After all, it's your marketing budget and brand's success that's on the line. 
AdRoll is here to help you shoot for the moon. Download the AdRoll app for Shopify now.  
Last updated on April 5th, 2023.