Google Shopping Ads: 6 Advanced Tips for Shopify Plus Brands
Topics Covered:
Google Shopping: It's the ultimate way to get your brand and products in front of high-intent shoppers. After all, how often do you visit a brand's website for one specific product rather than Googling what you're looking for and seeing all your options? 
Since it launched as a paid channel almost a decade ago, Google Shopping ads have remained a valued tactic for shoppers and brands alike. They're one of the best-performing ad types Google offers in terms of clicks and return on ad spend. Plus, they've gotten even more powerful over the years, and it's never been easier to set them up, target specific audiences, and optimize for KPIs. 
We've discussed all about Google Shopping Ads — what they are, why they're relevant, and how to get started, stat. In this post, we're taking it up a notch, focusing on six advanced tips that Shopify Plus-powered brands need to know.
1. Make the Most Out of Geo-Targeting Modifiers
As a marketer for an enterprise-level brand, you're familiar with the importance of precise audience targeting based on demographics, location, behaviors, and interests. 
Google Shopping ads are no different — the platform offers robust, complex geo-targeting modifiers for campaigns. These geography-based bid changes and modifiers allow brands to tinker with bid percentages based on specific city and zip code-level locations.
Invest more heavily in relevant regions using data on your site visitors, target audience, and overall performance goals

Segment based on online vs. brick-and-mortar locations 

Leverage data on location-based customer intent

Remove irrelevant or unwanted locations
2. Check Out Auction Insights
Data is every marketer's best friend, and Google's Auction Insights is a great place to start if you're looking to get more competitive with your Shopify Plus marketing. 
Auction Insights offers a dashboard that compares your performance with other brands competing in the same auction categories — you can monitor six specific data points: impression share, overlap rate, outranking share, position above rate, top of page rate, and absolute top of the page rate. Armed with this information, you can adjust your bidding and budgeting strategies accordingly.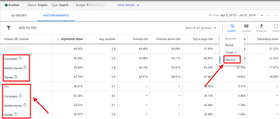 Pro tip: Checking Auction Insights is an especially relevant task if your conversion or click-through rates suddenly drop, as competitors can easily outrank you or steal your traffic in Google Shopping if they're offering a similar but cheaper product. If you're in a highly competitive space, it's smart to review your Auction Insights weekly. 
3. Add Promotions to Your Product
Not all Shopping ads are made equal, and adding Promotions to your products is the easiest way to level up your campaign performance. They're basically special offers that are highlighted in your Shopping ad to make it more appealing:
Free shipping

Buy one get one free

A discounted price

A free gift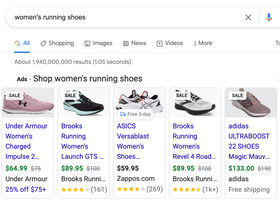 Learn more about Promotions here. 
4. Leverage Customer Match Data
When determining your audience targeting, there's no need to approach it blindly — Customer Match lets you upload your existing customer data lists (e.g., phone numbers and email addresses.) From there, you can build campaigns and ads to re-engage them via Google Shopping, as well as Search, Gmail, YouTube, and Display.  
This is a helpful tool if you're looking to:
Get started with upselling or cross-selling 

Encourage repeat purchases

Boost brand loyalty

Re-engage loyal customers 

Level up your remarketing efforts

Tailor products or messages for different audience segments 
5. Check Out Similar Audiences
Similar Audiences is Google's version of lookalike audiences. You can attract new shoppers by finding people with behaviors and interests similar to your existing customers and remarketing lists. With it, you can do more with your current budget — no more guesswork needed to find new audiences.
6. Consider Getting Started With Buy on Google
While your Shopify Plus-powered store is the bread and butter of everything you do, there's no harm in expanding the channels you sell on. Enter Buy on Google — a checkout experience that lets retailers sell their products directly on Google without paying commission fees. 
Buy on Google is the ultimate way to maximize the effectiveness of your Shopping ad efforts. Shoppers can peruse products on different Google touchpoints, add them to a universal shopping cart, and enjoy instant checkout. Talk about designing a streamlined, frictionless shopping experience.
Shopify Plus + Google Shopping = A Perfect Match
These Google Shopping ad tips are sure to turbocharge your sales while keeping costs low. But before you go, we've got one more bonus tip: Rather than working on your Google Shopping ads in a silo, download the AdRoll app for Shopify Plus-powered brands to launch, manage, and optimize all your marketing campaigns in one dashboard.
Last updated on April 13th, 2022.