D2C Brand Spotlight: Volcanica Coffee
Topics Covered:
Some people consider coffee a utilitarian drink; they wake up in the morning, get ready, and jumpstart the day with a fresh cup of coffee. Others enjoy discussing bean origins with their local baristas and can discern the subtle nuances between different types of roasts.
Volcanica Coffee — a specialty retailer of exotic gourmet coffee from volcanic regions worldwide — wins with both types of coffee drinkers. They understand that connoisseurs and non-connoisseurs have the same priorities when purchasing coffee: freshness first.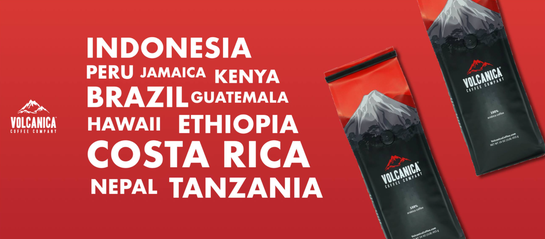 "Coffee Is in My Blood" 
The idea for Volcanica Coffee wasn't born from an "aha!" moment or an epiphany; Maurice Contreras nurtured it since he was a child.
"Coffee is in my blood," says Maurice. "My parents and I are from Costa Rica, and over the years, we took many trips to visit family and friends there. We realized that Costa Rican coffee was much more flavorful than the stuff we were drinking in the United States during our travels. It turns out that the best-tasting, freshest coffee grows in volcanic regions above 3,000 feet." 
In 2004, Maurice and his family launched Volcanica Coffee to share their passion for these beans with others. What began as a side hustle evolved into a full-blown business. Because the demand for freshly roasted beans was so high, Maurice decided to take over Volcanica full-time and bring everything in-house to better control quality and consistency. 
But while he's no stranger to entrepreneurship — Maurice used to work in the corporate world dealing with traditional print, TV, and radio advertising — the digital space was a whole different beast. 
Finding the Right Digital Partner
Maurice was determined to learn more about digital marketing since he knew that knowledge would be key to growing his business."During the early days of Volcanica, I decided to educate myself in online marketing and approached it like going to grad school. I took a few online courses and started implementing the strategies I learned. I did my best to build our website and start driving traffic to it. I taught myself search engine optimization (SEO), Google AdWords, HTML, and the ins and outs of paid advertising."
While Maurice taught himself enough to find success within the coffee industry, he knew that he couldn't do it alone if he wanted Volcanica Coffee to scale new heights. 
"I realized I had reached my limits," he admitted. "In the end, I decided I had too much on my plate to handle all our marketing, and there wasn't enough time to learn it all. I decided to seek out expert advice and began looking at potential partners. AdRoll...stood out to me as the best choice."

Advice for D2C Marketers
"With AdRoll, our overall year-over-year numbers are a 191% increase in total revenues, a 177% increase in attributed conversions, and a 33% increase in site engagement," says Maurice. He admits that without a trusted partner, these numbers would've been difficult to hit. "Small business owners have so much on their plates...it's hard to learn the ins and outs of digital marketing."
Here are some key learnings that helped Volcanica Coffee's rise to the top: 
Run campaigns for mid and low intent visitors, too. While targeting high intent audiences is an excellent way to allocate your advertising spend, don't always ignore the mid and low intent visitors — they represent two more untapped customer segments. These are the people who visit your homepage or check out specific products. 
Send targeted emails to the right demographic. "My experience with email at Volcanica was limited to generic bulk email blasts that targeted everybody," says Maurice. "AdRoll helped us harness the power of databases and email marketing."
When trying to build a healthy email list, remember:

Implement pop-ups. A well-timed, contextually driven pop-up can be a welcoming gateway to more information if a website visitor is looking for it.
Keep sign-up forms short. Keeping sign-up forms short and sweet helps streamline joining an email list. It also helps to build trust and reciprocity as opposed to triggering fears of an unwanted sales call.
Avoid buying email lists from third parties. If you haven't earned a connection with your audience, they probably won't engage with your campaigns.
Invest in your community. No matter how successful Volcanica gets, Maurice never forgets to whom he owes his success. "We reinvest in the communities that supply us by donating one percent of our website revenues to charity: water, an organization with a mission to help bring clean, safe drinking water to every person on the planet, including communities where we source our coffee."

In addition to doing good, when your business invests in the community, it helps to:

Create awareness. By creating and sustaining a positive reputation in the community, people will recognize and start "feeling good" about your brand.
Improve employee attraction and retention. Community-driven initiatives can boost staff morale and increase company loyalty. 
Help build strategic relationships. Investing in your community is an excellent way to establish relationships with other like-minded businesses.
Last updated on September 16th, 2022.