D2C Brand Spotlight: Nordic Visitor
Topics Covered:
Since the coronavirus outbreak, lockdown measures have kept much of the world's population at home, and millions of people are pushing traveling plans to the back of their priorities list. This leaves tourism companies in a tough spot — how are they supposed to encourage people to explore the world when travel has been restricted in such an extreme manner? Nordic Visitor, a specialist travel agency, adjusted their marketing efforts quickly to inspire (and prepare) travelers for the day they can travel freely again. 
Drive Off the Beaten Path
Nordic Visitor began as a bike rental shop in 2002 and evolved into an agency that provides travel across 11 European destinations, with offices in Reykjavik, Stockholm, and Edinburgh. They make traveling easier by organizing all aspects of your trip, from the scheduling and costs to accommodation and transportation. 
What sets Nordic Visitor apart from other traveling agencies is their selection of self-drive tours, complete with itinerary, accommodation, car rental, and insurance. While other tours are at the mercy of a rigid schedule to get you through as many landmarks as possible, Nordic Visitor's self-drive tours enable you to explore at your own pace. 

Creativity in Uncertain Times 
The Nordic Marketing team has many goals, but one of the most important is to attract potential travelers by educating them about their services. And at the start of the year, the team was doing a fantastic job at this — sales were steadily growing, and people were excited to visit not just Iceland but also the other destinations they featured, such as Scotland and Ireland. 
Then the pandemic happened, and it put a screeching halt to their original goals and ideas. Bookings began dropping, and the Nordic Visitor team knew that they had to act quickly. So, they revamped their terms and conditions so that customers could easily move their bookings around and offered a credit-back option for those unable to travel. 
The goal was to offer flexible options to keep customers from canceling their trips, and to do that, they had to find ways to keep their followers and customers inspired, hopeful, and thinking about travel. 
That's how the #KeepDreaming campaign was born. 
#KeepDreaming (About Travel)
"Imagine sailing up the coast of Norway, stopping off at pretty towns along the way…" 
Paints a pretty picture, right?
The Nordic Visitor marketing team constructed a social campaign that tied in majestic travel photos with storytelling copy to leverage the imagination and plop you in the middle of beautiful destinations. This campaign worked like a charm because of the high levels of engagement they received — people didn't hesitate to express via comments that they can't wait to travel again. 
Nordic Visitor successfully got across their message that no matter what happens these next few months, there's always fjord cruises and rugged highlands waiting for you — and that their team will be there to make those traveling dreams come true.
Advice for D2C Marketers
As mentioned earlier, it's no surprise that the travel and tourism industry was the most heavily hit during the pandemic. With lockdowns and shelter-in-place happening, many people didn't want to take the risk of traveling. 
However, Nordic Visitor has an optimistic view of where their industry is headed — they're already starting to see an increase in bookings from certain markets and are expecting that it'll continue to grow in the coming months.
For now, the Nordic Visitor marketing team have some critical bits of advice for you: 
Trust in your team. During uncertain times, the ability to quickly pivot and change up your marketing strategy is essential. Whether it's email marketing or SEO, it's vital to approach all of your marketing channels in new ways. Conduct a brainstorming session with your team — have trust in them and give everyone a chance to share their ideas. As the saying goes: the only bad idea is an unheard one.
Always be personal. With the development of social media and individualized society, being a personal brand no longer means having a bunch of cool business cards or graphic designs on your site.

During the pandemic, Nordic Visitor brilliantly incorporated personalization into their social media strategy — they posted not only to inspire people to travel but also to serve as a "friend" to their followers. For example, they developed a campaign called "WFH Wednesdays," which shined a spotlight on employees' homes, office setup, and pets. The team would also post personal travel photos during #ThrowbackThursday so that followers can peek into their lives outside of work.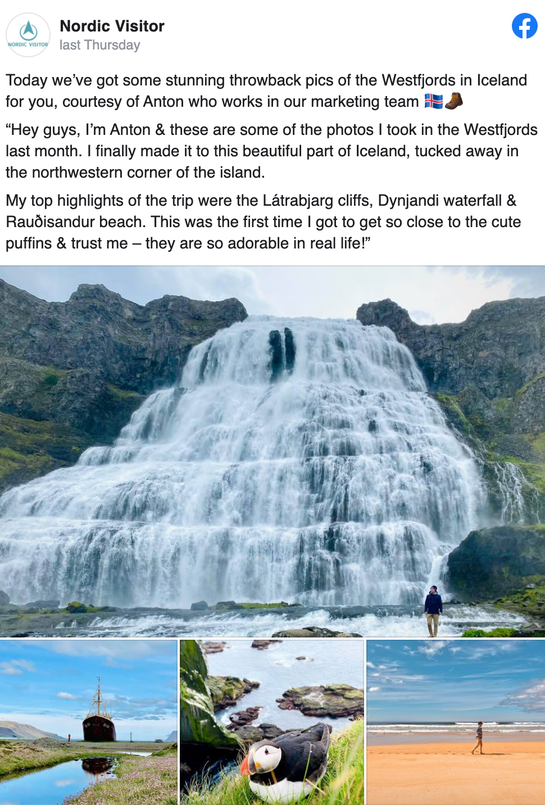 Try to unify your message across all channels — don't send different signals through different channels. With the explosion of digital media, you can't send out a single message across a vast array of marketing platforms and expect your audience to take it at face value. It's essential to stay consistent in voice, message, look, and feel across traditional and digital platforms to strengthen your brand's message. 
For a list of other amazing small businesses to support, check out our D2C Shopping List!
Last updated on September 16th, 2022.