D2C Brand Spotlight: Artemest
Topics Covered:
Artemest isn't your average e-commerce destination for home décor, jewelry, and fine arts. Why? Because not only are their pieces beautifully designed, but they're also impeccably curated from all over Italy. Every vendor and product is carefully vetted with an intense focus on quality and technique, and they also offer customers a wide range of customization. From Venice to Florence and the Amalfi coast, the Artemest team makes it a point to celebrate the finest artists from around the fashion capital of the world. 

We chatted with Alienor Mauve, Artemest's Digital Marketer, about Artemest's continued growth, how they're faring during the pandemic, and their plans for the future.

Presenting Italy's Finest
Artemest came to be after Ippolita Rostagno found success with her jewelry brand, Ippolita. It was a passion project, of sorts — Ippolita was alarmed at the declining number of Italian artisans and art firms, and decided to take matters into her own hands. 
Having studied Italian art, architecture, and sculpture, Ippolita was already an expert curator with a keen eye for Italian craftsmanship; it only seemed like a natural next step for Ippolita to establish Artemest to re-introduce the world to Italian craft "via American entrepreneurship." 
It wasn't an easy ride; old-school artisans were hesitant to sign up for a platform that was anything but traditional. However, Ippolita didn't give up so easily — together with Marco Credendino, Artemest's co-founder, she was committed to bringing back the glory days of Italian hands-on crafts and worked hard to earn the trust of artists nation-wide.
Since its launch in 2015, Artemest has seen extraordinary progress — yearly growth has exceeded 100%, and their portfolio of exceptional artists and craft stories keeps growing. Their collection currently boasts over 40,000 items from 1000+ artisans, shipping to more than 50 countries worldwide. The US represents the main market for Artemest.

A Passionate Focus on Content and Community
What distinguishes Artemest from the rest of their industry is a fierce commitment to celebrating Italian artisans. They're not just selling high-quality products; they're also reviving appreciation for Italian art, bridging classical techniques with more modern, and casting a spotlight on those who've been in the trade for years.
In their online store, Artemest shines a spotlight on artists' stories through interviews, stunning photos, and moving videos. "We understand the value of content marketing and invest a lot of time in it," says Alienor. "While the creation of inspirational and valuable content represents a significant investment in time and energy, it's a must for our industry." 

And the Artemest team doesn't take the customer experience lightly — the way they present their content is extremely targeted. "It's important that we understand the audience our content is intended for. We've been building two distinct customer journeys (B2B vs. B2C) and splitting online marketing campaigns as much as possible to promote the right message and products to the right audience. For our main market, the U.S, we chose AdRoll to help us segment our audience based on their level of engagement, retarget them with personalized products, and to refresh our quarterly ad content."
Art in the Time of COVID
Before COVID swept the world, Artemest had strong growth expectations for 2020 regarding their number of suppliers, products, new customers, and repeat customers. Happily, COVID-19 hasn't changed these goals and, in fact, has made the Artemest team more determined to meet them. 
"People forced to stay at home during lockdown accelerated the shift from physical retail to e-commerce," says Alienor. "We have seen an increase in our conversion rate from May."
However, that isn't to say that their marketing approach wasn't affected. "We first made an emergency plan when lockdown started in Italy, reducing our marketing investments. We concentrated our advertising budget on nurturing and closing part of the acquisition funnel and focused on new customer acquisition and retention instead of investing further in brand awareness."
And when physical events were no longer allowed, Artemest pivoted quickly to ensure they still had forums to support their local talent. For instance, when Milan's Design Week was canceled, the Artemest team decided to organize an online exhibition in June called "The Virtual Craft Week" to support their network of 1,000+ artisans and designers through curated digital initiatives.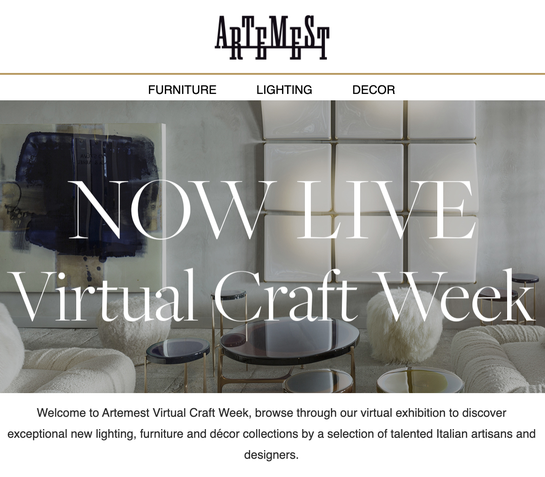 "We reached a relevant audience by organizing Instagram lives, advertising on social media, and creating immersive mobile ads," says Alienor. "We also increased our investment in lead campaigns for architects and interior designers to join our trade program, targeting our ideal B2B  customer based on traits like their job title, industry, field of study and professional interests."
Their efforts paid off — even with a reduced budget, the Artemest team increased traffic and engagement rates on their social media profiles and website, received a flurry of trade applications, and grew their conversion rate by 73%.
Advice for D2C Marketers
When asked whether she had any advice for D2C marketers, Alienor stresses these three tips: 
Plan holiday activities with an omnichannel approach. As Alienor put it, "Always be where your customers are." Your holiday season success depends on your ability to deliver the exceptional cross-channel experience that consumers have come to expect.

Here are a few best practices you can use to make make sure your customers are always connected:

Don't underestimate the power of mobile experiences. According to Adobe's Holiday 2019 Recap report, smartphones accounted for 84% of the holiday season's e-commerce growth. Focus on improving the site speed, architecture, and user experience (UX) of your web pages on both desktop and mobile.
Gift your customers with quality content. During the holidays, consumers are looking for gift-giving inspiration and are checking reviews online. This means people are opening their emails, reading blogs, scanning videos, and more, so it's crucial to offer quality content across every stage of the customer journey. Make sure you know how and where your target audience is receptive to your messaging, and then use your customer data to personalize content for customers across your channels.
Think about your messaging online and offline. Radio, billboards, and even direct mail are still essential advertising channels for different types of retailers. It's important to meet customers online or off, as long as each interaction with a potential customer makes sense in their path to purchase.

Choose the right metrics to optimize. "With online marketing, you can measure almost anything. But the risk is getting lost in the data," says Alienor. "So, being able to identify the right metrics for your business is key. Selecting the right KPIs is fundamental because nothing should be left by chance with online marketing — everything can and must be tested, and every penny must be invested with a precise scope. And never underestimate creatives — It has the largest impact on bottom-line sales more than any other metrics across platforms!"
While starting out, don't be discouraged by risks and uncertainties. "The most important thing is to stick to your initial mission and vision." Be sure to craft a vision statement (community-facing) and mission statement (customer-facing) to boost company morale and customer trust.

Looking Towards the Future
Even in the midst of an uncertain economic landscape in COVID-19, Artemest never lost sight of their main goal: creating highly tailored, seamless customer experiences. Their quick e-commerce shift accommodated the needs of their target audience and allowed them to successfully scale their business.
As for Artemest's future plans, Alienor says that they will continue doing what they've always excelled at: "We will try to keep our step ahead of our competition, always innovating and understanding the needs of our customers."
Last updated on September 16th, 2022.