How to Advertise a Clothing Brand
Topics Covered:
One thing is clear about the retail fashion industry — it's absolutely huge. Worldwide, annual revenue stands at $2.5 trillion. But it's not all smooth sailing. The industry is plagued with overproduction — 30 to 40% every season — which makes it incredibly competitive. Plus, the industry is moving away from the traditional spring/summer, winter/fall dual season concept in favor of a more economically viable, on-demand supply. Retail apparel brands are under constant, ever-increasing pressure to make their mark and make their sales targets.

Here are seven of the latest creative trends in advertising clothing brands.
1. It's ALL About the Brand
In the overcrowded fashion industry, staying visible is one of the most important keys to success. Not every brand can be a Nike or Gucci. However, every apparel retailer can work on building their unique brand identity and making it a formidable presence in all their ads and marketing activities.
Take direct-to-consumer (D2C) fashion retailer, Reformation. Self-styled as the clothing brand for people who want to be both eco-conscious and well-dressed, the company distances itself from fast fashion and creates a brand attitude centered around sustainability. For example, in a cheeky spin on its famous tagline, "Being naked is the #1 sustainable option. We're #2," Reformation invited its Facebook followers to submit "almost nude" photos.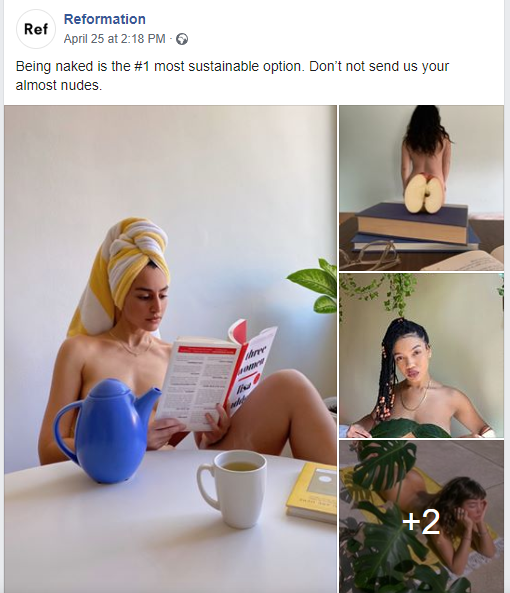 In all brand ads and visual promotions, Reformation keeps it simple and brazen, yet feminine and totally focused on its eco-savior message. It's not just about fashion — it's all about the brand.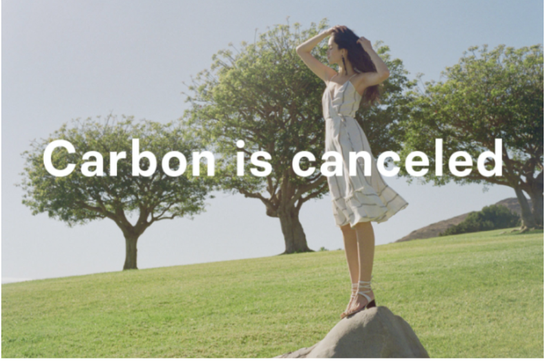 2. Influencers Still Rule
Influencers have always been a part of fashion branding, even before the age of Instagram. Think of Audrey Hepburn and Givenchy, or the Hermes Kelly bag, renamed for Grace Kelly after she was seen sporting it numerous times. 
In 2020, influencers are still huge in apparel advertising. Bombas, the D2C sock brand, recently promoted an ad with Zac Efron, who put the product's performance to the test in a series of increasingly wacky activities. For most brands, calling in the superstars is not a realistic option. However, a recent trend towards micro-influencers puts influencer marketing back in the reach of many smaller and startup fashion companies. 
Micro-influencers, defined as having followings of 1,000 to 100,000 fans, are shown to get better engagement rates and create more authenticity around the brand. According to the State of Influencer Marketing 2020 report by Launchmetrics, almost 43% of fashion brands think micro-influencers are more effective, and 56.3% have used their own customers as influencers. 
Check out how H&M does it with @gabbichudzinski whose Instagram following numbers are under 2,500.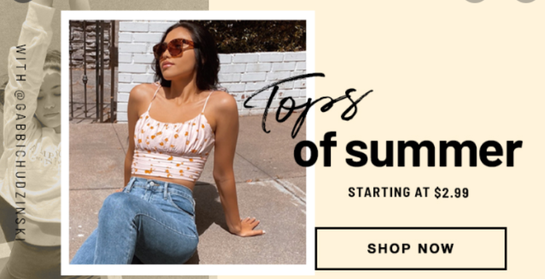 Particularly in the retail apparel industry, brands should look at all realistic avenues for incorporating influencers in their ad campaigns. 
3. Focus on One Product
According to Hick's Law, more options lead to harder decisions. In the world of retail apparel, consumers are faced with so much choice. Wasteful consumerism and clutter is a thing of the past as consumers look for more minimalist and sustainable brands and products. This is echoed in the creative advertising trend towards a simpler visual approach that focuses the viewer's attention on one product or item. 
Everlane, the minimal impact clothing brand, uses this tactic in an ad for its Tread sneaker. Drawing the viewer's eye to a pair of legs, the video image jumps between different locations and situations of people wearing Tread, showing the product's versatility and universality. It's a clever way of totally decluttering an ad, presenting just one image, yet enriching it with layers of meaning and interest, both visually and conceptually.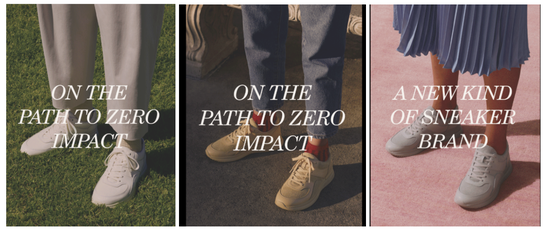 4. Values Are in Style
Values are a critical part of the customer's relationship with a brand. In fact, 94% of consumers surveyed said they would be more likely to recommend a brand to others if they feel an emotional connection to it. Positive customer sentiment is worth gold in the competitive retail industry, and many fashion brands try to connect with customers by putting their values front and center in ads and campaigns. 
In the Everlane Tread ad above, it's not just the product that's in focus — it's also the product's unique value: "On the path to zero impact." Designed to be the world's lowest-impact sneaker, Everlane's eco-consciousness is as much the star of the show in the ad as the Tread sneaker itself.
Iconic denim company Levi's is known as a value-conscious brand, and they're doubling down with their "Use Your Voice" ad campaign for Pride 2020. The ads feature real-life individuals, photographed as part of the Self Evident Truths project, which documents 10,000 people who identify as other than hetero-normative. Apart from showcasing the brand values, notice how the campaign reflects other upcoming ad trends too, such as the use of micro-influencers, and minimalist, uncluttered images.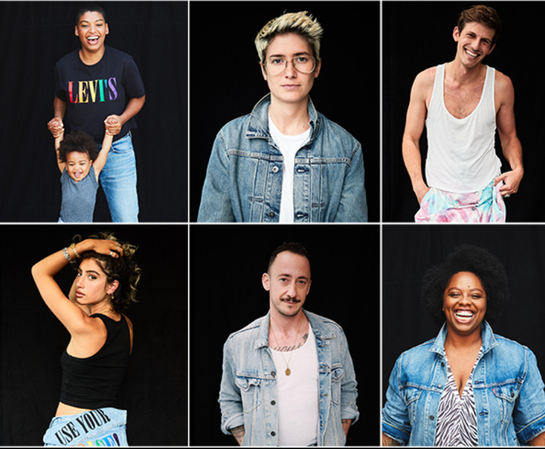 5. Go Artsy and Abstract
The fashion industry has always flirted with the art world, and that's evident in the artistic visual language of many apparel brands. The latest graphic design trends point towards textured minimalism and even abstraction, and many brands are using these to push the design envelope in their ads. A great example is the Jill Sander Spring 2020 campaign, featuring photographs by Olivier Kervern. Various fashion items take center stage in stark images, titled and dated as they would be if they were hanging in an art gallery.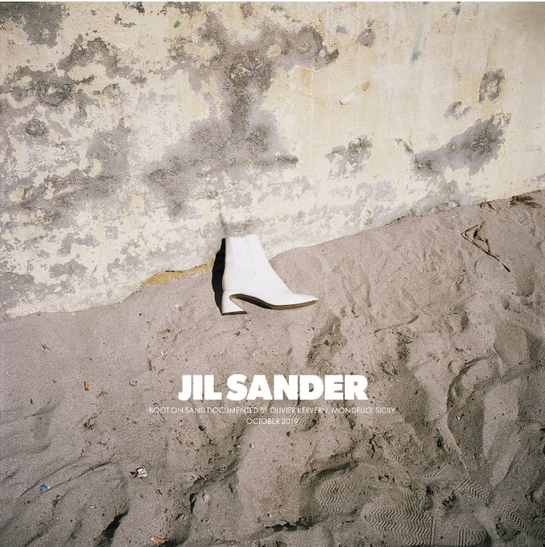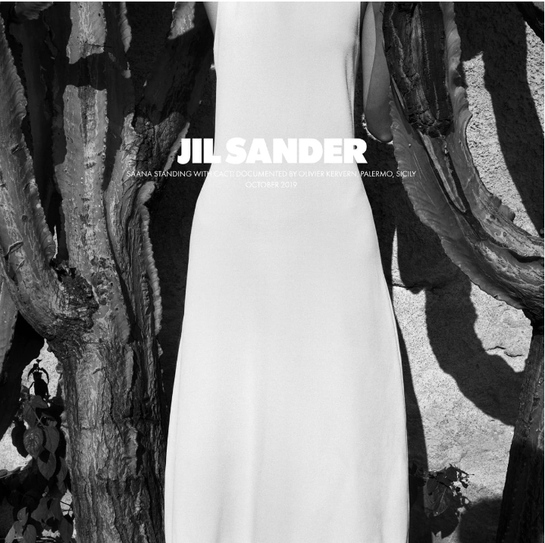 While this style may not be appropriate for many retail apparel brands, it's a good example of the creative trend towards artsy minimalism, which other brands can emulate. Although much less extreme, this photo by D2C footwear brand Allbirds has a similar feel: artistic, rather than product-oriented; rich in texture while still keeping it simple; and angled in an unusual way.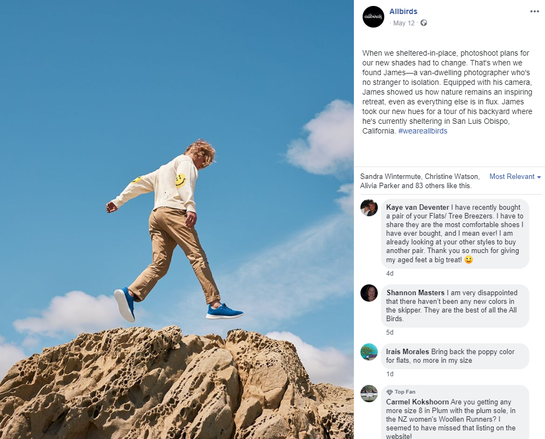 6. Crazy for Monochrome
Monochrome coloring is one of the latest graphic design trends, and it's seeping into the world of fashion and apparel advertising, too. The use of black and white or varied shades of the same color is a great way to draw the eye, particularly in a consumer segment that's often visually busy and overloaded. 
Monochrome removes the element of color, which leaves more room for textures and fabrics to come to the fore. Plus, monochrome has that artsy, abstract appeal that's also an up-and-coming trend in its own right, as seen in the Jill Sander campaign above.
Zara's Spring 2020 ad campaign went full-monochrome, with black and white photos displaying the latest apparel collection. Interestingly, the choice of monochrome color completely contrasts with the dreamy, vintage-inspired style of the clothing, which only makes the ads more powerful and effective. It's a clever use of monochrome that looks totally contemporary while broadcasting a slightly old-world bohemian vibe.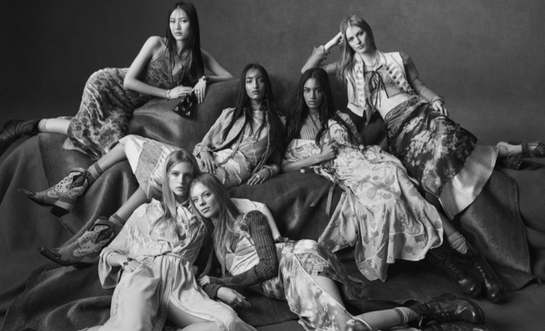 Italian menswear brand Isaia did it too with a series of ads during the coronavirus pandemic. Rather than advertising its clothing, the brand focused on scenes of empty Napolise streets during the lockdowns, accompanied by the sounds of the usual bustling crowds who were now poignantly absent. The use of monochrome coloring was perfect to set the somber scene.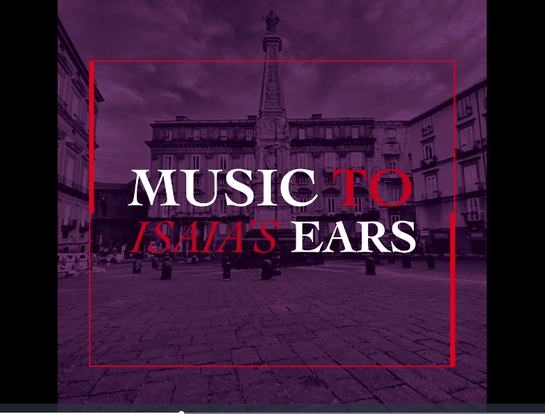 7. TikTok-Style Videos 
Video sharing app TikTok is the #1 downloaded app so far in 2020. And fashion is huge on the platform, even with the more established brands like Ralph Lauren. 
The secret to TikTok's success is that it provides a platform where people can get candid and flaunt their individuality. Short micro-snippets of video can be edited with overlays and special effects that create rich patterns and textures, a popular trend in creative design. This is the perfect storm for TikTok-loving Gen Z consumers, known for their short attention spans and need for self-expression. 
In a recent TikTok video ad, promoted on Facebook, D2C apparel brand Dolls Kill gets the mix just right. In just eight seconds, the video showcases Dolls Kill's Wrath of God flared jumpsuit, set to alternative music and overlaid with special effects that enhance the unconventional style and character of the product and brand.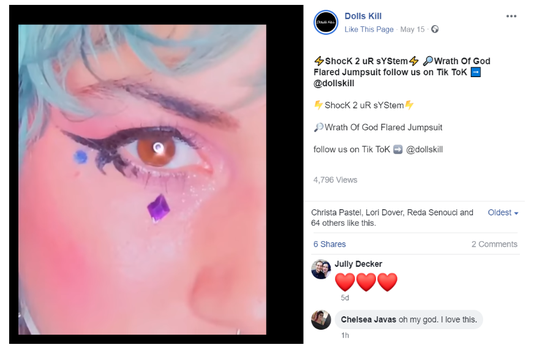 Even for retail apparel brands not using TikTok in their marketing and advertising mix, the style of video that TikTok has made so popular — short, original, subversive — is definitely an up-and-coming trend suitable for other platforms, too. 
Apparel Brands: Stand Out and Stand Tall
The major challenge for apparel companies is getting noticed. Retail fashion is a massive industry where brands constantly vie for consumer attention. Online and offline, the marketplace is brimming with visual stimulation that can be overwhelming at times. Where should the customer look next? By incorporating the latest visual and design trends in advertising, retail apparel brands can make the most of their innate assets — values, products, influencer enthusiasm, and more — to get seen and succeed.
Last updated on December 9th, 2022.