Contextual vs. Behavioral Targeting: Which One Should You Use?
Topics Covered:
It feels like there are an unlimited number of channels as well as a confusing mix of targeting options within each channel, to promote your ecommerce store in the digital world. One question remains: Which targeting method will give you the best chance at reaching your target audience? 
Ask any marketing veteran, and they'll tell you that the key is to understand your targeting toolkit.
When defining your digital ad strategy, there are two primary ad category groupings: retargeting and brand awareness. While the former is effective at driving purchase and loyalty, the latter brings new eyeballs to your site. Brand awareness ads come in two forms: contextual and behavioral.
How do they work, when should you use them, and which one offers a better bang for your buck? We've got all of the answers: Here's everything you need to know about contextual vs. behavioral targeting. 
What Is Contextual Targeting?
Contextual targeting involves publishing ads on specific web pages with relevant content. Confused? It's better understood in practice: Using contextual targeting, a running equipment brand will place ads on a publication's article about the Olympics or a blog post about the benefits of running a marathon.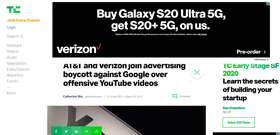 Launching contextual ads is just as straightforward: On your chosen ad platform, you'll be prompted to enter a general category for your ad group or specific keywords that describe your ad's content. (Using our example above, some keywords may include "running shoes" or "running gear.")
Using the parameters, the ad platform will crawl various sites in its ad network, specifically checking for web pages' keywords, contextual information, site content, and alt text. Armed with this information (plus any other filters you've selected, such as language and location targeting), the platform will identify eligible placements for your contextual ads. 
Why We ❤️ Contextual Targeting:
Contextual targeting is a great way for brands to ensure their ads are relevant to what shoppers are interested in at any given time. You're upping the chances of successfully attracting shoppers, leading to potential purchases. 

As we mentioned, contextual targeting is easy to get started with — most of the work involves finding a reliable ad platform to launch your ads. We recommend choosing a solution with machine learning and AI capabilities — it'll better digest the sentiment of a webpage's content (vs. simply scanning for keywords) and provide more accurate ad matching. 

Because contextual targeting doesn't require tracking, it's valuable for brands looking to ensure reach and engagement while prioritizing user data and privacy legislation compliance. 

With powerful marketing tools available to brands, it's hard not to fall into the trap of over-personalization. However, contextual targeting is a helpful tactic to maximize campaign effectiveness without appearing as creepy or spammy. 

Compared to behavioral targeting, contextual ads are slightly more affordable, especially for brands that haven't amassed enough audience data. 
For more on contextual targeting, check out this guide. 
What Is Behavioral Targeting?
Comparatively, behavioral targeting works by using cookies to track the online behavior of individual shoppers (Google searches, clicked links, or purchased products) and deliver relevant display ads wherever the shopper might be: digital ads, social media, email, and other channels. Behavioral ads come in two forms: demographics and interest and lookalike.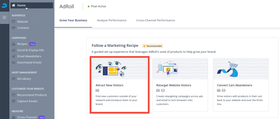 Using the same example of our hypothetical running equipment brand, a behavioral targeting strategy may consist of:
Demographic and interest: Serve ads to high net worth individuals, with a college education who engage with fitness and running sites and content.

Lookalike: Serve ads to individuals who share similar characteristics to your customers.
Why We ❤️ Behavioral Targeting:
Ads that are directly related to shoppers' recent searches, clicks, or browses can go a long way in grabbing attention. If you're looking to boost engagement from your ad campaigns, behavioral targeting is a top option. 

Though it's more expensive than contextual targeting, behavioral targeting allows you to deliver personalized marketing messages to highly specific audiences, which, theoretically, should increase your return on investment (ROI). (Pro tip: Costs for behavioral targeting decrease once your brand has collected enough customer data to create audience segments.) 

Similar to contextual targeting, behavioral targeting is simple to learn and get started with once you find a suitable ad platform. 

With more than 70% of all shopping carts abandoned across industries, we can't overstate the importance of developing a robust abandoned cart recovery strategy. The best way to recoup this lost revenue and customers? Leverage behavioral targeting-driven retargeting ads and emails.    
Contextual vs. Behavioral Targeting: The Showdown
Contextual and behavioral targeting are two powerful marketing tactics for serving relevant ads to new eyeballs at the opportune time. 
Which one is better? 
Instead of choosing one, we recommend experimenting with both to see what mix works best. Both serve the same objective: bringing new shoppers to your site. Retargeting ads can also be used to bring these new eyeballs through the funnel to conversion. 
Here are some shared best practices to keep in mind:
The more specific, the better. Instead of casting the widest net possible, target smaller audience segments to ensure your marketing message is as relevant as possible. 

Invest in engaging creative. No matter what type of targeting you opt for, there's one ingredient that will go into every marketing campaign you launch: engaging creative. Keep it aligned with your brand with a clear call to action (CTA), and make sure you're creating unique images and headlines for every ad set and audience segment. 

Optimize your landing page. Compelling ads that lead to mediocre landing pages are a waste of time and money. For more on creating seamless landing pages that aid conversions, check out this guide. 

Find the best possible ad platform. Not all ad platforms offer the same degree of features and functionality — we recommend an AI-driven platform like AdRoll, which can help with both your contextual and behavioral targeting efforts. 

Consider how your contextual and behavioral ads complement each other. They shouldn't exist in a silo, especially if you're opting for an omnichannel marketing strategy. Instead, map out precisely how your ads work in tandem, as well as with your other marketing efforts. While you don't want to repeat the same message, you do want to ensure cohesion. 
Get Targeting! 
The best way to get started with ads that reach the right people, at the right place, at the right time? With AdRoll's contextual and behavioral ads solutions. Check out how we can level up your targeting efforts and start reaching more shoppers while keeping your ROIs sky high.
Last updated on May 27th, 2022.