4 Secrets of Launching a Marketing Chatbot for Your Ecommerce Store
Topics Covered:
Chatbots! They're just like us… except they're automated scripts that can considerably reduce customer service costs for brands of all sizes. What's the catch? Well, up until recently, chatbots weren't very good at understanding shoppers' sentiments and requests, subsequently failing to provide genuinely valuable help. In fact, some may say they even exacerbated customer pain points! However, the conversation interface industry has made significant strides in recent years, and those frustrating days of communicating to a struggling robot are no more. Fun fact: Last year, the average marketing email rate hovered at 21% across industries. The average open rate for Facebook Messenger chatbot marketing? A whopping 80%.
But that also means people now have a higher expectation for chatbots. While you can quickly get started with chat marketing by installing a chatbot on your Shopify site or leveraging a messenger platform, doing chat marketing right requires significant consideration, creativity, and planning. 
We're here to dish on the secrets you need to know to help take your chat marketing strategy to the next level. 
Decide What Your Chatbot Does 🤖
Have you tried writing a story without any idea of what you want to say? While not impossible, it can get seriously frustrating.
That's why it's good practice to determine the purpose of your chatbot before putting together your scripts. Are you trying to:
Assist customers with the purchasing process?

Help shoppers move down the funnel?

Offer shoppers discounts, deals, or personalized product recommendations? 

Send shoppers push notifications or other reminders? 

Direct shoppers to FAQ pages relevant to their questions or concerns? 
Give Your Chatbot Some Personality 🎨
Now, it's time to give your chatbot some personality. This will help you write authentically in a distinctive voice. Is your chatbot:
Formal or casual?

Polite or direct?

Witty or serious?

An emoji-user or strictly text-only?
Make sure these qualities reflect your brand identity and your other marketing materials. 
Build a Conversation Flow Diagram 🗣
Here comes the fun part: thinking through all of the possible directions your conversation will go. Before you start crafting the individual responses and messages, build a diagram based on your overall chatbot marketing strategy that tracks different conversation flows.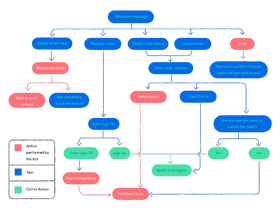 Pro tip: You can use tools like Lucidchart or Gliffy to easily draw up your diagrams. You can also check out Landbot.io and Motion.ai, which provide customizable conversation diagrams so you don't have to start from scratch. 
To get you started, here are a couple of conversation elements that you'll want to include:
Greetings. A simple "Hello!" or "How can I help you?" to start the conversation. 
Asking. For instance, if you need an order number to move forward with the conversation.
Informing. Providing the customer with the information they're looking for, such as an estimated delivery date. 
Checking. To validate that your understanding of the customer's request is correct. 
Apology. If you don't understand and need to provide alternative solutions. 
Suggesting. To offer the customer relevant FAQ pages or links to other help channels. 

Conclusion. To end the conversation. 
There are infinite conversation possibilities, so we recommend starting with the basic (and most popular) conversation branches, then adding rarer cases after launching your chatbot marketing campaign. 
Start Writing ✏️
It's time to unleash the pen. But before you let your creativity roam wild, here are some tips to keep in mind:
Shorter is better! Nobody wants an overload of information. Put yourself in the customer's shoes and think about how much you'd really want to read.

Remember your goals. It's more important to deliver what you set out to achieve — whether that's offering shoppers a personalized experience or solving their problems — rather than trying to be cute and interesting. 

Be creative. You can use your chatbot to send out offers or provide incentives for further engagement. 

Spice it up. If it makes sense for your brand, don't be afraid to add emojis or GIFS into your chat. 

Trust the process. It's all about getting something down on the page. You'll go through several rounds of revisions, so it's OK if your first draft isn't perfect. (Check out this list of resources to help you get your creative juices flowing.)

Don't skimp on the ending! While many shoppers will close the window once you've satisfied their needs, that doesn't mean you should leave the rest of them hanging. Instead, we recommend writing a conclusion that reminds shoppers you're still around if they need more help. 
With a first draft in hand, it's time to revise, revise, and revise. We recommend reading it out loud a couple of times to see if you spot any awkward spots. Then, show it to your team or even friends and family to see if they spot any gaps or hiccups in your script.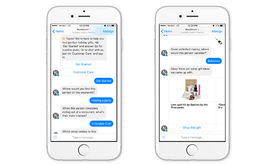 Pro tip: Did you know that Facebook Messenger chatbots allow you to personalize messages based on users' demographics? With that, you can easily create more relevant offers in your chat sequence to boost engagement. Check it out here. 
Get Chatting 💬
We're going to leave you with some parting advice: Don't look at chatbots strictly as a customer service tool. Instead, use them to supplement your marketing efforts. Creating a reliable and scalable chatbot marketing strategy can help you win new customers and increase your sales, and the key to success is providing value to your target audience in an engaging way. 
Ready to embark on a journey of even more marketing success? Download the AdRoll app for Shopify.
Last updated on October 26th, 2021.