Amazon Ads: 4 Beginner Marketer Questions, Answered
Topics Covered:
Is there a company more ubiquitous with modern living than Amazon? The ecommerce giant has completely revolutionized the way we browse, shop, and purchase — hello, two-day shipping. 
Amazon's digital dominance has spilled over to the advertising world, too. Whether you're trying to boost brand awareness, drive purchases, or increase customer loyalty, the platform provides a suite of tools to help you achieve measurable outcomes. 
1. What Is Amazon Advertising?
Amazon Advertising is a marketing solution for brands selling on and off the platform. Generally, it can be organized into two categories: self-service Amazon pay-per-click (PPC) ads and managed-service Amazon demand-side platform (DSP) ads:
Amazon PPC ads 
Amazon PPC ads are perfect for professional sellers and brand registered sellers looking to widen their reach on the platform. Using Amazon's beginner-friendly advertising solution, you can set up PPC campaigns with different ad types, including:  
Sponsored Products: Keyword-based ads that help your items appear more prominently on search results pages and competing listings pages. 

Sponsored Brand ads: Banner ads in search result pages that increase brand awareness by driving more traffic to your Amazon storefront or a specific brand-focused landing page on the platform. You can include your logo, a custom tag line, and thumbnails for up to three products in these ads. 

Sponsored Display ads: These involve advertising to Amazon shoppers on third-party sites and apps. Rather than targeting specific keywords or products, you can target shoppers based on their interests, behaviors, and demographics — this is a great option for retargeting purposes and connecting with shoppers across the purchasing journey.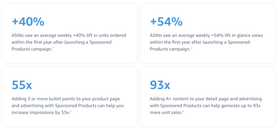 With Amazon PPC ads, you pay for each click — yes, even if a shopper doesn't actually purchase your product. Ultimately, the cost will depend on the ad format, the competitiveness of your keywords, and your product niche. 
Amazon DSP ads
Amazon DSP is a managed-service programmatic platform for brands regardless of whether or not they have an Amazon presence. Typically, these are video, audio, and display campaigns that require a budget of $35,000 or more and involve reaching out to an Amazon Advertising account executive.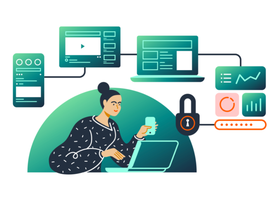 2. What Are Amazon's Ad Targeting Options?
Similar to other online giants, Amazon's advertising uses a robust trove of data, making its targeting options some of the best. Amazon's reliable Sponsored Products ads are specifically driven by keywords — you have two approaches to choose from:
Automatic-targeting ads give control to Amazon, which means the platform will decide which keywords to target according to your product type. 

Manual-targeting ads put you, the marketer, in charge. You can target using either keywords or products — in which you select specific competitor ASINs so your ads will then appear in the "Products related to this item" section on their listings.
When it comes to manually setting keywords, we recommend a mix of broad match, phrase match, and exact match keywords:
Broad match: Targeted keywords don't have to be in the right order in a search query, and additional words may also be included.

Phrase match: Keyword phrases must be in the right order but may include additional words before or after. 

Exact match: Shoppers need to enter your keywords precisely — in the right order and with no additional words before or after. 
3. What Are the Perks of Becoming a Brand Registered Seller?
Enrolling in Brand Registry comes with numerous benefits, including:
An Amazon Store, a dedicated ecommerce site on the Amazon platform. You can add and customize pages, subcategories, and modules to let your products and brand shine.

Access to Amazon Attribution, a free tool to measure the effectiveness of your marketing efforts both on and off Amazon. 

Amazon Live features, which let you livestream on Amazon's homepage and your product detail page. It's a great way to build closer relationships with shoppers. 
4. How Do I Choose Which Products to Advertise?
Featuring your most popular products can give you the best chance of converting clicks into conversions. Comparatively, promoting new products can help these items get a leg up in terms of awareness. Whichever approach you choose, make sure your products are well stocked and competitively priced. 
Amazon Is Calling
The Amazon ecosystem is thriving and complex, offering companies a vast array of ad placement options. No matter if you're a dropshipper, an established brand, or an ecommerce startup, it's essential to explore the platform. 
But why stop there? If you're looking for more ways to walk in the footsteps of Jeff Bezos and take your brand to the moon, it's time to get started with an all-in-one ecommerce platform like AdRoll. 
With AdRoll, you can launch, manage, and optimize all your marketing efforts from one dashboard — see how we can help you achieve your brand goals.
Last updated on April 1st, 2022.