Ad Creatives: Best Practices for D2C Finance Companies
Topics Covered:
Trust is a vital element of any successful brand, no matter the industry. 81% of consumers say that trusting a brand is the key factor in making a decision to purchase. For companies in the finance space, the customer's very paycheck, investment, or mortgage is at stake, which means trust is more critical than ever. Here are best practices for ad creatives that direct-to-consumer (D2C) brands in the finance industry can adopt to get their message across in a highly competitive marketplace.
Complex Products, Simple Art Styles 
We've seen a trend in advertising to simplify messaging in a bid to make complex subjects easier to understand. Consumers can find financial products intimidating, and so this approach can be effective for brands wanting to quickly establish their value with consumers. On the visual side, the trend toward flat design began in the early 2010s, with the aim of telling brand stories in a simpler way via illustrated characters and animations. Now, this trend is being pushed even further with a move towards simplistic animation and more accessible messaging. This uber-minimalist approach encourages customers to instantly and easily interact with the brand and its ads.
D2C insurance seller Lemonade offers a great example in its ad for the Dutch market, where its product was launched last year. The use of basic drawings, simple colors, and almost childlike emotional concepts point to a new level of minimalism that makes complex financial concepts warm, relatable, and even fun. 
On the copy side, many finance brands feel that they need to cram their ads with as much information as they can squeeze in. Ads like these are rarely effective as this information is easily overlooked on a cluttered web page. A more effective approach is to lead with simple, clear messaging that tackles the anxieties many people have around money products; brands should talk to the value they bring, ease of use, reassurance, and the possibility of a bright future. Married to a simple art style, brands can make the intimidating accessible and friendly.
Toned-Down Graphics
At the end of the day, ads that play on emotions are the ones that work best. Hubspot refers to numerous psychology studies showing that people tend to make purchase decisions based on emotion rather than facts. And according to another study, 31% of successful ads are emotional in style, and only 16% are informational.
One of the most common ways that marketers create emotion in ads is by using images of people in relatable scenes. But cheesy, staged stock images are a thing of the past. Current trends in D2C ads prefer toned-down graphics that get the sense of emotion across, but in a more subtle way, better suited to a generation of consumers already a bit cynical about ads. 
Stash, the investment app brand, shows how to do this right. It takes an image often associated with financial services ads — a bride on her wedding day, symbolizing the start of a new future. But it shows her from behind, so the viewer can't see her face. Plus, it overlays the image with the brand's signature purple, transforming the white wedding dress to something altogether more understated. The ad is also heavy on information, giving the customer a strong idea of the brand's product. This D2C-style approach to ad creatives turns tradition on its head, with strong branding and customer focus at the forefront.
Bold, Yet Muted Colors
In the financial services industry, it's vital that brands communicate a sense of confidence and security. A quick look at traditional finance brands shows a preference for bold colors, such as the deep blue used by Visa and AIG. In fact, blue is a popular color among financial companies, as it's said to represent dependability, trust, and strength — all things that a financial brand wants to be known for.
While many brands — not just finance brands — tend toward bold colors, current visual trends point to a more muted palette. This is particularly relevant for the D2C market, where brands are trying to communicate to consumers in precisely the opposite way than corporate, blue-chip companies. The whole point of D2C is the direct relationship with customers — friendly, down to earth, and authentic.
The use of muted colors, rather than bold primary colors, is a good way to convey that eye-to-eye message. See how Trim does it in the ad examples below.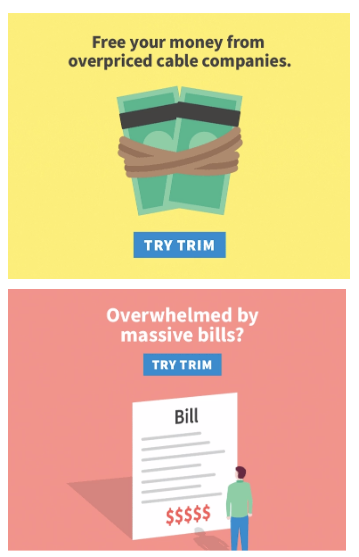 Variegated Backgrounds
One of the popular trends in ad design at the moment is the use of variegated backgrounds, incorporating blends of colors in graduated shades to create a richer visual experience. 
Also known as gradient design, it became very popular in 2018 and is still going strong. The beauty of a variegated background is that it is easy to create, yet adds a much deeper textural impression. Ads that use gradient coloring tend to pop out and attract the viewer's attention. This is an effective way for brands to stick to their key colors while also playing it up a bit. It's an edgier spin on a modern image, perfect for the world of D2C brands. 
See how Stash does it once again, with the use of a variegated background in its sponsored social ad. The brand also uses this technique in its logo and app screen. The richness of the color blends adds an extra dimension that naturally draws the eye. This is an example of the way that D2C financial brands can differentiate themselves from corporate brands, using bolder colors and tones but in a unique way.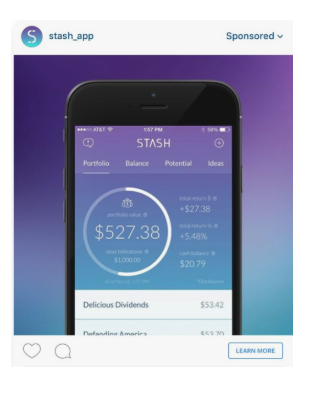 Peer Street, the alternative real estate investment brand, uses a variegated background in an ingenious way that gets to the heart of its brand values. In honor of Pride Month, it adapted its logo in a social ad with a gradient version of the Pride flag as the background. This not only communicates its values clearly to customers, but it also strengthens brand recognition by using its logo together with eye-popping creatives.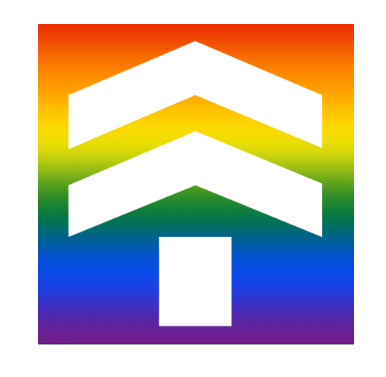 Add Some Intrigue
If there's any word to describe ad creatives from brands in the traditional financial sector, it would be "earnest." As they fall over themselves trying to convince consumers to trust, trust, trust, financial companies can come across as somewhat staid and even humorless. 
For D2C brands, all the usual rules are thrown out the window. Even in the financial services industry — and maybe even more so — D2C companies are turning to an ad trend that's becoming increasingly popular among forward-thinking brands: "intrigue over legibility." This can take the form of fonts with disruptive elements, like moving fonts, misshaped letters, or unexpected typography styles. However, intrigue can also be used in the ad concept itself, to pique the interest of customers in an indirect and maybe even irreverent way.
Take this canny example from Lemonade. They had a bit of fun with a story that went viral in late 2019 about an Italian artist at Art Basel Miami Beach who sold his "masterpiece" for $120,000 — a banana duct-taped to a gallery wall. They adapted the famous news item into a simple, smart, and head-turning ad for home and renter's insurance. Like Lemonade, D2Cs should be looking to put intrigue at the top of their priority list for ad creatives, whether in the design, font, or with a tongue-in-cheek theme.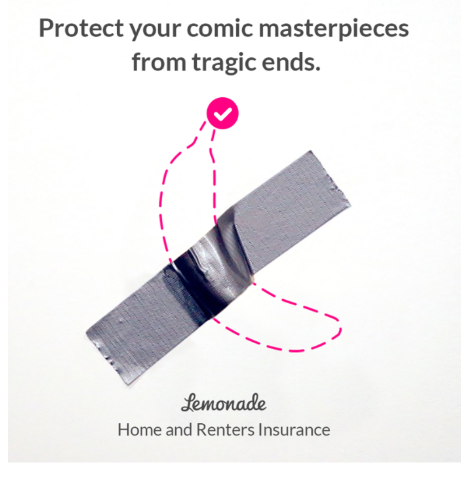 Dare to Be D2C 
The finance industry is a conservative one, dealing with perhaps the touchiest subject of all — money. For this reason, finance brands tend to tread carefully, focusing their ads on soft lens images of smiling newlyweds or retired couples walking hand in hand on the beach. Traditional finance brands don't dare to be daring. They can't afford to, as the one currency they most want to create with their customers is trust.
That leaves a wide-open space in the market that D2C finance brands can fill with playful, impactful ad creatives that really express the brand's disruptive character. D2C finance brands are going beyond the boundaries set years ago by traditional design approaches, in ways both big and small, and that makes all the difference.
For more on best practices around ad creatives, read more here. 
Last updated on September 16th, 2022.