5 Sales-Boosting Ecommerce Features to Add to Your Shopify Store
Topics Covered:
As new ecommerce features and tech trends pop up, some of the biggest and brightest ecommerce entrepreneurs and marketers are guilty of stealing some inspiration from each other. 
No need to gasp! We're not talking about plagiarism or copyright infringement. Instead, it's a tactic many use to see what's out there and then creatively transform their observations into something unique for their own company.
That said, we're diving into some of the best sales-boosting ecommerce features you should apply to your Shopify store. 
But First, What Makes a Great Shopify Store?
There will always be a never-ending stream of tweaks you could make to your Shopify store, from typography to product page layouts to pop-ups. If you're not sure where to start, we suggest prioritizing:
A memorable, consistent brand identity (think color palette, typography, and tone and voice) 

Irresistible call-to-actions (CTAs) throughout your site 

SEO and mobile-friendliness

User experience (e.g., easy navigation) rather than pure aesthetics
You'll also want to incorporate apps, widgets, and features wisely. Loading them up without thinking about how they'll all come together can quickly drag down your site speed and create an overwhelming site experience. Instead, think about what shoppers need and want — check out this worksheet to help identify what features to add to your store.
3D Product Images
Product photography is one of the main factors that influence shoppers clicking the "add to cart" — or "exit tab" — button, so having high-quality product images is crucial to the success of any ecommerce brand. 
That's where 3D product images come in, allowing shoppers to view an item from all angles and serving as a great way to showcase products with intricate details. To get started with 3D product images, check out this Shopify guide. 
FOMO-inducing Notifications
Many ecommerce sites use pop-up notifications to promote loyalty programs or newsletter sign-ups. But pop-ups can serve another purpose as well: to induce the fear of missing out (FOMO). 
If you've shopped on a site and seen a pop-up that read, "Quick! There are only four left in stock and 20 people have added it to their carts," you likely felt an irresistible urge to buy. These notifications promote a sense of scarcity and urgency that other forms of marketing can't always accomplish.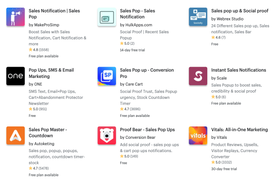 Personalized Product Recommendations
An easy way to make shoppers' lives easier is to power your site with personalized product recommendations. This is especially useful for returning shoppers, where tailored recommendations can encourage them to discover new products based on their past preferences. (Think about how much more you've spent on Amazon simply because of the "Related to items you've viewed" and "Explore similar products" widgets.) 
To get started with personalized product recommendations, find a recommendation engine — like AdRoll — that offers a dynamic carousel with relevant products based on different shopping patterns and behaviors. 
Wishlists
Don't leave potential revenue on the table. Instead, add a wishlist feature to your site to allow shoppers to bookmark items they want. Not only will this serve as a first-party data source for future remarketing campaigns, but it will also offer insights into what shoppers are interested in (but, for some reason, aren't purchasing yet).
Level up your wishlist feature by adding a social media "share" feature, so it functions like a gift registry that piques the interest of shoppers' friends and family, too. 
Augmented and Virtual Reality Features
Augmented and virtual reality features for ecommerce are hotter than ever. From Sephora's "Virtual Artist" — which lets shoppers virtually try on makeup — to the IKEA Place app — which allows shoppers to place furniture inside 3D spaces — there are numerous opportunities to use this technology to get shoppers more excited about your brand and products. 

If you're planning on creating an augmented or virtual reality experience for your Shopify site, check out this guide.
Take Your Shopify Site to New Heights
Armed with these ecommerce features, you're one step closer to unlocking more clicks, shoppers, and sales. But there's more: Take your Shopify site to new heights by downloading the AdRoll app for Shopify merchants to help streamline everything related marketing, from ads to emails to audience segmentation. 
Last updated on February 25th, 2022.