5 Great Holiday Campaigns to Inspire Cheer
Topics Covered:
For some retailers, holiday sales can make up 30% of their total revenue for the year. That's great for the bottom line, but not so great for marketers' stress levels. With so many revenue goals dependent on sales during this time of year, all of that pressure can squeeze out creativity — leaving a brand scrambling to come up with holiday campaigns that are fresh, original, and eye-catching.
The good news is, you don't have to reinvent the wheel for great holiday campaigns. Take a page from the playbooks of legacy businesses and up-and-coming direct-to-consumer (D2C) brands alike to find inspiration for your own holiday campaign. Whether it's a dash of tradition, a dollop of sarcasm, or something that's out there — literally — these brands' holiday campaigns may be just the creative infusion you need.
Put a Spin on the Holiday Spirit: Apple
Most people see a teen or tween on their phone and assume that the kid is trying to avoid family. But Apple took that stereotype and flipped it on its head with its Misunderstood holiday campaign. In this short film, a young boy looks like he's checked out from the family by being on his phone. But the twist at the end is that he was actually capturing every single moment and creating a montage on his phone. Not only did Apple capture the spirit of the holiday season and what it's like being with family, but it also showcased all the creative capabilities of its latest iPhone. The commercial was widely celebrated — nabbing an Emmy for Outstanding Commercial. Apple took a familiar trope and repackaged it to give it a little more heart.
Include Furry Friends: BarkPost
Dog lovers can't imagine the holidays without their four-legged family members. BarkPost went all-in with its Yappy Thanksgiving campaign by featuring dogs in their marketing assets. It sent an email to its subscribers full of useful tips for incorporating their furry friends into their holiday celebrations, including feeding safety tips, holiday-themed cartoons, and videos, and tips to enjoy the holidays with your dog. Not only did BarkPost send something useful geared toward its target audience, but it also fostered brand awareness and built more trust with their audience. This holiday campaign helped to strengthen their relationships with customers.

Encourage Exploration: REI's #OptOutside Holiday Campaign
It may seem counterintuitive to shut down your business on a day that drives close to $8 billion in revenue, but that's exactly what REI did. On Black Friday, widely regarded as the biggest money-maker day of the holiday season, the outdoor giant decided to do the unthinkable and close its stores nationwide. Its #OptOutside campaign encouraged its customers and employees to get outside and enjoy the outdoors with friends and family during the Thanksgiving break, instead of camping out in front of REI stores trying to luck out on the hottest deals. The campaign aligned perfectly with REI's identity as an outdoor brand, making a statement about the need to enjoy every moment, and sparked a conversation about what's important during the holidays.
Be a Little Snarky: Dollar Shave Club
Shaving kits as a holiday gift seem pretty basic, right? Not for Dollar Shave Club. It brought a touch of snark when it promoted its Dollar Shave Club Holiday Shave Set, positioning it as the gift that other gifts just can't even handle. In a short Instagram video, the snowman on the culturally recognized ugly holiday sweater gets so jealous it melts itself with a hairdryer. Not only did Dollar Shave Club amuse its audience, but it also played off a cheesy yet well-established holiday tradition. By presenting what is considered to be a lackluster gift as a hot commodity, Dollar Shave Club was able to showcase its sense of irreverent humor to shoppers who would have never considered razors as a potential gift.

Bask in Tradition: Macy's
If you're a traditional brand, you may think that food and presents will be the most resounding elements of your campaign. However, charity is a significant part of the holidays, and Macy's jumped on it with its "Believe" campaign. For every letter to Santa posted on its website, Macy's donated $1 to the Make-a-Wish foundation. The campaign got its audience to engage with Macy's directly through the letter to Santa site while fostering goodwill toward the brand. That might be more than you can spend, but aligning your brand with a charity lets you express your brand identity while also doing good for others. This is a stroke of brilliant marketing storytelling that aligns perfectly with Macy's brand values.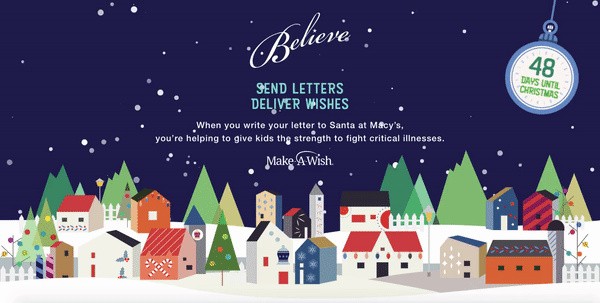 These are just five examples you can use as inspiration for your upcoming holiday campaigns. Whether your brand is sentimental, sarcastic, or something in between, there's a way to make your marketing stand out from the incessant stream of jingling bells and falling snowflakes, if you take cues from what's worked for other brands.
Originally published on November 8th, 2019, last updated on June 16th, 2022.