4 Cross-Channel Marketing Stats and What They Mean for Brands
Topics Covered:
Cross-channel, omnichannel, multi-channel marketing — whichever term you use, one simple sentiment remains true: Marketing is better when everything works together.
While we embrace the importance of cross-channel marketing, we're also huge lovers of data. That's why we're letting the numbers do the talking: Here's everything you need to know about the power of cross-channel marketing. (And if you haven't already, check out this quick guide to cross-channel marketing.) 
1. In the early 2000s, most shoppers typically experienced only two marketing touchpoints before purchasing. Today's shoppers experience six or more touchpoints on average. 
This statistic comes at no surprise when considering the number of new digital marketing channels that have launched in recent years. And though it's all too easy for brands to hop onto the newest trending platform, you're risking a disjointed marketing message and siloed channels that fail to push shoppers down the funnel. 
What this means for you: To get started with cross-channel marketing, you'll first want to map out your existing touchpoints across the funnel and their relationships with each other. Here's a guide to get started.  
2. Brands using three or more channels in a campaign enjoy a 287% higher purchase rate than those with a single-channel campaign. 
When was the last time you bought something after seeing an ad for it on television? It's been a while, right? However, pair your spot with social media ads, emails, and maybe even direct mail, and you've massively upped your chances of grabbing a shopper's attention.
What this means for you: The key to a cross-channel marketing campaign isn't just to repeat the same message across different channels. Instead, it should be sequenced. Remember: attract, engage, convert. Here are some tips for creating a rewarding cross-channel campaign. 
3. Companies with strong cross-channel customer engagement see 89% of customers return for more (compared to a measly 33% for companies with weak cross-channel customer engagement). 
Cross-channel shoppers have a 30% higher lifetime value than shoppers who rely on only one channel. It's unsurprising that there's a correlation between cross-channel marketing and customer loyalty — when your customer service, ads, brand community, and all other marketing efforts are in sync, it generally leads to a more positive shopping experience.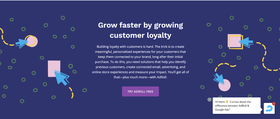 What this means for you: As you start building your cross-channel marketing strategy, make sure to factor in customer loyalty. Think referral programs, rewards programs, and customer service. 
4. About 90% of customers expect consistent interactions with a brand, regardless of channel. 
Ever contacted a brand's customer service, only to be forced to repeat yourself over and over again as you're redirected to different departments? Perhaps customer service has no clue what marketing campaign or promotional offer you're referring to? Super frustrating, isn't it?
That's why creating a cross-channel marketing approach is critical. It'll ensure all customer interactions and engagement are consistent. 
What this means for you: Whether this means implementing daily cross-team check-ins or creating company-wide brand, tone, and voice guides, it's essential to get everyone on the same page. 
Cross-Channel Marketing Makes the Dream Work
Cross-channel marketing is not only here to stay, but it'll also become the default way retailers sell in the future. 

Ready to get started with a cross-channel marketing approach? The best partner you can have is AdRoll. With our all-in-one marketing solutions, you can easily launch ads and emails that integrate seamlessly. Even better, our Cross-Channel Performance Dashboard allows you to see all your marketing efforts in one place and pinpoint precisely what you should do next. Get started now.
Last updated on November 22nd, 2021.