3D Advertising May Be the Future: Get Ahead of the Curve
Topics Covered:
What's important to customers should be important to you. As interactive 3D ads grow in popularity among consumers, it's time to start thinking about building your own as a way to engage audiences with your products and services.
According to a Magna International report, interactive 3D ads are more effective than static display ads. Viewers spend 47% more time watching interactive video ads compared to ordinary video ads, and an interactive ad is 32% more memorable than a non-interactive alternative. Case in point: Using interactive ads drastically increases audience engagement, website traffic, conversion rates, and sales.
So, how can marketers benefit from this new way to connect with potential customers? Here's how Google's new immersive 3D ad experience can revamp your ad campaigns.
What Are Google's Interactive 3D Ads?
In 2019, Google announced the beta release of its new 3D ad format, Swirl. The following year, in 2020, Swirl became available to all international Display & Video 360 customers, giving brands the opportunity to create a more hands-on ad experience — and it has been on a rapid incline since.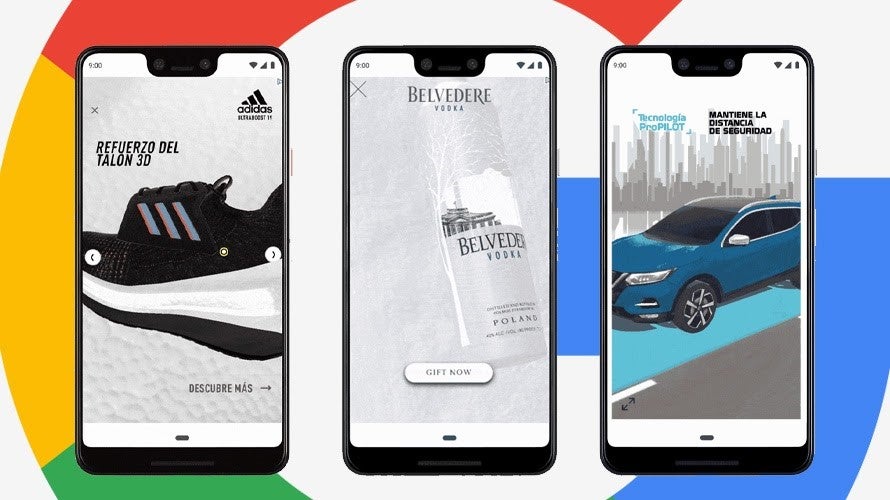 Unlike static 2D ads, Swirl has capabilities to expand, zoom, and rotate 3D objects or products, allowing brands to highlight new product features and technologies. For instance, Nissan Spain used Swirl to spotlight its vehicles' new features, such as lane assist and intelligent cruise control — features difficult to showcase on static advertising.
Another brand that jumped on Swirl to highlight new product designs is Adidas Latin America, which gave consumers a 360-degree view of its Adidas Ultra Boost 2019 shoe. The brand found that these ads increased engagement by up to four times, with an average view time of around 11 seconds.
Through easy-to-use Swirl templates, any brand can easily create immersive campaigns to raise brand appeal to more prospects and hold their attention.
Why Ecommerce Brands Should Look Out for Interactive Paid Ads
Though search engine optimization (SEO) is invaluable to a marketing strategy, pay-per-click (PPC) and paid ads are just as vital. SEO builds organic traffic to put your business in front of people searching for your offerings. But a paid ad strategy is the key to staying in front of target audiences.
It helps that paid ads are often affordable and highly measurable, making them a cost-effective way to reach a broad audience. In addition, paid ads are a necessity in social media marketing where it's hard to reach people organically. Through paid ads, you can hyper-target your audiences based on interests and demographics.
Don't forget: It's still essential to ensure ads resonate with audiences to establish a strong connection. Otherwise, you may risk your ad campaign flopping and failing to captivate users. (Need some tips on creating irresistible ads? AdRoll's got you covered here.)
Why Interactive 3D Ads Are Crucial to a Successful PPC Campaign
The advantages of paid ads are amplified with immersive 3D display ads. Unlike static ads, a 3D format attracts more potential customers who might have become desensitized to conventional paid ads.
Better product understanding
One of the main benefits of 3D ads is the ability to showcase new product features or designs that aren't as easy to display through image or video ads. When customers rotate and zoom in on specific elements, they get a complete picture of the product — without the need to visit your product pages first. In turn, you're more likely to pique people's curiosity and bring them to your product or service pages because they actually want to make a purchase.
More engagement
Ultimately, the biggest benefit of using interactive 3D ads is the unparalleled ability to pull viewers in. 3D ads can hold users' attention for longer periods of time across multiple devices and ad positions than traditional online ads.
If you're not using 3D ads to offer an immersive experience to your customers, you're losing out on a huge opportunity to engage your audiences and drive sales. 
How to Make Interactive 3D Ads
If you want your ecommerce business to experience the benefits of integrating interactive 3D ads, Threekit solutions can fuel your success. You can easily create 3D assets for your products with our innovative platform, enabling you to make full use of Google's new ad capabilities.
Generate photorealistic 3D product images with Virtual Photographer™
First, you'll need to design in-depth 3D images of your catalog. Whether you want to create 3D models of a few key products or your entire selection, Threekit's Virtual Photographer™ software makes it easy to capture and digitize your products. You don't have to schedule and plan product photoshoots — all you need is powerful computing technology.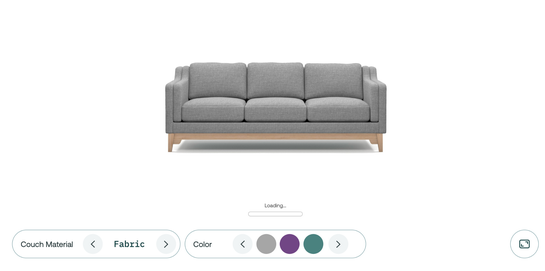 You can use CAD or other 3D files or material samples to develop hundreds or thousands of photorealistic 2D images of your products. You then import the 3D files into the Threekit platform as assets, models, and materials.
From there, you can use these images to enable viewers to create custom configurations. Alternatively, you can use them to put together 3D ads using Google's Swirl format — or do both.
Use Swirl to build your interactive 3D ads
Once you create 3D models of your products with Threekit's Virtual Photographer™, you can design your ads and optimize them for Swirl's format.
To start, upload your 3D models to Google's 3D platform, Poly Pro, to set minimum and maximum zoom levels and pitch rotation. You can also select a unique background, though Google recommends choosing one that enables the model to stand out.
Once you've optimized the 3D model and background, enable link sharing for the project and save it. You can then build the Swirl ad in Google Web Designer, either starting from scratch or using a Swirl template.
To set up what's called an invitation state, you can set certain trigger points on the publisher's page for when the asset should rotate. You can also develop custom animation that clearly tells users they can interact with the ad. In the interaction state, people can rotate, zoom in or out, or even customize products with different features such as colors or material options.
Another optional feature is the expanded full-screen state, in which users view a full-screen version of the ad that offers the same features. When you complete the ad, tie it to your website with a call-to-action button on the top or bottom.
With the help of Threekit's solutions, you can create top-quality 3D images ready for use in Swirl ads. You'll then be on your way to reaping the rewards of innovative paid ads that drive brand interactions and, ultimately, sales.
Additional Benefits of Creating 3D Product Assets
In addition to creating interactive 3D ads, 3D product assets give you additional advantages.
A shortened buyer's journey
Ordinarily, prospective customers see a static ad and need to visit your website to learn more about your brand's offerings. From there, they visit a product page and deliberate over their purchases, leading to higher abandoned shopping cart rates and hesitation during the buying process. (If you agree that abandoned shopping carts are the worst, check out the AdRoll cart recovery tool for recouping some of this lost revenue.) 
However, when you give people a better sense of your products from the start of their interaction, you'll see significant decreases in abandoned carts, and in turn, more sales. With a better idea of how a product works, you can direct people straight to the ordering phase by linking to the corresponding product or checkout pages. 
Product modification and selling
3D ads, along with 3D product configurators on your website, give people the opportunity to modify products to their specifications. For example, you might offer a product configurator that enables customers to modify furniture pieces or entire sets. People can choose different colors, sizes, and materials with photorealistic 3D models of various products, improving buyer confidence.
You may also allow customers to see how products would look in an actual physical space using augmented reality. Customers can use an AR app on their mobile devices to overlay a 3D product in their homes and get a feel for how the product fits in their space.
Incorporating 3D assets into an ecommerce experience eliminates any doubt about what customers will get and lowers buyer hesitancy. The result? More sales and higher customer satisfaction.
Increased automation
Another benefit of using 3D assets is the chance to streamline the sales process with automation. With tools like 3D ads, configurators, and AR apps, you offer customer-facing solutions that allow customers to place orders without direct sales department involvement. In turn, customers are happier with their shopping experience and purchases, so your sales teams can also focus on other work.
All of these benefits make 3D assets invaluable to your business, whether you sell clothing, furniture, jewelry, vehicles, or medical devices. With 3D ads and in-depth product visualizations, you build better relationships with consumers and see much higher ROI than with 2D assets.
Ready to take advantage of Google's new ad format or get even more from your 3D products? A partner like Threekit can provide a complete solution for your business needs. Additionally, make sure to add more assets to your marketing toolkit by visiting the AdRoll Marketing Resource Library today — combined, you'll have everything you need to connect with audiences and inspire more sales.
Last updated on December 21st, 2022.