3 Ways to Build More Loyal Customers From Your Website
Topics Covered:
Your online store is primed and ready to show off your best-selling products, new arrivals, limited-time sales, and anything else to get shoppers to convert. But how do you turn one-time shoppers into loyal customers who want to come back time and time again? Discover three ways your ecommerce site can be used as the foundation for building more loyal, repeat customers.
1. Treat Your Email Subscribers Like All-Stars
One of the best ways to start the relationship-building process with new shoppers is to encourage them to become email subscribers. Email is one of ecommerce's strongest sales channels, with an average ROI of $36 per every $1 spent. The more you grow your email list, the more opportunities you'll gain to nurture your subscribers over time and mold them into loyal customers.
There are a few common approaches to scaling an email list. One is through well-timed, well-designed pop ups — like a competitive welcome offer, one that triggers on exit intent (when a shopper is about to leave your site without purchasing), or interactive pop-ups like a spin-to-win wheel or scratch off, such as the example templates seen below:

Quizzes that match shoppers to product recommendations are another method for encouraging email signups in a way that feels prescriptive and more personalized. Below is an example from Suit Shop for men unsure about their jacket sizing: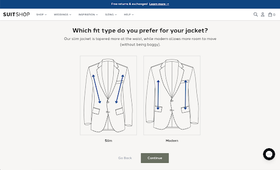 Whichever route you choose for growing your contact list, the first email you send will be crucial for leaving a lasting impression.
Lead with value from your newsletter
About 60% of consumers sign up for a brand's newsletter in exchange for an offer. It's no surprise this phase in the relationship is highly transactional, which is why it's important to lead with value and make a good first impression. Some offers you might consider are:
Discounts or coupons. Offer your customers a discount on their current or next purchase. This coupon should be significant enough that the customer perceives its value. One strategy is to offer a discount after a certain dollar threshold is met, e.g., "earn 25% off your order of $50 or more."

Exclusive deals or offers. Create special deals or offers that are only available to your newsletter subscribers. This can make signing up for your newsletter more enticing and allows subscribers to "stay in the know" with your brand.

Early access to new products or sales. Give your subscribers early access to new products or sales before they are available to the general public. This can create a sense of exclusivity and make your subscribers feel validated for signing up for your newsletter.

Limited-time promotions or contests. Run promotions or contests that give your subscribers the chance to win prizes or special offers. This can keep your newsletter engaging to the point where subscribers are looking out for your emails in their inbox.
Personalize your offers
An estimated 8 in 10 online shoppers are more likely to purchase from a brand that personalizes their offers. The likelihood of a purchase increases when consumers feel that a brand speaks directly to their personal preferences, whether it's through email or an ad they see when browsing online.
Personalized marketing is made easier when you gather the right data on your customers, such as shopping history, likes and dislikes, buying behavior, preferred channels, and so on. This data can be collected at the email signup phase (as seen in the previous section of this article), through post-purchase surveys, and by analyzing purchase or store-browsing history.

Personalization is also an important part of upselling and cross-selling to your customers. For example, when someone is buying new candles, personalized cross-sells such as a wick cutter, a candle holder, or complementary scents can be the perfect way to drive up average order value (AOV). These "complete the look" emails are also common in the apparel/sneaker industry because they suggest personalized products at the right moment in a buyer's journey.
When done correctly, personalization can be a building block of customer loyalty and continually drive shoppers to your online store. They'll know you understand them on a more personal level instead of feeling like just another name in your customer database.
2. Offer a Rewards Program Worth Enrolling In
The rewards landscape has gotten quite saturated recently, and convincing someone to sign up (and more importantly, stay engaged) with your program is easier said than done. In fact, only 1 in 3 Gen Z consumers said they were loyal to a brand, a decline from previous generations. If you want to stand out amongst your competitors and make your program "stickier," consider the tactic below.
Gamify how people earn rewards
The best rewards programs almost feel like a game, and that's because they adopt the same successful "hooks" from the gaming industry. Just look at the Starbucks app, one of the most prominent loyalty programs today.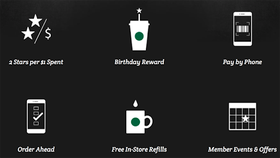 Starbucks is the gold standard when it comes to rewards. Why?

Progress bars entice users to reach milestones and reward tiers

They celebrate customer milestones such as birthdays with a free item

Limited-time events to earn double, and sometimes triple points

Redeeming rewards is straightforward and seamless, online or in-store

The ROI of paying by rewards app versus credit or debit card is obvious

Using the Starbucks app feels like you're playing a game. And most importantly, users actually have fun when earning rewards. This makes customers happy to return time and time again. Apps like Yotpo Loyalty & Rewards and Referral Candy are amongst leaders when it comes to integrating rewards into your Shopify store and offering fun experiences to your customers.
Additionally, you should personalize offers to your customers. By offering items/rewards they're actually interested in based on purchase history instead of generalized offers, you'll improve user participation and make subscribers feel seen and appreciated.
Finally, make your rewards program feel exclusive. One way to do this is through early-access sales only available to your VIP list ahead of the general public. This can be a hit during peak seasons such as Black Friday, Cyber Monday, and the holiday season.
3. Make Your Site Experience Memorable
Not everyone on your email or SMS list will become active shoppers each time you send them a message. Because of this, you'll need to make your site experience as enjoyable as possible to turn casual browsers into customers who will remember your brand the next time they shop online.
Think of your own online shopping habits. You're probably not enrolled in most brands' email or SMS programs, but some of them are still your go-to when it comes to shopping for certain products. This is sometimes referred to as "soft loyalty." Below are a few tactics to build soft loyalty.
Create holiday gifting guides and product roundups
Now is a great time for ecommerce brands to embrace creative content launches. We've seen the success Spotify has had with their #SpotifyWrapped roundup and how it inspired other brands to come up with their own end-of-year marketing ideas. One of the most common tactics is holiday gifting guides and product roundups. Below is an example from The Everygirl surfacing their hottest products in categories such as Gifts for The Traveler, The Homebody, The Minimalist, and so on.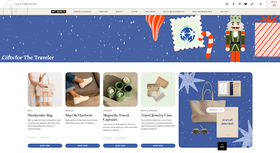 Gifting guides connect shoppers to popular items in a simple and creative way. They essentially repackage product categories in a landing page that feels personalized and enjoyable to browse.

To create a holiday gifting guide that's unique to your brand, start by:
Identifying your target audience: What are some interests and characteristics of your customers that could inform products for your guide?

Researching popular gift ideas: Look for trends in gift-giving and popular items being sold during your busy season. You can even zoom out and see what gifts are trending on social media and what consumers are chatting about to make your guide even more relevant.

Creating a list of gift ideas: Based on your research, create a list of gift ideas that are likely to be popular among your target audience. Consider including a range of options at different price points to appeal to a wider audience.

Organizing the gift ideas: Consider organizing your gift ideas into categories or themes to make it easy for customers to find what they're looking for. For example, you could create categories such as "gifts for him," "gifts for her," "gifts for kids," and so on. As seen in The Everygirl, you can categorize your guide based on personality traits as well.

Adding details and images: Once you have a list of gift ideas, add details and images to help customers understand what each gift is and why it's a good option. Include descriptions of the product, its features, and any special offers or discounts that are available.
And while holiday gifting guides will live on your website, these are also great assets to send to your email or SMS subscribers. Using email segmentation, you can customize these gifting guides even further for your subscribers.
Optimize for browsability and checkout speed
There are few things worse than visiting an online store and being completely lost about where to find what you're looking for. Thankfully site builders within Shopify and Wix make product categorization more straightforward for merchants. That said, there are some best practices to keep in mind to make your store easier to browse and speed up your checkout process.
Use clear and descriptive page titles and headings to help shoppers understand what the page is about at a glance.

Make sure your product categories and subcategories are organized in a logical and intuitive way, and provide clear labels for each category.

Use filters and search tools to help shoppers narrow down their options and find what they're looking for. Merchants can find app plugins to help with search in the Shopify App Store.

Provide detailed product descriptions and high-quality product images to help shoppers understand what they're buying. Taking high-quality product photos is more accessible than ever before thanks to hi-res smartphone cameras. However, you can always take your product images to the next level by outsourcing models, props, background settings, and more.

Make sure your website loads quickly and is easy to navigate on different devices, especially mobile, since a reported 75% of Shopify sales during BFCM 2022 occurred on mobile.

A reported 9 in 10 consumers today read reviews before making a purchase decision. Implementing customer reviews and ratings, as well as product comparisons, is a must-have for shoppers to feel more confident in making a purchase. This could be the difference between them adding to their carts and bouncing to a different site.
Finally, regularly review and update your product information, categories, and navigation to ensure that they remain accurate and up to date. You don't want to send shoppers to broken parts of your website or mislead them with outdated offers and information.
Building Loyalty Takes Time and Dedication
When it comes to customer loyalty, you get in what you put out. You can't expect customers to be loyal to your brand if you don't dedicate enough time and effort to rewarding them.

When someone enrolls in your email marketing program, thank them by leading with value. Offer a rewards program you're proud of and your customers want to share with their friends. Above all, make your website experience so enjoyable that even unsubscribed shoppers can't help but come back for more.
Last updated on January 6th, 2023.