3 First-Party Data Stats You Need to Know in 2022
Topics Covered:
The future of marketing is here, and no, it's not the metaverse or NFTs — it's first-party data. With web browsers' new commitments to user privacy, regulations such as the GDPR and CCPA, and an industry-wide shift away from third-party tracking cookies, it's high time for brands to ramp up their first-party data collection efforts and start strategizing ways to put their first-party data to action.
Still not convinced? We'll let the numbers do the talking — here are three first-party data stats you need to know in 2022, along with actions you can take now to ensure your brand doesn't get left behind.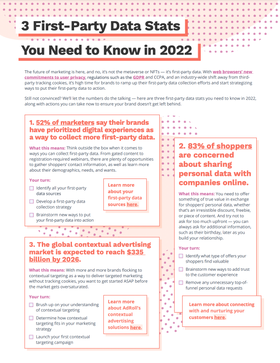 Ready to prepare for a future that prioritizes first-party data? AdRoll is here to help! Start with our guides below to find out where you can uncover first-party data and how to plan your first strategy.
Last updated on September 16th, 2022.