2022 Supply Chain Issues: Our Predictions on What to Expect
Topics Covered:
With the ongoing pandemic, labor shortages, and a major boom in online shopping, the global supply chain experienced some serious issues in 2021 — forcing many retailers to stray away from the two-day shipping guarantees shoppers have come to expect. 
But is there an end in sight? Or should retailers seriously consider domestic manufacturers to reduce the likelihood of overseas supply chain delays? We know these questions are on your mind, so here are our top three predictions on what to expect in 2022. 
Prediction 1: Don't expect supply chains to return to normal anytime soon.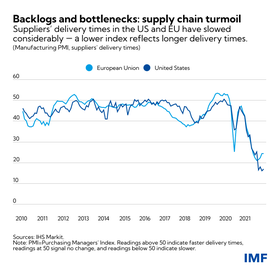 According to supply chain experts and trade credit insurers, current disruptions to global supply chains are expected to last until Q3 of 2022. Some of the factors affecting that prediction are: 
What you should do
Product unavailability has the power to negatively affect customer loyalty and trust — and subsequently, your bottom line. If you start to see your list of backordered items steadily increase or receive an onslaught of frustrated emails from customers, it's time to take action ASAP. 
To make up for global supply chain issues, invest in your overall shopping experience by:
Prediction 2: Consumer demand has likely peaked.
While consumers are still buying at higher levels compared to pre-pandemic, forecasters believe demand will begin to normalize in 2022. 
Here's why: During the height of pandemic lockdowns in 2020, many turned to online shopping, searching for home-related products to make sheltering inside more bearable. As we look toward 2022, people are shifting their focus to in-person services and experiences compared to simply spending in the virtual world.
What you should do
Even if your current customers aren't ready to shop with you again yet, that doesn't mean you should ignore or neglect them. There are many ways to ensure your brand stays top-of-mind, so when they are ready to purchase, they'll head right back. 
Prediction 3: Shipping and fulfillment prices will lower… at least a little bit.
In 2021, a 40-foot container typically priced at $2,200 surged to a jaw-dropping $10,300 — yeah, it's safe to say we've all had enough of escalating shipping prices.
There's light at the end of the tunnel, though: A combination of shipping port fines and new investments in port infrastructure and waterways are expected to help ease shipping and delivery congestion in 2022.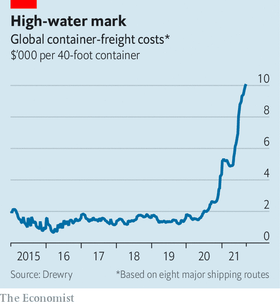 That doesn't mean it's time to drop everything and start celebrating… yet. Due to the chip shortage, the production of new trucks has slowed, creating a bottleneck in the transportation that helps move your packages from ports to warehouses and customers' doors. 
Your logistics nightmare is likely to continue a little while longer, but the combination of our first two predictions point to some relief in the second half of 2022. 
What you should do
Don't Get Stuck 
Beyond these three predictions, we created a supply chain forecasting worksheet to help streamline your inventory management and fulfillment challenges. Once you fill it out, make sure to download the AdRoll app for Shopify merchants — we're here to help level up your ads, emails, and customer journey, so products fly off your shelves in no time.
Last updated on January 25th, 2022.