4 Ways to Save Big on Shipping Costs This Holiday Season
Topics Covered:
The holidays will soon be upon us, and that means one thing as an ecommerce entrepreneur: It's almost time to ship until you drop! 
If you've assembled your Shopify holiday marketing checklist, you'll probably be spending the season fulfilling dozens of orders. That's good news, right?
Well, sort of. If you've seen the latest headlines, you're aware the global supply chain is in tatters right now. Cargo ships stuck at ports around the country aren't being unloaded fast enough. Shipping carriers have already increased their prices for the next two months. Politicians are bemoaning about holiday gifts not arriving on time. While life slowly returns to normal in the U.S., the pandemic's ripple effects continue to play out in terms of how we buy and sell. 
So, what should you do, especially if you're worried about increased shipping expenses eating into your bottom line? First, we encourage you to start reviewing your shipping options ASAP. (We created this handy guide to help.) You'll then want to consider other ways to sell that don't involve shipping. 
Confused? Let us explain: Though your brand primarily lives on Shopify and other digital channels, this doesn't mean you're limited to only selling online. (In fact, occasionally interacting with customers face-to-face can be highly productive!) Here are some ideas on how to sell in-person and offer other digital products, so you can save big on shipping costs this holiday season. 
Offer Local Pickup
During the last year and a half, shoppers have grown accustomed to the whole "buy online, pick up in store" concept. Not only is it convenient and safe, but it also means not having to pay for shipping or wait for your order to arrive. 
While curbside pickup comes easy to big-box retailers with physical locations, it's a whole different story for smaller businesses. Here are some workaround ideas:
If you have a brick-and-mortar store, offering local pickup is simple. Just add this as an option at checkout. 

If you don't have a physical presence, consider partnering with a local retailer that does. Similar to how you can return Amazon orders at Kohls and Whole Foods, a partnership that lets your shoppers pick up their packages at a nearby store can help boost sales. 

If you have customers who live near your office or warehouse, you can designate certain days of the week when they can come in and pick up their orders. 
Participate in Holiday Fairs and Markets
'Tis the season of holiday fairs and craft markets — in other words, these are massive opportunities to get your brand in front of new crowds of shoppers, especially if your products are somehow tied to the holidays. 
Curating a pop-up booth can be tricky, though. Not only must you design an eye-catching display in a limited amount of space, but you also have to embrace the role of a salesperson. Talking to shoppers for hours isn't easy, even for the most outgoing entrepreneurs. (Use this guide to get started.) 
Offer Virtual Products
If mingling with shoppers in person isn't your forte, here's another way to save on fulfillment headaches: Offer virtual products that don't require shipping. Think gift cards or digital downloadables (e.g., if you create original art.) There are a ton of apps in the Shopify app store to help integrate these products into your catalog. Consider this a fantastic source of passive income.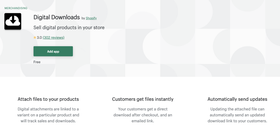 Check Out Shipping Discount Apps
While it's great to find new ways to get products into customers' hands, ecommerce will likely still be your main source of sales this holiday season. Ever watch the TV show Extreme Couponing and thought to yourself: "Ugh, saving money takes that much time?" Luckily, with the right shipping partners, you can live out your Extreme Couponing dreams — instead of spending hours scouring through DHL, FedEx, USPS, and UPS's websites for the best rates, apps like Shippo or Pirate Ship, or even Shopify, can offer significant savings instantly. In fact, if you purchase postage through Shopify, you can save up to 88% on USPS rates. That's huge!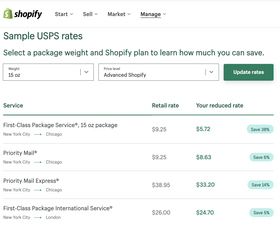 Oh, and there's no need to frown over shipping delays either. Check out this post on how to grow your brand despite potential fulfillment challenges. 
Ready, Set, Ship
Shipping doesn't have to be a massive pain — and now you have four new ways to save big this holiday season. All that's left is to make sure your marketing campaigns are prepped and ready to go. (For that, you'll want to check out the AdRoll integration for Shopify.) Then, sit back, drink some eggnog, and enjoy the holiday sales rush.
Last updated on November 15th, 2021.