What is Mobile Marketing?
Topics Covered:
Everywhere you turn, from the morning commute, dinner with family, or date night with the significant other, there's someone on their phone. According to the Pew Research Center, over 5 billion people are mobile, with more than half having smartphones. On average, people spend more than three hours a day on their phones and check them 58 times a day. It only makes sense for direct-to-consumer (D2C) brands to capitalize on this and utilize mobile marketing tactics and strategies. Let's explore the question: what is mobile marketing?
So, What is Mobile Marketing?
In layman's terms, mobile marketing occurs when a brand promotes itself and its products on mobile devices (e.g., smartphones and tablets) and optimizes its website, emails, and app to be mobile-friendly. Brands can use a variety of methods and channels to reach target audiences, including SMS message, push notification, QR code, email, and in-app advertising.
Mobile marketing also helps brands better tailor their target audience's experience. Smartphones' analysis and data-collection technology arms brands with the data and tools to create more personalized marketing campaigns, which has led to more spending on mobile marketing. On Facebook alone, 92% of all ad revenue comes from mobile advertising.
Marketing on mobile is impactful because it reaches people who typically only use their smartphones to access the internet. It's estimated that by 2025, 72.6% of all internet users will only use their smartphones to surf the web. The percentage of online content consumed via mobile devices will continually increase over time.
Laying the Foundation for Mobile Marketing
Before kicking off a mobile marketing strategy and campaign, it's essential to ensure aspects of your business are adequately suited for mobile. Here are a couple of things that D2C brands should focus on when laying the foundation for a mobile marketing strategy:
Optimize your website for mobile
Many websites are specifically built and designed for laptop and desktop computers only. This can be a problem when a potential customer uses a smartphone to access a website that isn't optimized for mobile. Websites that aren't mobile-friendly make it difficult for website content to be seen accurately and can be frustrating for the customer experience. For example, if a site has a lot of text and large image files, mobile users may struggle with readability and long download times. 
Additionally, not being optimized for mobile can negatively impact SEO. Google will only place sites at the top of the search engine results page (SERP) that are mobile-friendly. If you're not sure whether your website is optimized for mobile,  you're in luck! There are two tools from Google that can help you see how suitable your website is for tablets and smartphones.
Google's Mobile-Friendly Test
Google's Mobile-Friendly Test is a free tool that will let you know whether a website works for mobile. All you have to do is type in the website's URL and click the TEST URL button.

If a brand's website is mobile-friendly, something like this should appear on the screen: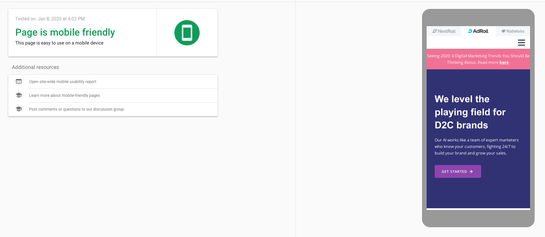 If it's not optimized for mobile, brands may see this: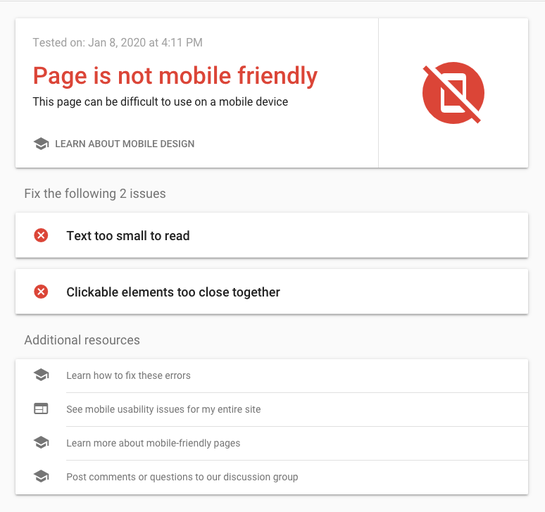 Simply click "Learn how to fix these errors" to update your website.
Google's Test My Site
Another thing D2C brands should take note of is load speed. Nothing turns off a potential customer faster than a website that takes ages to load. Just because a website's load speed is relatively fast on a desktop and laptop computer doesn't mean it will be on a smartphone or tablet. So, it's crucial to test speeds across all devices. Google has yet another tool, Test My Site, that can help with that.

All you have to do is plug in your URL, and after a few moments, your site scores appear.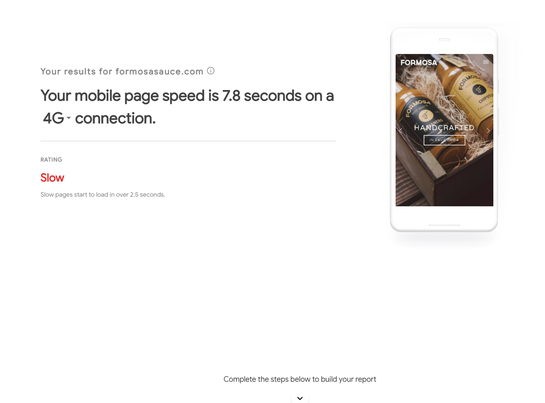 If your site score needs improvement, scroll down to get some tips on quick fixes, access to other tools, and a detailed report.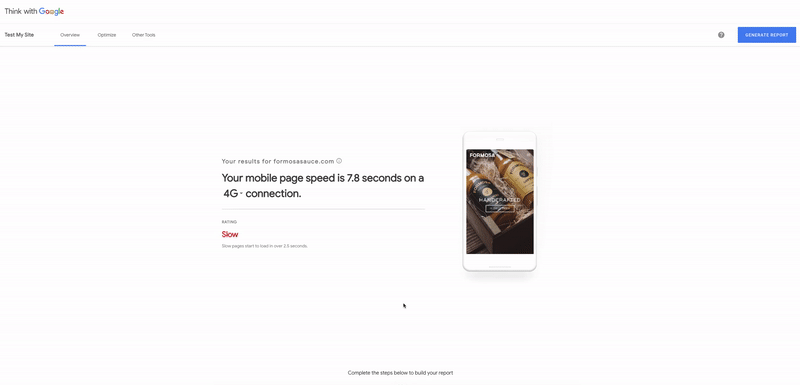 Optimize Emails for Mobile
People aren't just scrolling through their Instagram feeds on their phones; they're also checking their emails. More than 60% of all emails are opened on a phone. With more people checking emails on mobile devices, D2C brands must ensure that all their emails are optimized for mobile. Here are a few things to keep in mind when creating mobile-friendly emails:
Keep your subject lines short. Given the size of a phone screen, there are only so many words that can be seen on a subject line. On a desktop and laptop screen, a brand has up to 60 characters at their disposal, but only about 30 characters on phones.
Simplify email layouts. It's not ideal to over-stimulate mobile users with a bunch of images. Not only will this lead to long load times, but also an unpleasant experience overall. It's recommended to keep an email width below 500 pixels (so that it works for both mobile devices and computers) and size under 60kb (for optimal loading time).
Choose the right image type. When adding images to your mobile emails, make sure to use the correct image file type based on your needs or use. Here are some of the most common image files and when to use them:
JPEGs are a great option when it comes to photographs but aren't ideal for logos or line artwork.
GIFs are a fun alternative to video. They're great for clip art that has minimal colors and logos with color blocks.
PNGs are great if you need an image with a transparent background and with line artwork.
SVGs are very scalable and maintain a high image quality, given their small size. 
Now that we've answered, "What is mobile marketing?" learn how to incorporate it into your overall strategy. Check out 6 Mobile Marketing Tactics for 2020 to read about the practice.
Last updated on September 16th, 2022.