6 Mobile Marketing Tactics for 2020
Topics Covered:
We've all heard the statistics: people are spending more and more time glued to their phones. According to RescueTime, a person will spend an average of 3 hours and 15 minutes a day on their phone, checking it upwards of 58 times a day. So, what's everyone doing on their phones? Well, everything actually. This includes scrolling through social platforms, sending and checking work emails, and even shopping. Based on projections from eMarketer, the number of digital shoppers is set to grow to 167 million people by 2020 — that's over 60% of the US population alone. Direct-to-consumer (D2C) brands have responded by dedicating more time, money, and resources towards mobile marketing tactics and strategies.
Marketers are expected to spend over $120 billion on mobile ad spending next year (close to 80% of all digital ad spending). This level of competition forces D2C brands to put a lot of thought behind their mobile marketing tactics. They're fresh, innovative, and will only become more widely used as time goes on. With the start of the year upon us, let's go over six mobile marketing tactics that many in the industry have adopted.
Chatbots
Chatbots have been gaining steady traction over the last few years and for good reason: they provide fast answers to pressing consumer problems. As the technology behind the bots gets better and better, more people will accept them as a viable alternative. And companies have been responding; 67% of businesses believe that mobile chatbots will outpace mobile apps within the next five years. So, what's next for the humble chatbot?
The next frontier for chatbots is Facebook Messenger and other forms of social media where people expect immediate responses and answers. Brands have a great opportunity to program or buy bots that answer, entertain, and assist their customers and leads for less money and time than other alternative forms of marketing.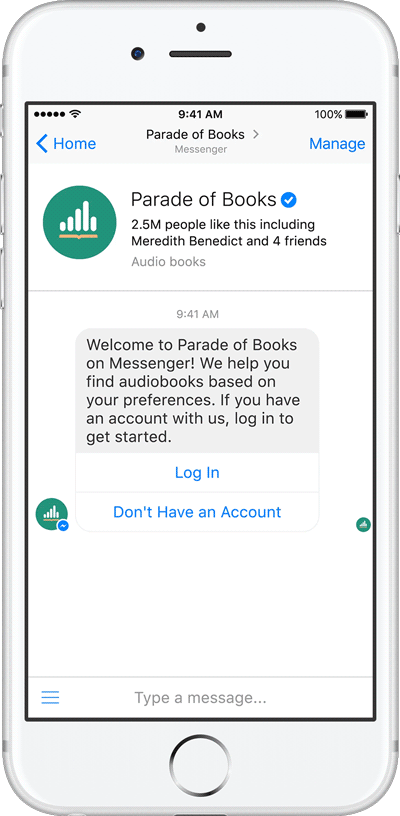 The best way to implement a chatbot is to set one up and see how it does. Facebook Messenger offers a do-it-yourself guide. Tech-savvy people may be able to build one from scratch. And if that's not right for you, check out developers and other professional options. 
Augmented Reality
For companies that want to make a splash, augmented reality offers customers and clients a whole new world to explore. These worlds offer a place where the company providing the experience can focus the entire situation on their products, services, and the customer experience with them. 
Museums have been using augmented reality for some time in their exhibits, as have movie theaters. Additionally, the number of augmented reality users in the US is expected to grow to over 77 million in 2020. These displays have had an enormous impact on people, which companies can also tap into.
To leverage augmented reality for your company, think about how a customer could try out your product or experience your brand in a world of their own. Other examples include raising brand awareness, generating a buzz about an existing well-known brand, and giving customers a unique experience that they will always associate with your brand. 
Targeted Video Content
Video content is here to stay. People love it and share it much more than other forms of online content. But it goes far beyond an "about us" video or a moving header clip that plays on a loop for companies that want to be on the cutting edge of marketing. How can companies stay relevant in an increasingly competitive world? 
The key to unlocking results from your videos is by targeting specific audience segments. Longer-form, 4K, and 360-degree videos will also catch attention and should be used in conjunction with targeting methods. Finally, don't forget to integrate your video content throughout your marketing funnels! It's an easy step that's too often forgotten. 
Increased Personalization
Customers want to feel noticed, appreciated, and heard. Increased personalization tickles all three of those sweet spots in today's consumers. From Starbucks' free drink on your birthday offer to a simple use of a person's name in a downloadable printout, personalization is a powerful tool, especially when utilized as one of many mobile marketing tactics. 
How can businesses use increased personalization without feeling or coming off as creepy? The short answer is by using a data-driven segmentation process. These types of processes dig deeply into current customers, their decisions, their likes and dislikes, and more. When companies have this data at their fingertips, they can provide experiences that match precisely what their clients or customers want. And that's what increased personalization means today. 
Voice Search
Voice search started off on the wrong foot when it first hit smartphones. It was glitchy, error-prone, and caused more problems than it solved. Today, 48% of US users use voice search, with 92% of those stating that voice recognition software saves them time. 
As a result, D2C brands have a fantastic opportunity to explore, especially as few companies are matching this consumer demand. Voice search works best for consumers when used in tandem with Google's featured snippets. Companies can take advantage of this by:
Providing concise answers to simple questions
Targeting long-tail keywords
Optimizing meta descriptions
And otherwise taking into account voice search in their SEO strategies
Breaking Marketing Tradition 
Finally, people are tired of marketing and getting bombarded with ad after ad. However, if a potential customer is served a piece of content that feels new, innovative, eye-catching, and engaging those attitudes quickly change. Not only do customers become more forgiving towards marketing, but they almost welcome it.
One example of this is the Nuggets for Carter retweeting blast. A simple question, "how many retweets for a year of free chicken nuggets," turned into one of the most notable cases of digital advertising ever. It's hard to offer specific advice; however, every time a company breaks marketing tradition, it's not typically something that others could have necessarily pulled off. When considering an out-of-box idea, make sure it aligns with your brand and audience.
This Is Only the Tip of the Iceberg…
Marketing is always evolving — as of a decade ago, many of these tactics weren't on anyone's radar. Today, they're only the beginning of a new, fresh, and innovative way of marketing that strives to reach people directly on their smartphones. And that won't end anytime soon, which is why these mobile marketing tactics are just waiting for you to implement them.
Last updated on September 16th, 2022.