Video Best Practices Part 2: Production and Distribution
Topics Covered:
Now that you know what type of video you need (if you haven't yet, check out Video Best Practices Part 1: Pre-Production Strategies!) it's time to think about how to handle the production process. We're going to go through our tips and tricks for tackling production yourself, but know that if that's not the route you want to explore, you can always work with a production company to handle the shoot for you.
Depending on your needs, many production companies will be flexible about how much of the process they handle. For example, if you just need someone to film on shoot day but you can prepare the video concept and edit the footage together, that's often an option. If you can get the footage yourself but need an expert to handle the edit process, that's also often an option.
If you decide to work with a production company, let them know what your needs are (i.e., how much of the process you'll want them to own). Make sure to also review the company's portfolio to make sure they have content examples that are similar enough to what you have in mind that you trust their ability to execute. You don't need to find a carbon copy of your dream video, but if you like the examples they've produced for other projects, that's a good sign.
For tips on how to build a robust pre-production strategy: 
Tips and Tricks for Production 
If you decide to manage the production internally, here are some guidelines to make your content look more professional — and to help the shoot go as smoothly as possible.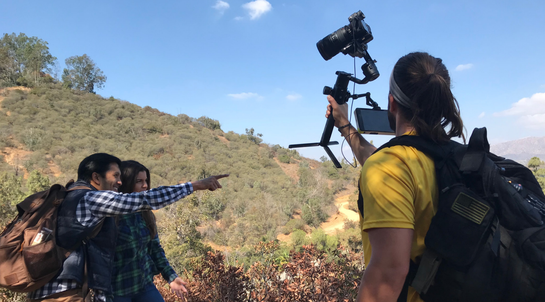 Customer-Centric Video Distribution 
So you have a beautiful, well-created, strategic video, and now you're ready to get it out there. Once you have a good piece of content using the tips and information above, you're ready to put together a distribution plan. Bring on the views!
At this point, your boss or other team members might bring up a goal to "make the video go viral." If that happens, let them know that going viral is a combination of a sound distribution strategy and luck, and most great content — even the best content — won't go viral. However, there are concrete steps you can take to make sure your content reaches the right people and resonates enough that they want to watch and share. Here are some questions that will set you up for successful distribution:
Who is my target audience?
This includes demographic information like age, gender, and more, but also defining characteristics like interests, concerns, pain points, and more. You might be tempted to skip this step thinking that you already know your customer. While you might be right, it's always helpful to consider things you might not know about your customer or customer segments you haven't previously identified.
For best practices around finding your target audience:
What content does my target audience like to consume for fun?
Is your ideal customer really into anime and spending time on Reddit? Do they enjoy reading in-depth think pieces on The Atlantic? Are there social media influencers who they follow and trust? Blogs they get inspiration from? Considering what your customer consumes in their free time allows you to place your video in those places in a natural way, increasing the likelihood that your video will get watched and shared.
What do I want video viewers to do after they watch my video?
Different distribution channels are more conducive to different actions. Short videos on Instagram are more likely to drive purchases, where videos on Twitter are best for driving awareness. A video that's distributed through display networks is also a great way to build brand awareness. Whichever channel you choose, think about your audience, what they're doing on that channel organically, and how your desired action might fit into their existing behavior.
What type of content is successful with my target audience and where is it successful?
Take a look at videos produced by successful influencers or other brands who are having success, and try to spot trends. You might notice that your audience reacts differently to different types of content on different platforms.
For instance, they may be willing to watch a longer video on Facebook, but they might not seem to have the patience for the same video on Instagram. Depending on the video you have produced and what you're trying to get your customers to do, that may lead you to decide that Facebook is a better channel for you than Instagram.
What is your idea of success?
Your distribution plan will also depend on what your idea of "success" is. Depending on what you decide from question three, you might decide that your video is successful if it is viewed completely, if it drives traffic to your website, or if it's shared extensively. We'll talk more about success metrics, how to determine them, and how to measure them in the next section.
Once you're able to answer the questions above, you'll have a good idea of what you want out of your distribution strategy. Then, all you have to do is pick the channels that fit the strategy you have already decided on. Below is a list of popular video distribution and their stats to help get you started.
Most Popular Video Distribution Channels
Facebook
Instagram
YouTube
Twitter
Ready for the next steps? Check out Video Best Practices Part 3: Video Metrics.
And if you haven't yet, be sure to download our "Video Best Practices" eBook, in partnership with Lemonlight!
Last updated on September 16th, 2022.