Topics Covered:
Move over Tinder and OkCupid. There's a queen bee in the dating app scene: Bumble. 🐝 After the female-centric dating app went public on February 11, its stock quickly traded up nearly 77%, reaching a market cap of — wait for it — $8.3 billion. 
With singles using the same handful of apps to look for love, how did Bumble edge out its competitors? And what can other companies learn from this young, Instagram-friendly, and woke brand? 
Love Story
Bumble was founded by Whitney Wolfe in 2014 after she filed a sexual harassment suit against Tinder, a company she had co-founded in 2012. The premise of the Austin-based app is simple — swipe, match, and message. However, what distinguishes Bumble from Tinder or Coffee Meets Bagel or Hinge is this neat feature: Women have to make the first move by messaging their matches first. Goodbye patriarchal norms, hello modern dating! 
Beyond providing an avenue for women to find potential romantic partners, Bumble expanded to other verticals by launching professional and social networking modes (which all live on the Bumble app and can be used simultaneously). With Bumble BFF, you can swipe and match with other users who are looking to make new friends — a great option for young people who are struggling to form platonic relationships in a new city, for example. Similarly, with Bumble Bizz, you can meet new mentors, interns, and other partners to further your professional career. 
Bumble's female-centric branding and broad applications proved a winning formula. Today, the app boasts more than 42 million monthly users in 150 countries, who spend an average of 100 minutes everyday swiping and forming new connections. With approximately 2.4 million paying users, the company reported roughly $377 million in revenue between Q1 and Q3 of 2020. 
Can't Hold Us Down
Wolfe, Bumble's founder, once said, "It is our hope and our wish, that as women join the app, they will find the confidence to go after what they want. If that's making the first move on the app, or if that's making the first move in business or friendship, go after the life you want." 
Her app has embodied this vision perfectly. Female empowerment — a simple yet incredibly powerful and refreshing value proposition — is consistent throughout its messaging, marketing content, and product design. From hiring practices (82% of its employees are female) to its "Moves Making Impact" philanthropy initiative (the company raises money for women making an inspiring difference in the community), Bumble goes above and beyond when it comes to advancing social justice.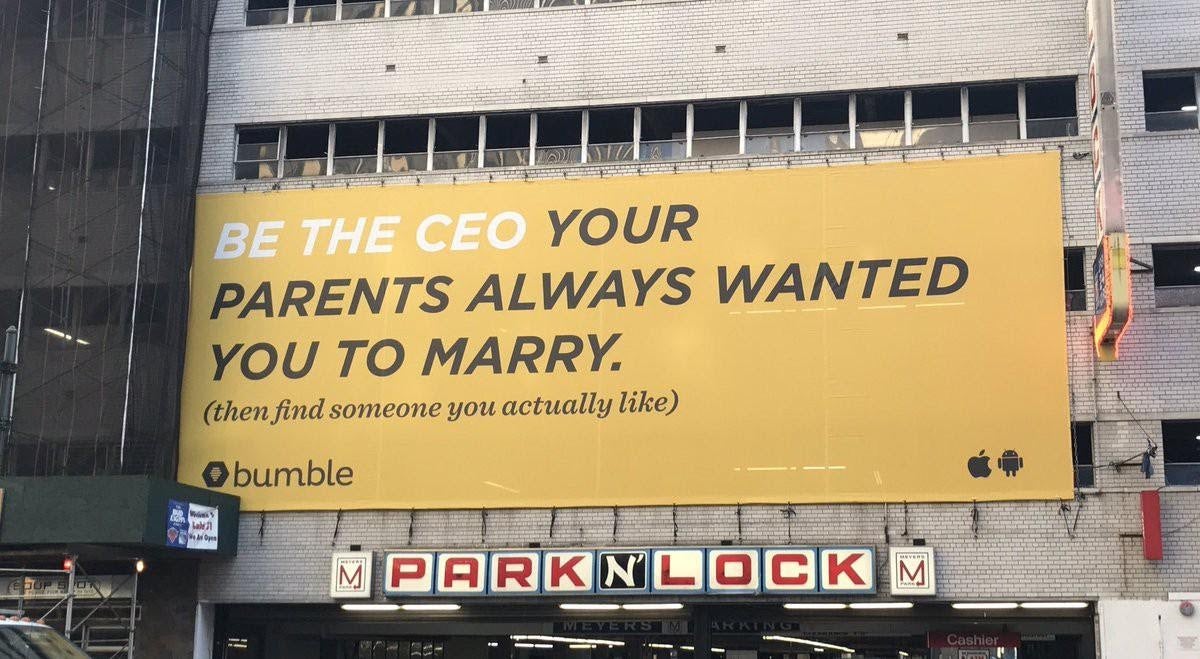 Stand By Me
Influencer marketing has been a buzz term the last few years for a good reason — it's well-documented that influencers, being more relatable and approachable, outperform brands on social media.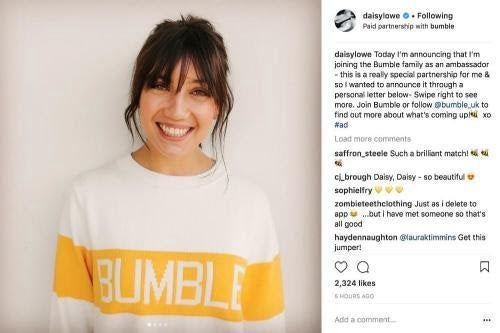 However, Bumble has taken it one step further by developing a full-fledged brand ambassador infrastructure within different college campuses. After being selected as an ambassador, you're tasked with telling your story via organic social posts while enjoying exclusive perks and merch, such as trendy branded sweatshirts. Bumble's sponsored posts feel incredibly natural and authentic, never coming across as trying too hard or overly promotional while still feeling compelling and encouraging.  
I Want to Know What Love Is
Another strategy that Bumble has tapped into is experiential marketing, namely its "Bumble Hive." The Bumble Hive, a pop-up experiential destination that launched in major cities, including New York, Los Angeles, and Toronto, is a space for female artists, entrepreneurs, and leaders to convene and enjoy complimentary entertainment, drinks, and interactive programming (such as speed mentoring, networking, and discussion sessions). 
From the interior design of these locations to different event themes of dating and friendship, it's clear that Bumble's experiential marketing efforts embody the brand's digital experience in physical form.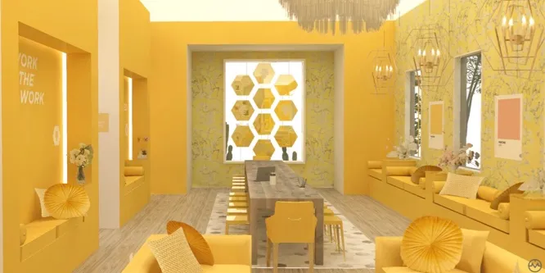 It was a risk for the app-based company to dabble in brick-and-mortar engagements offline. Yet, the pop-ups have been an enormous success. The New York City Bumble Hive, for example, attracted over 20,000 female participants. 
Can't Help Falling in Love
Sheltering in place and social distancing have been hard for most of us but especially excruciating for those living alone. Acknowledging the new reality of online dating, Bumble immediately pivoted its strategy by quickly developing new features to make meeting and dating new people safe and relevant in a pandemic. It launched a new "Virtual Dating" badge that users can add to their profiles if they are open to date via video chat, allowing for more efficient filtering of prospective matches. Then Bumble broadened its location-based filters, removing the restriction that users can only match with other users within one to 100 miles of their location — which means users can find love nationally 
Wolfe, the company's founder, once said, "You have to start a business to solve something that's a personal pain point. That's where the best businesses come from." With that approach, her company's pandemic-related updates, which targeted a specific need, were a great call — Bumble saw a 29% increase in messaging rates during the pandemic. 
We Found Love
At the most basic level, dating apps have a counterintuitive business model — if your branding, UX, and algorithms work well in bringing people together successfully, your usage rates (and revenue) will drop. 
Wolfe has spoken about this reality by presenting the idea of "positive churn." Though you may now have churn (in the form of two users deleting the app), word-of-mouth is the most powerful type of marketing. If a new couple tells their friends and family about how Bumble brought them together, the app may acquire a handful of new users looking for love. 
As a result, Bumble has embraced its successes, launching campaigns celebrating real relationships. For example, in one Instagram story campaign, it leveraged user-generated content and presented photos taken on vacation by new couples who had met on the app: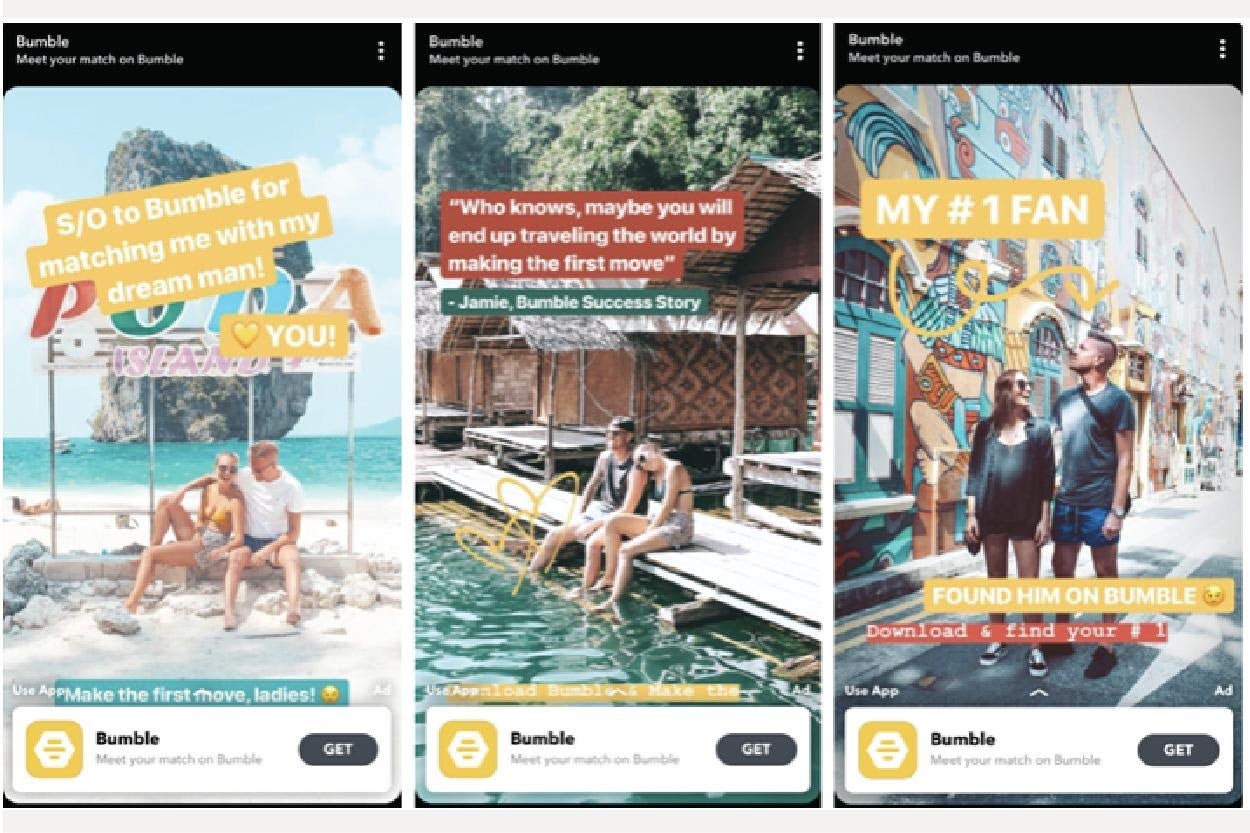 The Roll-Up
It may be surprising to learn that in a year where we're all socially distancing, an online dating app has completed the largest IPO in Austin's history. Here are some takeaways for brands looking to replicate their triumphs:
Capture people's innate desires. Every person is unique, but there are certain needs and desires we all have in common. Bumble managed to tap into our cravings to form connections and find partners, friends, and colleagues. Your marketing strategy shouldn't just focus on product features — it needs to convey how your product helps, solves, or approaches these needs and desires. 
Be flexible. Trends come and go, and as the COVID-19 pandemic has shown us, even the most well-thought-out plans can be derailed by unforeseen circumstances. Stay nimble and act fast, and always dare to think out of the box. 
Serve a greater purpose. Marketing and branding is not just a compilation of tactics. Find a cause and have a clear vision that goes beyond your product and bottom line. With that, it'll be easier for customers to rally behind your brand. 
Looking for more inspiration from top brands like Bumble? Check out AdRoll's Marketing Resource Library for more case studies from forward-thinking companies that have wowed us. 
Last updated on September 16th, 2022.