Trick or Treat: How Candy Advertisements Have Evolved Over the Years
Topics Covered:
It's the spookiest time of the year, and there's one thing on every kid's mind: candy. Whether it's Tootsie Rolls, Snickers bars, or peanut M&Ms that fill up their jack-o-lanterns (anything but candy corn!), Halloween is the best time to indulge in frights and delights.For adults, candy is one of the more affordable purchases you generally make every October — even with Spirit Halloween's fantastic deals, products like creative costumes, gory decorations, and ghoulish party favors don't come cheap. (Remember those coveted 12-foot Home Depot skeletons? They're already sold out!)But beneath the treats, Halloween candy is serious business — it's a $40billion industry expected only to grow. So this post is dedicated to all of the curious marketers with a sweet tooth: We're taking a close look at the history and trends of candy advertisements.
A Bone-Appetit History
Halloween wasn't always about chills and thrills. Before World War II, Halloween parties were relatively simple. It was more about celebrating the harvest than it was dressing up in elaborate costumes.
However, in the 1950s and '60s, trick-or-treating slowly gained traction. People gave out candy but also other treats like homemade cookies, nuts, beverages (check out this Kool-Aid ad), or even boxes of corn flakes (courtesy of Kellogg's). In fact, Christmas and Easter were better known as "candy holidays."
Unlike the candy haul extravaganzas of today, All Hallows' Eve was more of a social event — a "come in, have some refreshments, and play a game" kind of evening.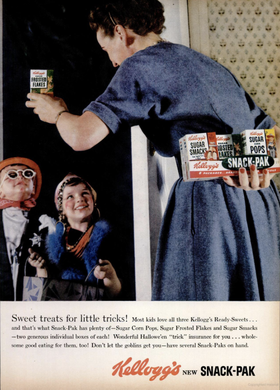 Then came the candy advertisements. Spotting an opportunity, big candy brands like Hershey and Mars started to promote their products as more convenient treats — buying their pre-packaged, portioned candy bars meant people could spend less time baking and wrapping their own cookies or popcorn balls.
As the '70s rolled around, unsettling stories surfaced: Parents worried that strange neighbors were putting razors in apples or adding poison to baked goods. (The tale of the "Halloween sadist" is an urban legend, though it still occasionally resurfaces.) That was good news for established candy brands, as people viewed anything handmade or unbranded with suspicion. Treats like Twix and Snickers jolted into the mainstream, transforming Halloween into the holiday we know now — a whole season's worth of spooks and sugar.
An Eerie-Sistable Treat
Candy advertisements play a major role in keeping the world hungry for candy as soon as the leaves turn yellow. Though most of the candy advertisements from the '50s to '70s have faded into obscurity, one memorable marketing campaign has withstood the test of time: the Reese's Pieces product placement inE.T. The Extra-Terrestrial.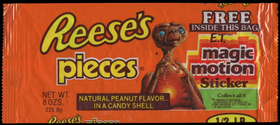 Remember that scene where Eliot lures E.T. out of hiding with some Reese's Pieces? Hershey's paid $1 million dollars for that spot (after competitor Mars turned it down!) and was heavily rewarded for taking a risk, as product placement was not a widely used marketing tool then. In fact, its sales doubled within two weeks of the film's release.
Since then, confectionery brands have spent big bucks on candy advertisements every year. Here are some of our favorites:
In 2019, Hershey partnered with the newest Addams Family reboot to launch an all-out $3 million campaign involving a contest to win movie tickets, trivia, quizzes (to find out which kooky Addams family member you resemble the most), and themed candies.

M&Ms memorable cast of characters pop up every year, and in 2004, the company created the "Great Color Quest" campaign, where, for three months, all M&Ms made were black and white. Much like Willy Wonka's golden tickets, only six M&M bags contained colored candy. Those who found a special bag won prizes including cash, cars, all-inclusive trips, and more.

In recent years, Mars has dialed down on hocus pocus, instead focusing its candy advertisements on promoting its site and digital platforms as one-stop-shops for candy buyers. (They own M&Ms, Twix, Snickers, and more.) Its ads also encourage candy buyers to visit Walmart and Amazon to buy their candies more easily and cheaply.
After M&Ms lost its color for three months, the brand wrapped up its campaign by revealing new colors, new packaging, and even a new logo. Talk about making a big splash with a rebrand!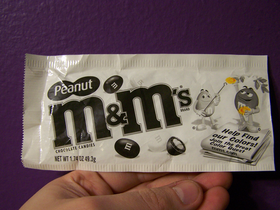 Candy Is Boo-Tiful
Though most of the candy you'll see on October 31st is still the traditional Skittles and Starbursts, gourmet candy and chocolate (think Godiva) have exploded in popularity in the last decade. (Check out this decadent Lindt truffle commercial, complete with a sensual voiceover and rich, melt-in-your-mouth chocolate. Mmm.)
Here are some tactics the candy industry has used to transform treats into luxury items worth shelling over the big bucks for.
Goblindown (healthy?) candy
Thanks to the power of marketing, candy is no longer solely associated with sugary unhealthiness that rots teeth. Instead, chocolate, especially dark chocolate, is now famed for its anti-inflammatory and antioxidant benefits.
With many of our everyday food products, there's been a cultural shift toward simple, organic, and clean ingredients — take a lap in any Whole Foods, and you'll see what we mean. Gourmet candy brands have capitalized on this trend, touting health-conscious nutritional information on their packaging, including claims like no artificial ingredients or all-natural and organic.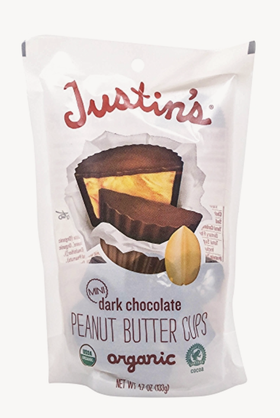 With grocery stores like Whole Foods and Sprouts stocking these products rather than your typical candy brands, pricier candy alternatives are more readily accessible than ever before.
Candy with Boos
Bacon. Cookie dough. Cereal. Orange liqueur. Whiskey. Pumpkin. Toasted coconut. Sea salt. Exotic fruits (yes, even durian.) These are just some of the unique candy flavors that have popped up on the market.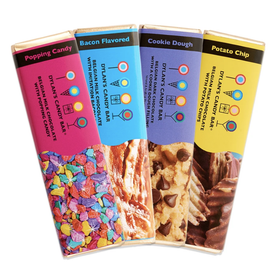 Rather than always reaching for a fistful of M&Ms or Skittles, consumers can now luxuriate in more interesting (and usually a tad more expensive) candy options. Like we always say in our posts: Shoppers love innovation and newness.
Trick and treat yo-self
Thanks to the attributes of this new wave of candy, brands have successfully begun marketing candy as a type of indulgence, or a form of self-care or self-reward, if you will. Gone are the days of guiltily unwrapping a candy bar — consider these treats as a gift to yourself. Healthier candy that tickles your taste buds? Sign us up!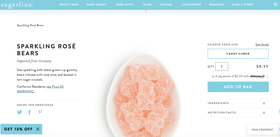 Batty Over Candy
While trick-or-treating only became popular in the 1950s, the earliest mention of the event dates to the mid-1920s, when a Canadian newspaper wrote about "youthful tormentors" that demanded "edible plunder." Sounds familiar!
Now you're a candy expert, it'll be love at first bite when the 31st comes around. Whether you're sticking with the traditional candy bars or opting for something a little more creative (or creepy) this year, may you have a bag full of candy, a closet full of bones, and a brain full of batty marketing ideas. Happy treating!
Last updated on October 25th, 2021.